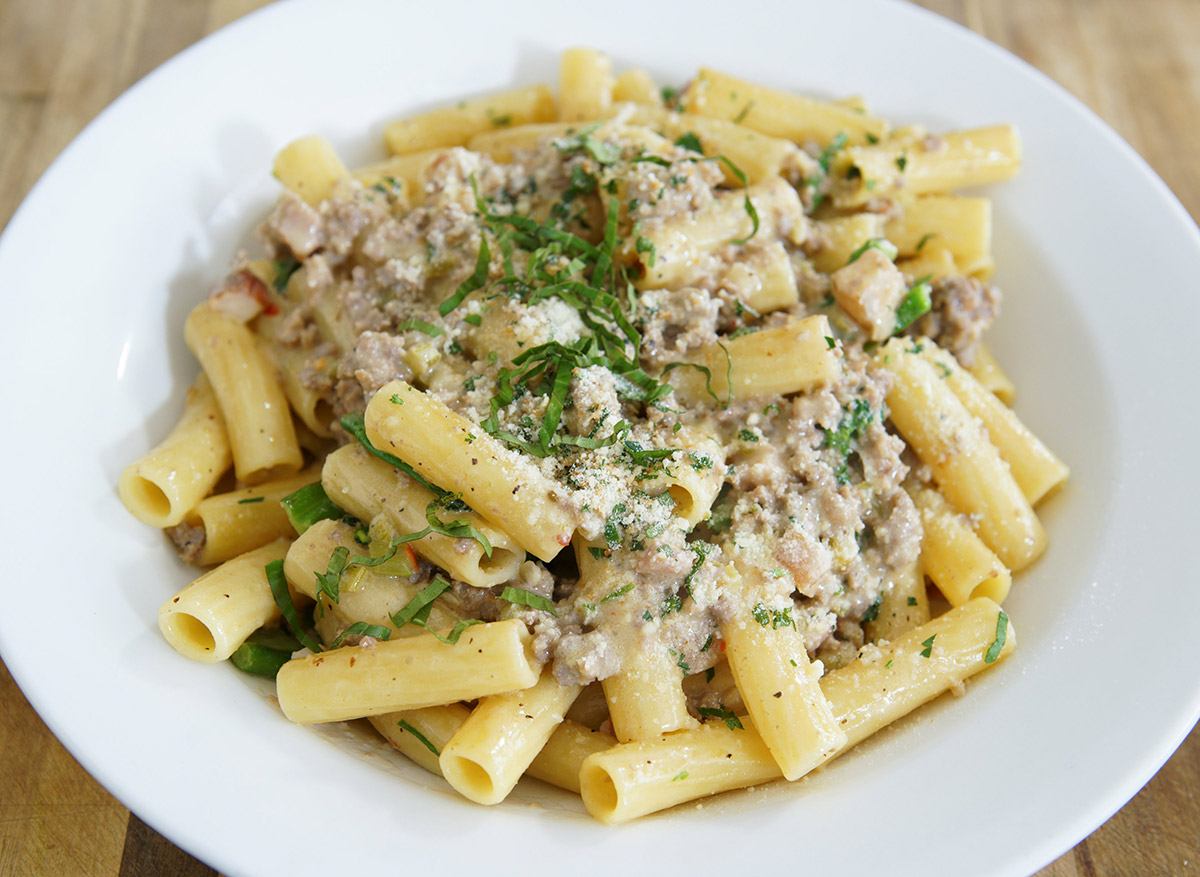 White Bolognese – As Seen on Restaurant: Impossible
From the episode, "Stuck in the Old School"
SERVES 8-10 FAMILY STYLE
YOU'LL NEED
FOR THE BOLOGNESE
2 lbs ground Italian sausage
2 lbs ground beef, 80/20 blend
1 lb pancetta, diced
1 white onion, diced
4 ribs celery, diced
3 cups heavy cream
2 cups chicken stock
1 tsp chili flakes
Splash of white wine for deglazing
FOR THE PASTA
2 lbs rigatoni
8 oz broccoli rabe, chopped
4 tbsp Parmesan cheese, shredded
3 tbsp panko breadcrumbs
1 bunch parsley, chopped
1 bunch chives, sliced
MAKE IT
BOLOGNESE
1) In a large sauce pot over medium heat, add Italian sausage and ground beef.
2) Using a wooden spoon, break up the meat and cook for about 5 minutes, stirring continuously.
3) The meat should be light brown and just cooked through. Add pancetta and cook for another 4 minutes.
4) Add onions and celery. Cook for another 4 minutes.
5) Deglaze pan with white wine and cook for another 3 minutes.
6) Add heavy cream, chicken stock, and chili flakes.
7) Season with salt and pepper.
PASTA
1) Place a large stock pot on the stove with seasoned water. Bring the water to a boil and add pasta. Cook for about 12 minutes.
2) Strain the pasta into a colander and set aside.
3) Place a separate pot with seasoned water on the stove and bring to a boil.
4) Add broccoli rabe to the pot and allow to cook for 3 minutes. Strain broccoli rabe in to a separate colander and set aside.
5) In a large skillet, add Bolognese and cooked broccoli rabe. Bring to a boil.
6) Next add pasta. Cook over medium heat and stir.
7) Place pasta into a large bowl. Finish with Parmesan cheese, bread crumbs, parsley, and chives.