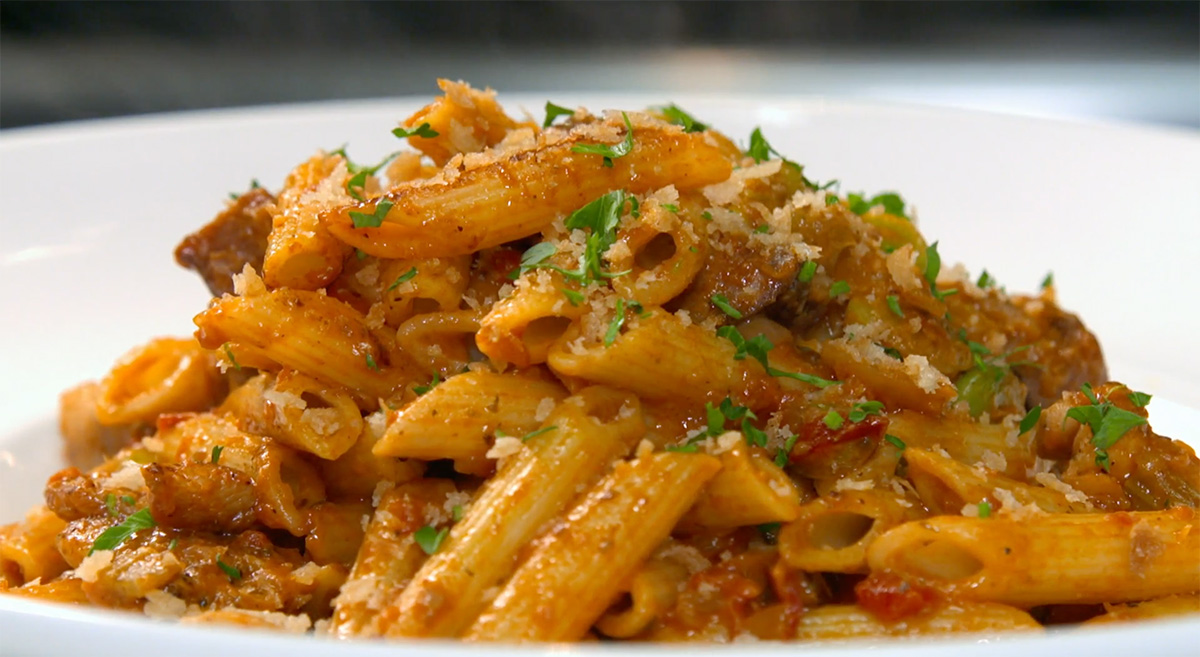 Creole Chicken & Andouille Sausage Penne Pasta – As Seen on Restaurant: Impossible
From the episode, "Resentment on the Bayou"
SERVES 6-8
YOU'LL NEED
2 tbsp grapeseed oil
1 lb andouille sausage
5 boneless, skinless chicken thighs, diced
5 ribs celery, diced
3 carrots, peeled and diced
1 white onion, diced
2 cloves garlic minced
1 cup canned roasted red peppers, diced
2 qts canned whole peeled plum tomatoes crushed by hand
2 cups water
2 cups heavy cream
Kosher salt and ground black pepper, to taste
1 lb dried penne pasta
4 tbsp breadcrumbs, toasted
4 tbsp Parmesan cheese
3 tbsp flat leaf parsley, chopped
MAKE IT
1) In a separate saucepan over medium heat, add the grapeseed oil, chicken, and andouille sausage. Stir and sauté for 3 minutes.
2) Add celery, carrots, onions, and cook for another 4 minutes.
3) Add the garlic and roasted red peppers. Cook for another 3 minutes and then add the crushed canned plum tomatoes and 2 cups of water.
4) Bring mixture to a simmer and then drop to a medium-low simmer. Allow to simmer for about 30 minutes.
5) Add heavy cream and continue to cook for 15 minutes. Season with salt and pepper, to taste. Keep warm/set aside
6) Place a large stock pot with seasoned water on the stove to cook the pasta. Place pasta in the seasoned water, cook according to the package and strain.
7) Add the cooked pasta to the chicken and andouille sausage ragu and stir together.
8) Place the creole chicken & andouille sausage pasta in a bowl and garnish with the breadcrumbs, Parmesan cheese, and chopped parsley.