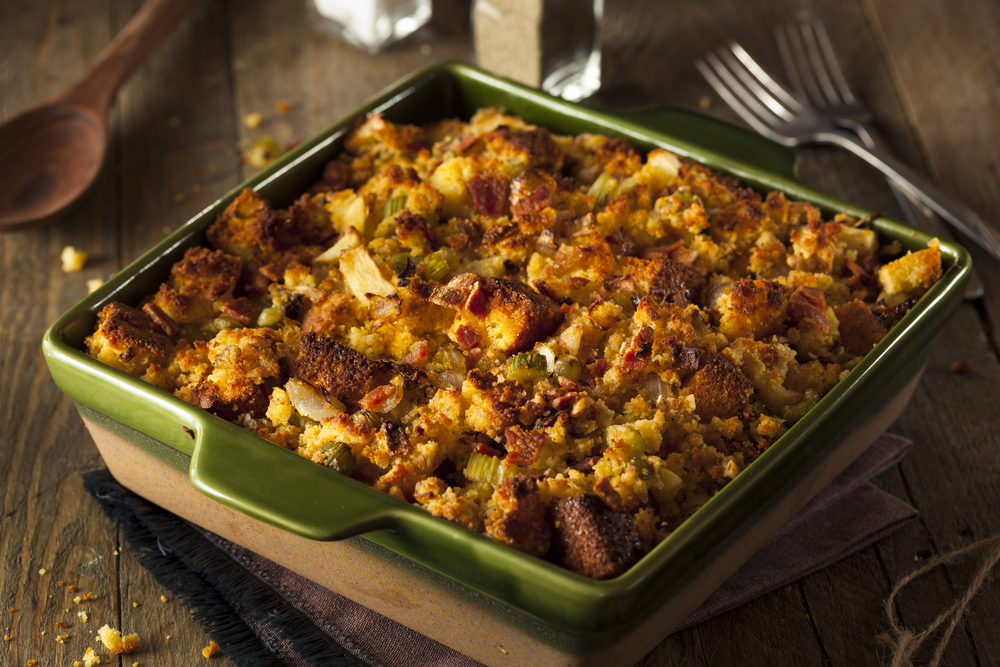 Serves 10
YOU'LL NEED
1½ lbs corn bread
1½ lbs sourdough bread
8 slices bacon
5 tbsp butter
3 cups chopped onions
2 cups chopped celery
1 cup chopped shallots
¼ tsp sage
¼ tbsp thyme
2 Granny Smith apples, peeled and sliced
1 lb fresh cranberries
1½ cups pecans, toasted, coarsely chopped
2 cups chicken broth
Salt and pepper to taste
3 large eggs, beaten to blend
MAKE IT
1) Preheat oven to 325 degrees. Cut cornbread and sourdough bread into 3/4-inch cubes. Place on a baking sheet and toast until dry but not hard, about 15 minutes. Cool.
2) Transfer to a large bowl. Butter an 8-by-8-by-2-inch baking dish. Cook bacon in a large heavy skillet over medium-high heat until crisp, about 6 minutes. Using tongs, transfer bacon to paper towels; reserve ¼ cup bacon dripping in skillet. Cool bacon and crumble. Add butter to bacon drippings in skillet and melt over medium-high heat. Add onions, celery and shallots; sauté until just pale golden brown, about 10 minutes. Stir in sage and thyme. Add apples and cranberries to cubed bread. Mix in pecans and crumbled bacon. (This portion can be done a day ahead of time.) Cover and refrigerate.
3) Stir 1½ cups chicken broth into stuffing. Add salt and pepper to taste. Mix in eggs. Moisten remaining cubes with rest of broth. Transfer to prepared dish. Bake stuffing in covered dish alongside turkey for an hour. Uncover stuffing and bake until top begins to crisp, about 5 minutes.