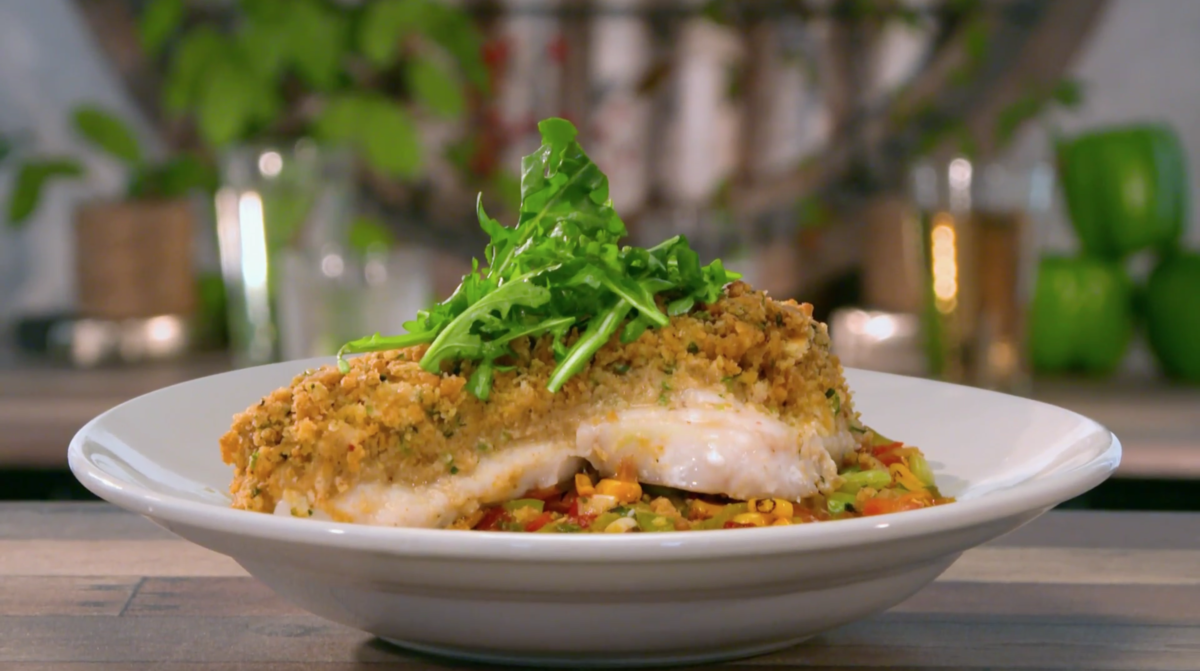 Blackened Grouper – As Seen on Restaurant: Impossible
From the episode, "Legacy on the Line"
SERVES 4
YOU'LL NEED
FOR THE TOMATO & OKRA SUCCOTASH
2 tbsp extra virgin olive oil
2 red onions, diced
4 garlic cloves, sliced
12 oz grape tomatoes, halved
2 cups okra, sliced into rings
1 cup pickled okra, sliced into rings
1 cup frozen corn, off the cob
½ cup lima beans
1 red bell pepper, diced
4 tbsp sweet chili sauce
1 tsp red wine vinegar
½ bunch cilantro, chopped
1 tsp Cajun Spice
Salt and pepper, to taste
FOR THE FISH
4 portions of Atlantic grouper, filet and pin boned (6 oz each)
4 tbsp blackened seasoning
3 tbsp grapeseed oil
3 tbsp Saltine crackers, crushed
2 tbsp Panko breadcrumbs
3 tbsp butter
4 oz arugula
1 tsp fresh lemon juice
MAKE IT
SUCCOTASH
1) In a large skillet over medium-high heat, add extra virgin olive oil, onions, and garlic. Allow to sweat.
2) Add tomatoes, okra, pickled okra, corn, lima beans, and red bell pepper. Continue to cook for approximately 3 minutes.
3) Add sweet chili sauce, red wine vinegar, cilantro, and Cajun spice.
4) Season with salt and pepper.
FISH
1) Pre-heat oven to 375 degrees.
2) In a pan add butter and allow to melt.
3) In a mixing bowl add crackers and panko bread-crumbs.
4) Incorporate butter into the bread-crumb mixture.
5) Season grouper with blackened seasoning.
6) In a large skillet over medium-high heat, add grapeseed oil and seasoned grouper. Cook for 3 minutes on each side.
7) Remove fish from pan and place on a baking sheet. Top the fish with bread crumb mixture and place in the oven.
8) Cook the fish for 6 minutes in the oven or until the fish is cooked through.
PLATING
1) Place the succotash on a plate. Put the fish on top of the succotash.
2) Top the fish with arugula, lemon zest, and juice.