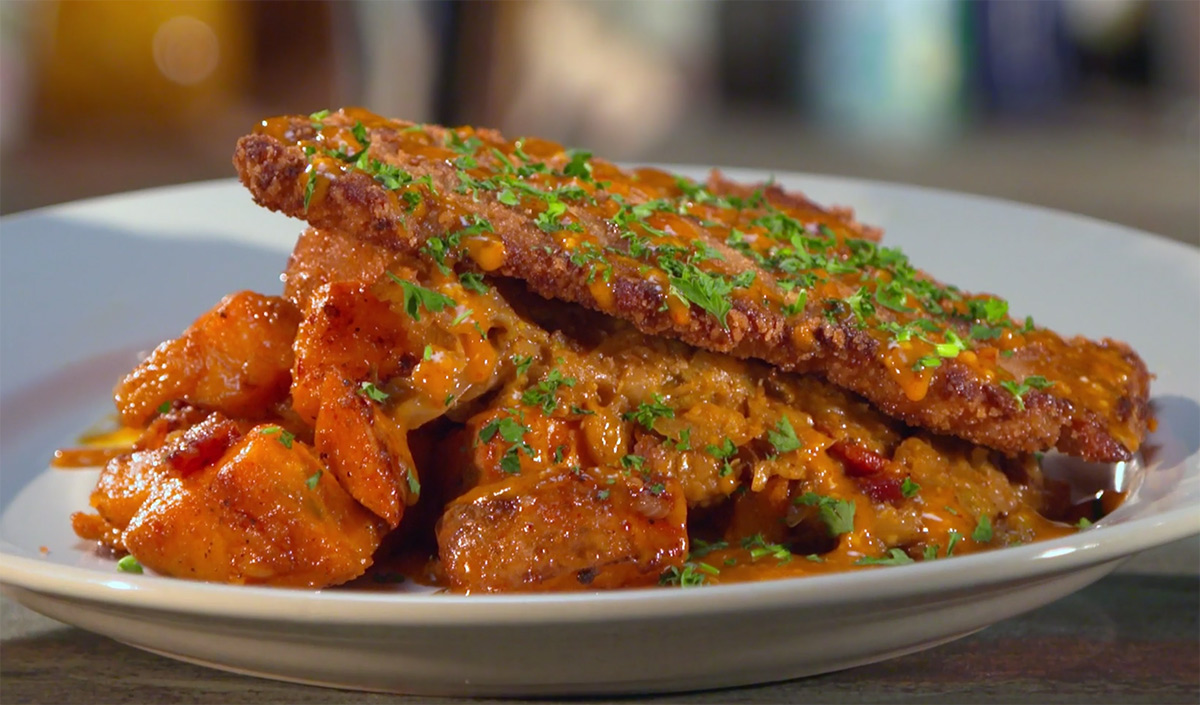 Chicken Milanese with Roasted Sweet Potatoes – As Seen on Restaurant: Impossible
From the episode, "Running on Empty"
SERVES 4
YOU'LL NEED
FOR THE CHICKEN
4 skinless boneless chicken breast (6 oz each)
1 cup all-purpose flour
1 tsp smoked paprika
2 tsp garlic powder
1 tsp onion powder
3 eggs, beaten
2 cups panko breadcrumbs
1 cup Parmesan cheese, grated
Salt and pepper
FOR THE ROASTED SWEET POTATOES
2 medium sweet potatoes, diced
2 tbsp grapeseed oil
2 cloves garlic, peeled and smashed
Salt and pepper
FOR THE CARAMELIZED ONIONS AND CABBAGE
2 large white onions, thinly sliced
1 head of savoy cabbage, core removed, sliced thin
¼ lb butter
2 tsp smoked paprika
FOR THE MUSTARD SAUCE
1 cup whole grain mustard
½ cup Dijon mustard
¼ cup mayonnaise
1 tsp honey
Salt and pepper
MAKE IT
CHICKEN
1) Place the chicken breast between two pieces of wax paper. Using the flat end of a meat mallet, pound until it is ¼ inch thick.
2) In a mixing bowl add flour, smoked paprika, garlic powder, onion powder, salt, and pepper.
3) In two separate bowls add eggs in one and whisk together. In the other mixing bowl add panko breadcrumbs and parmesan cheese.
4) Place the pounded chicken first in the seasoned flour, then the eggs, and last the bread crumb and cheese mixture. Set prepped chicken aside.
ROASTED SWEET POTATOES
1) Pre-heat oven to 350.
2) In a large mixing bowl add the cut sweet potatoes, garlic, grapeseed oil, salt, and pepper.
3) Place the sweet potatoes on a baking sheet and place in the pre-heated oven. Cook for 12 minutes or until fork tender.
CARAMELIZED ONIONS AND CABBAGE
1) In a large sauce pan over medium-high heat, add grapeseed oil, butter, and sliced onions.
2) Allow the onions to lightly caramelize while continuing to stir. Add sliced cabbage. Allow this to cook with the onions for an additional 4 minutes. Both the onions and cabbage should be light brown in color and still have some texture.
3) Season the mixture with salt, pepper, and smoked paprika.
MUSTARD SAUCE
1) In a mixing bowl incorporate all ingredients.
2) Season with salt and pepper.
PLATING
1) Pre-heat a tabletop fryer or an air fryer to 350 degrees.
2) Place the pounded chicken breast in the fryer and cook for approximately 8 minutes, or until the chicken breast reaches an internal temp of 165.
3) Place roasted sweet potatoes in the middle of a dinner plate.
4) Top the sweet potatoes with fried chicken, then top the fried chicken with caramelized onions and cabbage.
5) Finish with mustard sauce.