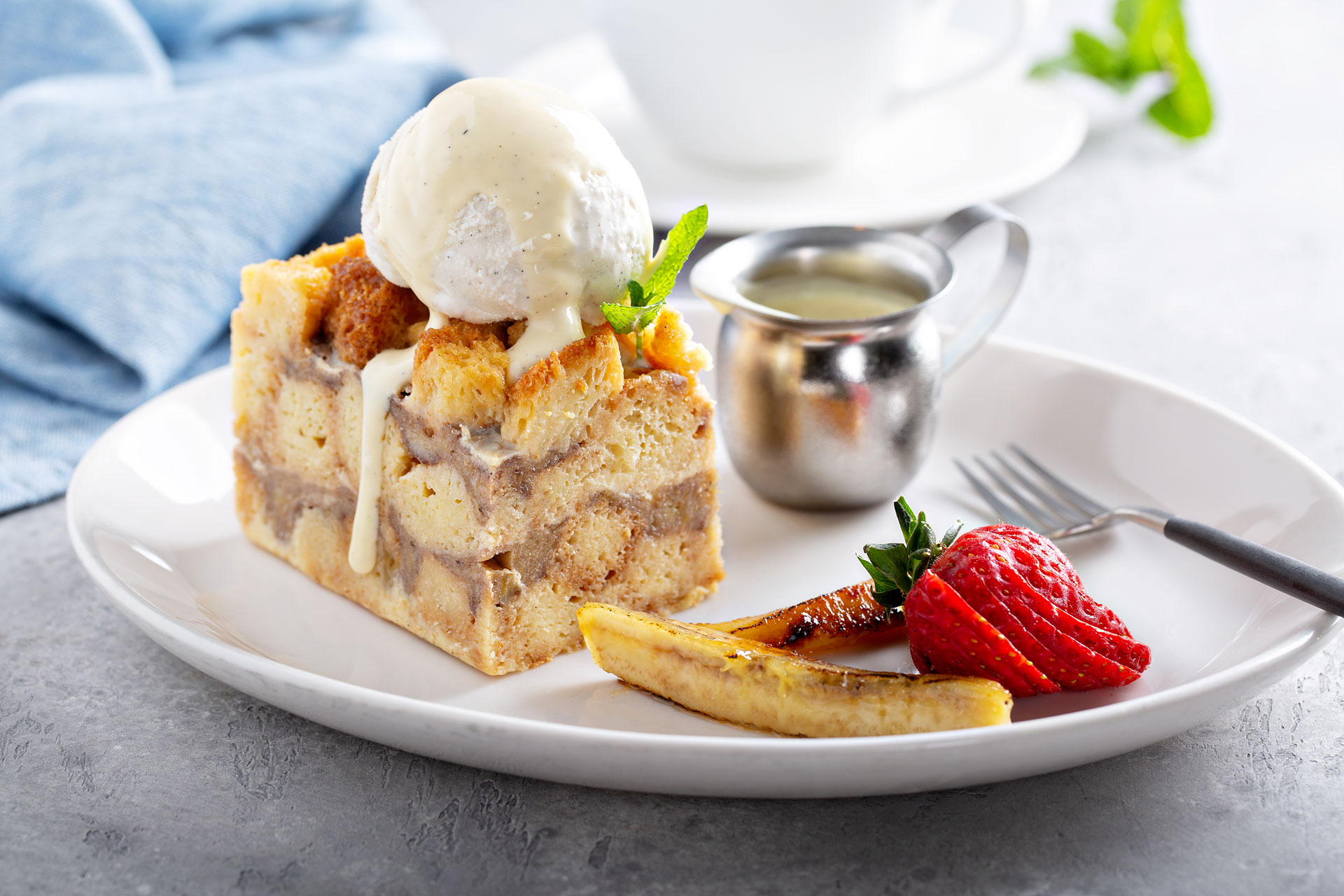 Classic Bread Pudding with Vanilla Custard and Dulce de Leche Ice Cream
From the Hollywood Casino Columbus Robert Irvine Dining Experience – February 29, 2020
SERVES 5
YOU'LL NEED
FOR THE BREAD PUDDING
1 pound day old brioche bread, diced 1 inch by 1 inch
5 tbsp unsalted butter, melted
2 cups heavy cream
2 cups milk
6 egg yolks
1 1/2 cups brown sugar
1 tbsp vanilla extract
1 tsp ground cinnamon
2 tsp kosher salt
FOR THE CUSTARD
4 egg yolks
2 cups heavy cream
4 tbsp sugar
1 dash vanilla
FOR THE PLATING
5 large scoops dulce de leche ice cream or vanilla ice cream
5 mint leaves
2 tbsp powder sugar in a sifter
MAKE IT
BREAD PUDDING
1) Place the bread in a large bowl.
2) In a small saucepan, melt the butter and pour over the bread cubes. Use a rubber spatula to toss the bread and evenly distribute the butter.
3) Combine the heavy cream, milk, eggs, brown sugar, vanilla, cinnamon, salt in a large bowl. Whisk to mix.
4) Pour the cream mixture over the bread, and stir to combine.
5) Allow the mixture to sit at room temperature for 30 to 45 minutes.
6) Transfer the bread mixture to individual molds or 2 inch high baking pan and bake at 350 degrees until the center of the bread pudding is set, 50 to 60 minutes.
7) Remove from the oven and chill overnight.
8) Warm the base of the pan and also run a knife around the edges of the pan to loosen.
9) Flip the bread pudding over to remove from the baking pan and then cut the portions 3×3 inches.
10) Turn them back over so the dry side is on top, place on a warming pan and gently bring them to a warm temperature.
CUSTARD
1) In a medium mixing bowl whisk together the egg yolks and sugar until they are very pale yellow and smooth.
2) In a medium saucepan, bring to a boil the heavy cream and vanilla.
3) Whisk about half into the egg yolk mixture until well combined, then pour back into the saucepan.
4) Over medium heat, stirring constantly with a wooden spoon, cook until the mixture heavily coats the back of the spoon.
5) Strain into a clean bowl and set the bowl over ice cubes and cold water until chilled, stirring occasionally. Refrigerate, covered, until needed.
PLATING
1) In a bowl place the warm bread pudding portion in the center.
2) Ladle 2 ounce of the custard around the bread pudding.
3) Top each portion with one scoop of ice cream.
4) Dust each with powdered sugar.
5) Garnish with fresh mint.