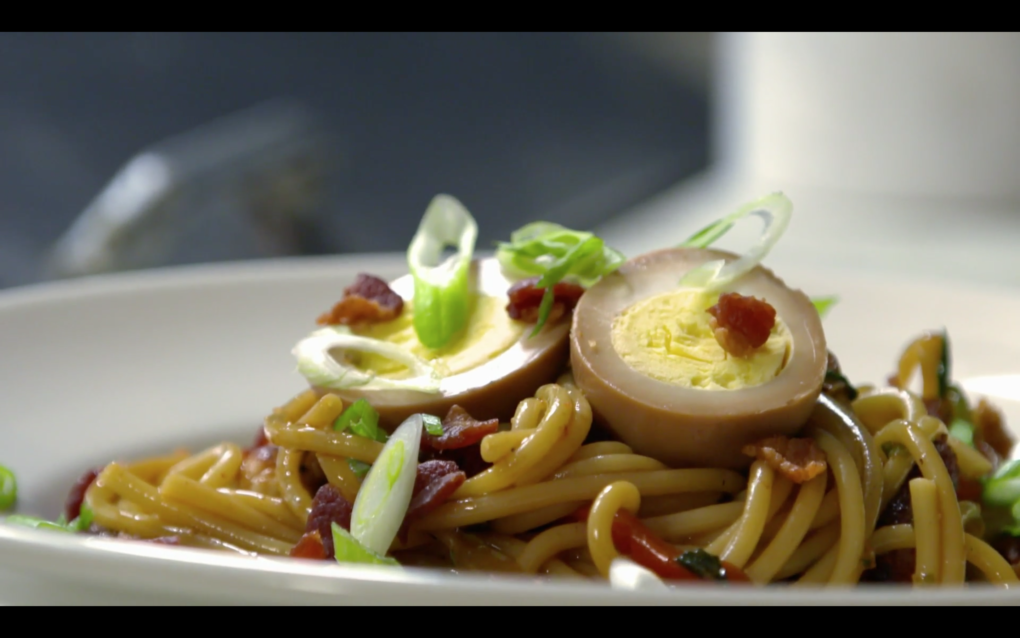 Yakamein (New Orleans Noodle Soup) – As Seen on Restaurant: Impossible
From the episode, "Chattanooga Blues"
SERVES 4
YOU'LL NEED
FOR THE BROTH
1 lb bucatini pasta
1 gallon beef broth
1 cup soy sauce
1 cup sliced scallions
FOR THE PICKLED SHRIMP
8 oz shrimp (U 16-20)
1 red onion, shaved
1 rib celery, shaved
1 bulb fennel, shaved
¼ bunch thyme
4 oz cider vinegar
1 tbsp honey
FOR THE BRAISED BRISKET
3 lbs brisket
2 tbsp salt
1 tsp Cajun seasoning
1 tbsp brown sugar
1 onion, sliced
1 head celery, chopped
10 carrots, chopped
2 garlic cloves, sliced
2 qts beef stock
4 oz dark beer
MAKE IT
BRAISED BRISKET
1) In a mixing bowl, add salt, Cajun seasoning, and brown sugar.
2) Evenly coat the brisket 24 hours prior to cooking.
3) Place brisket in a large roasting pan with onions, carrots, and celery.
4) Add beef stock. Bring to boil. Cover and place in 300° oven for 5 hours.
5) Pull brisket from oven and allow to rest, then thinly slice.
PICKLED SHRIMP
1) In a sauce pot, add vinegar, celery, fennel, thyme and honey.
2) Bring liquid to a boil.
3) Remove from the heat. Add shrimp and cover.
4) Allow shrimp to cook for 12 minutes, then place in the refrigerator and allow to chill.
YAKAMEIN BUILD
1) In a large pot filled with seasoned water, add bucatini pasta and allow to cook until al dente.
2) In a sauté pan add brisket, shrimp, beef broth, and bucatini pasta.
3) Portion into bowls and top with scallions.