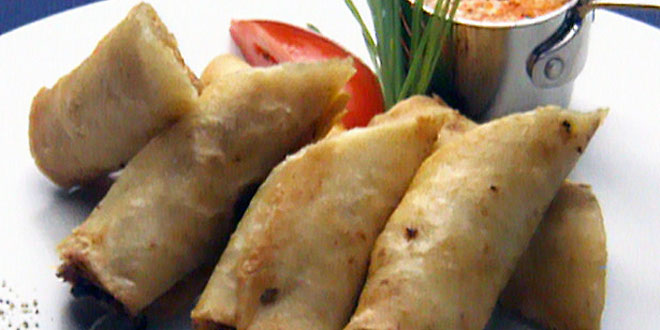 Chorizo Cheese Taquito with Tomatillo Mint Salsa
Total Time: 1 hr 30 min
Yield: 12 taquitos
Ingredients
Salsa:
2 large ripe tomatoes, small diced
4 tomatillos, small diced
2 garlic cloves, pounded with the side of a knife blade to release oils, then finely minced
1 handful fresh mint, about 2 ounces, rinsed and stripped from stems, roughly chopped
1 handful fresh parsley, about 2 ounces, rinsed and stripped from stems, roughly chopped
4 stalks fennel, small diced
Salt and pepper
Taquitos:
12 tomatillos
3 cloves garlic, minced
1/4 cup olive oil
12 chorizo sausages (1 to 11/2 pounds)
1 liter canola oil
12 corn tortillas (for taquitos) or use flour tortillas (for flautas)
3 ounces brie cheese, white casing removed
6 ounces plain yogurt
6 scallions (green onions), white and tender green parts only, sliced
Directions
Prepare salsa by combining tomatoes, tomatillos, garlic, mint, parsley, and fennel. Season, to taste, with salt and pepper and set aside.
Preheat oven to 350 degrees F. Line a baking sheet with aluminum foil. Slice tomatillos in half, lengthwise and remove stem end and core. Scoop out and discard the seeds, leaving as much pulp as possible. Place tomatillos, cut side up on baking sheet. Combine garlic and oil and spoon over the tomatoes, then season with salt and pepper. Roast for about 20 to 25 minutes. Remove from the oven to let cool. Cut tomatillos in halves.
While the tomatillos are roasting, remove casings from chorizo and brown in a fry pan over medium heat.
While the meat is browning, heat the canola oil in a deep-fryer to 375 degrees F. Lay the tortillas out on a utility platter.
Remove the browned sausage meat from heat, drain any extra fat from the pan, then add brie and let the cheese melt into the meat. Stir in the roasted tomatillos, yogurt and green onions.
Spoon the meat/cheese mixture evenly into each of the tortillas. Roll them closed and secure with toothpicks. Deep-fry until golden brown and drain on paper toweling. Remove toothpicks before serving. Serve with tomatillo mint salsa.