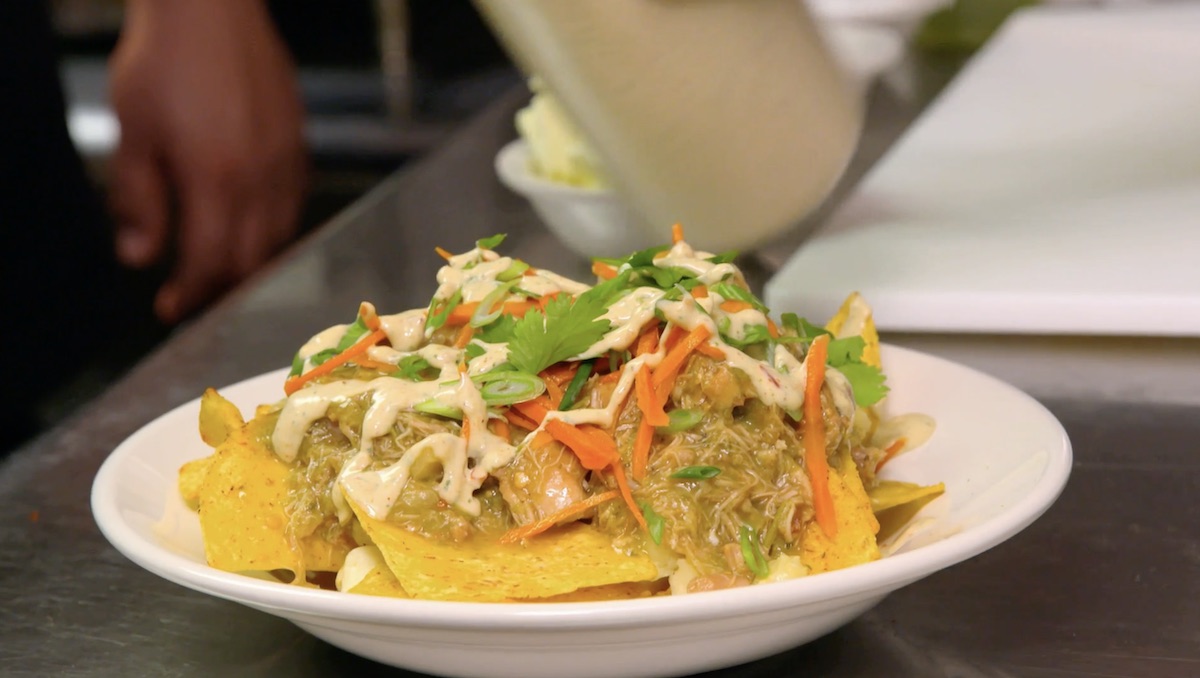 Chicken Pozole Nachos – As Seen on Restaurant: Impossible
From the episode, "The Dutiful Son"
SERVES 4
YOU'LL NEED
FOR THE CHICKEN POZOLE
2 oz grapeseed oil
2 lbs boneless skinless chicken thighs, large diced
Kosher salt and pepper, as needed
1 white onion, diced
2 garlic cloves, sliced
2 jalapeno peppers, seeded and minced
2 cups tomatillo salsa (store bought)
1 bunch cilantro, chopped
1 bunch oregano, sliced
3 tbsp cumin
2 cups lager beer
3 cups chicken stock
Juice of 4 limes
2 cups canned hominy
FOR THE PICKLED CARROTS & JALAPENOS
1 ¼ cup white wine vinegar
1 cup sugar
2 tbsp honey
1 jalapeno pepper, thin sliced
2 cups shredded carrots
FOR THE LIME CREMA
1 cup sour cream
½ cup mayonnaise
1 tbsp cumin
1 tsp smoked paprika
Juice of 1 lime 1 lime
FOR PLATING
¾ lbs tortilla chips
1 cup cheese curds
1 bunch scallions sliced
1 bunch cilantro, rough chopped
2 oz lime crema
MAKE IT
CHICKEN POZOLE
1) Pre-heat oven to 325 degrees F.
2) Season the chicken thighs with salt and pepper.
3) In a Dutch oven or medium sauce pot over medium-high, add the grapeseed oil and chicken thighs. Sear on both sides.
4) Remove the seared chicken thighs from the pot, then add onions, garlic, and jalapenos. Allow to sweat for 5 minutes.
5) Add tomatillo salsa, cilantro, oregano, cumin, beer, chicken stock, lime juice, and hominy and bring mixture a boil.
6) Place the seared chicken thighs back in the pot.
7) Stir and cover the chicken pozole mixture and bake for about 3 hours.
PICKLED CARROTS & JALAPENOS
1) In a small sauce pot, add the white wine vinegar, sugar, and honey.
2) Bring pickling mixture to a boil.
3) In a separate bowl, add the shredded carrots and jalapenos. Pour hot pickling liquid over the carrots and jalapenos. Cover carrots and jalapenos and allow to cool at room temperature.
LIME CREMA
1) In a mixing bowl, mix the sour cream, mayonnaise, cumin, smoked paprika, and lime juice. Season with salt and pepper.
PLATING
1) Place the chips in a bowl then top with cheese curds and hot chicken pozole.
2) Top with the pickled carrots & jalapenos, cilantro, scallions, and lime crema. Serve.