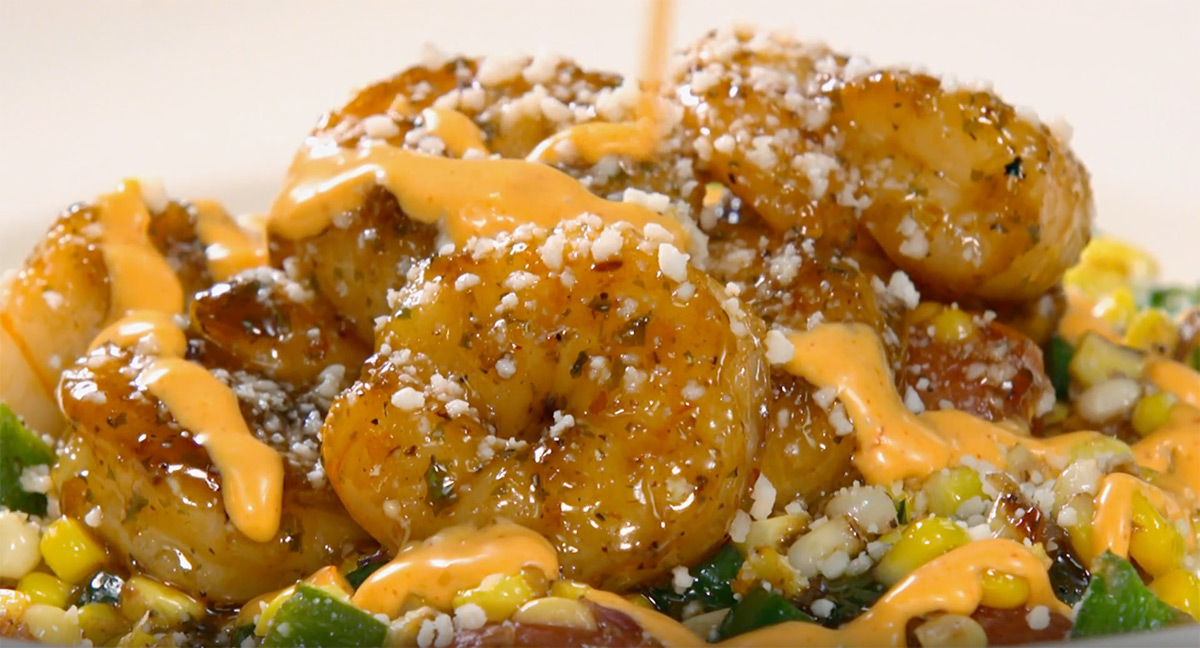 Tequila Glazed Shrimp with Warm Street Corn Salad – As Seen on Restaurant: Impossible
From the episode, "The Dutiful Son"
SERVES 4
YOU'LL NEED
FOR THE SHRIMP and TEQUILA GLAZE
2 tbsp grapeseed oil
28 raw shrimp (21/25 count), peeled and deveined
Kosher salt and pepper, as needed
3 tbsp canned chipotle peppers in adobo sauce
3 tbsp honey
2 limes, juiced
¼ cup tequila
3 tbsp butter
FOR THE SPICY AIOLI
1 cup mayonnaise
½ cup Mexican style hot sauce
Juice of 1 lime
1 tsp tajin seasoning
FOR THE STREET CORN SALAD
1 tbsp grapeseed oil
3 cups fresh raw corn, taken off the cob
1 red onion, diced
1 cup red bell peppers, diced
½ cup poblano pepper, diced
10 cherry tomatoes, quartered
Kosher salt and pepper, to taste
1 bunch cilantro, chopped
FOR GARNISH
¼ cup crumbled cotija cheese
MAKE IT
TEQUILA SAUCE
1) In a medium sauce pot, add the canned chipotle peppers, honey, lime juice, and tequila.
2) Bring mixture to simmer, blend smooth with a hand blender and slowly incorporate butter into sauce.
3) Finish the sauce with chopped cilantro.
SPICY AIOLI
1) In a mixing bowl add mayonnaise, hot sauce, lime juice and tajin.
2) Season with salt and pepper.
STREET CORN SALAD
1) In a large sauté pan over medium heat, add the grapeseed oil, corn and red onions. Sauté and allow to sweat for approximately 5 minutes, while stirring.
2) Then add the red peppers, poblano peppers, and cherry tomatoes and allow to cook for another 3 minutes.
3) Finish with salt, pepper, and chopped cilantro.
PLATING
1) Season shrimp with salt and pepper.
2) In a large sauté pan over high heat, add 2 tbsp grapeseed oil and shrimp. Sear the shrimp for approximately 2 minutes on each side.
3) Next, add the tequila sauce to the sauteed shrimp, stir and allow to cook for another 2 minutes.
4) Place the street corn salad in the middle of a bowl. Then place the tequila glazed sauted shrimp on top of the corn salad.
5) Finish the dish with spicy aioli and the cotija cheese on top of the shrimp.