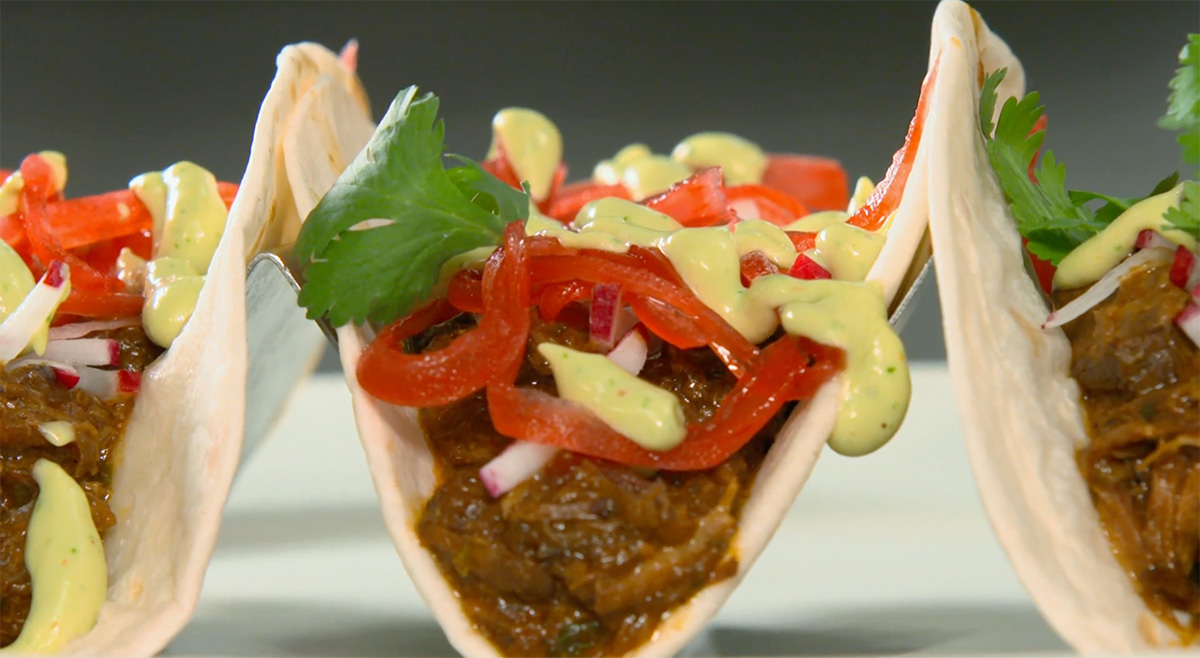 Beef Barbacoa Tacos – As Seen on Restaurant: Impossible
From the episode, "The Dutiful Son"
SERVES 4
FOR THE BEEF BARBACOA
2 tbsp grapeseed oil
2 lbs beef chuck steak, cut into large cubes
½ tbsp chili powder
½ tbsp ground cumin
½ tsp kosher salt
½ tsp ground black pepper
½ cup white onion, medium diced
2 garlic cloves, minced
2 tbsp fresh oregano, chopped
2 tbsp fresh cilantro, chopped
2 tbsp chopped canned chipotle peppers in adobo sauce
8 oz beef stock
8 oz dark beer
2 oz salsa roja (store bought)
2 tbsp fresh lime juice
1 tbsp honey
FOR THE JALAPENO AIOLI
1 cup mayonnaise
1 jalapeno pepper, cut and seeded
1 garlic clove
1 tsp fresh cilantro, rough chopped
2 tbsp scallions, rough chopped
Juice of ½ fresh lime
1 tbsp honey
Kosher salt and ground black pepper, to taste
FOR THE PICKLED RED ONIONS
½ cup red wine vinegar
¼ cup sugar
1 tbsp honey
2 red onions, sliced
FOR THE TACOS
8 flour tortillas
¼ cup radishes sliced
MAKE IT
BEEF BARBACOA
1) Pre-heat oven to 300 degrees F.
2) In a large mixing bowl, season the diced beef chuck steak with the chili powder, cumin, salt, and pepper.
3) In a large sauté pan over high heat, add the grapeseed oil. Add the seasoned beef and sear, then stir until the beef is dark brown in color.
4) Add the onions and garlic to the pan with the seared beef. Stir and sauté the onions and garlic with the seared beef for 4 to 5 minutes, until onions are translucent in color.
5) Add the oregano, cilantro, canned chipotle peppers, beef stock, beer, salsa roja, lime juice and honey.
6) Cover the pan with foil and cook in pre-heated oven for 2 ½ to 3 hours.
7) Remove pan from oven. The beef should be fork tender.
8) Remove beef from pan and place in a large mixing bowl, reserving the cooking liquid. Place the pan with the reserved cooking liquid over medium-high heat and allow to reduce to ¾ cup of liquid.
9) Using a fork, shred the cooked beef and stir in the reduced cooking liquid.
JALAPENO AIOLI
1) Using a blender, add mayonnaise, jalapenos, garlic, cilantro, scallions, lime juice, and honey. Blend for 1 minute until smooth and season with salt and pepper to taste.
PICKLED RED ONIONS
1) In a small sauce pot over medium heat add red wine vinegar, sugar, and honey.
2) Bring mixture to a boil.
3) Pour mixture over onions and cover.
4) Allow to cool.
PLATING
1) Place shredded beef barbacoa in the flour tortillas.
2) Top the beef barbacoa with the sliced radish, pickled red onions, and jalapeno aioli.