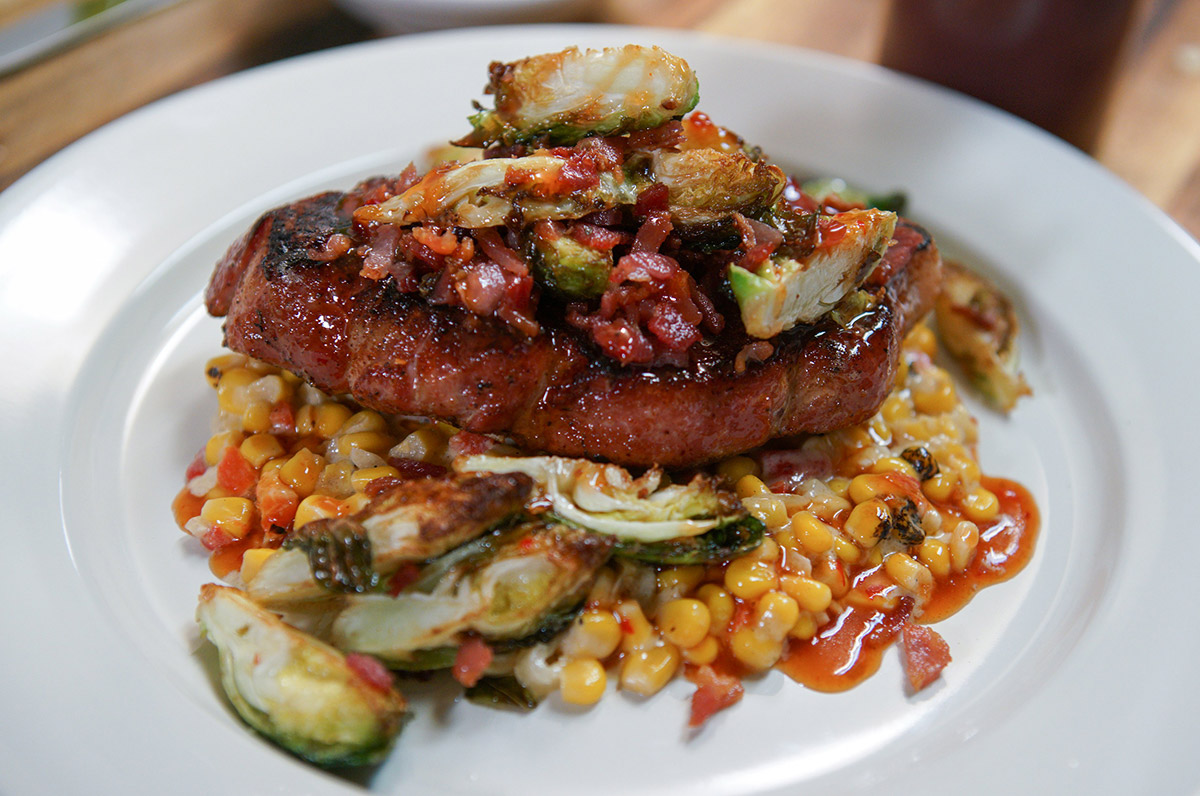 Smoked Pork Chop with Creamed Corn – As Seen on Restaurant: Impossible
From the episode, "Lifting the Weight"
SERVES 4
YOU'LL NEED
FOR THE SMOKED PORK CHOP
4 bone-in pork chops (8 oz each)
3 tbsp kosher salt
2 tbsp light brown sugar
1 tsp Cajun spice
1 tsp smoked paprika
1 tsp cumin
FOR THE SWEET TEA VINAIGRETTE
¼ cup sweetened iced tea
2 tsp Dijon mustard
2 tsp sweet chili sauce
¾ cups grapeseed oil
Salt and pepper
FOR THE BRUSSELS SPROUTS
16 Brussels sprouts, halved
8 oz thick cut bacon, cut into cubes
Salt and pepper
FOR THE CREAMED CORN
3 tbsp grapeseed oil
1 medium white onion, diced
4 cloves garlic, minced
1 red jalapeno, seeded and diced
2 cups fresh corn, cut off cob
2 cups heavy cream
¼ cup sour cream
MAKE IT
SMOKED PORK CHOPS
1) Pre-heat a smoker to 225.
2) In a mixing bowl add salt, brown sugar, Cajun spice, smoked paprika, and cumin.
3) One hour prior to smoking the pork chops, liberally season them with the salt and brown sugar cure.
4) Place the pork chops in the smoker and smoke for about 45 minutes.
5) Remove the pork chops from the smoker and set aside.
SWEET TEA VINAIGRETTE
1) In a mixing bowl add sweet tea, mustard, and sweet chili sauce.
2) Using a whisk, slowly incorporate grapeseed oil.
3) Season with salt and pepper.
BRUSSELS SPROUTS
1) In a large skillet over medium heat, add bacon. Allow to render until bacon is light brown and crispy.
2) Remove the bacon from the pan and add the Brussels sprouts. Cook over medium low heat for about 5 minutes.
3) Add bacon and sweet tea vinaigrette to the pan. Cook over low heat for about 3 minutes and set aside.
CREAMED CORN
1) In a sauce pan over medium-high heat add grapeseed oil, onions, garlic, and jalapeno peppers.
2) Allow to sweat for about 4 minutes. The onions should be translucent in color and almost cooked through.
3) Add corn and cook for an additional 4 minutes.
4) Add heavy cream and sour cream. Bring the mixture to a low simmer for about 8 minutes.
5) Season with salt and pepper and set aside.
PLATING
1) In a skillet over medium-high heat, add smoked pork chops. Sear on both sides until dark golden brown.
2) In the center of a plate place a large scoop of creamed corn.
3) Top the creamed corn with the seared pork chop.
4) Using a spoon place a scoop of Brussels sprouts and some of the sweet tea vinaigrette on top of the pork chop.