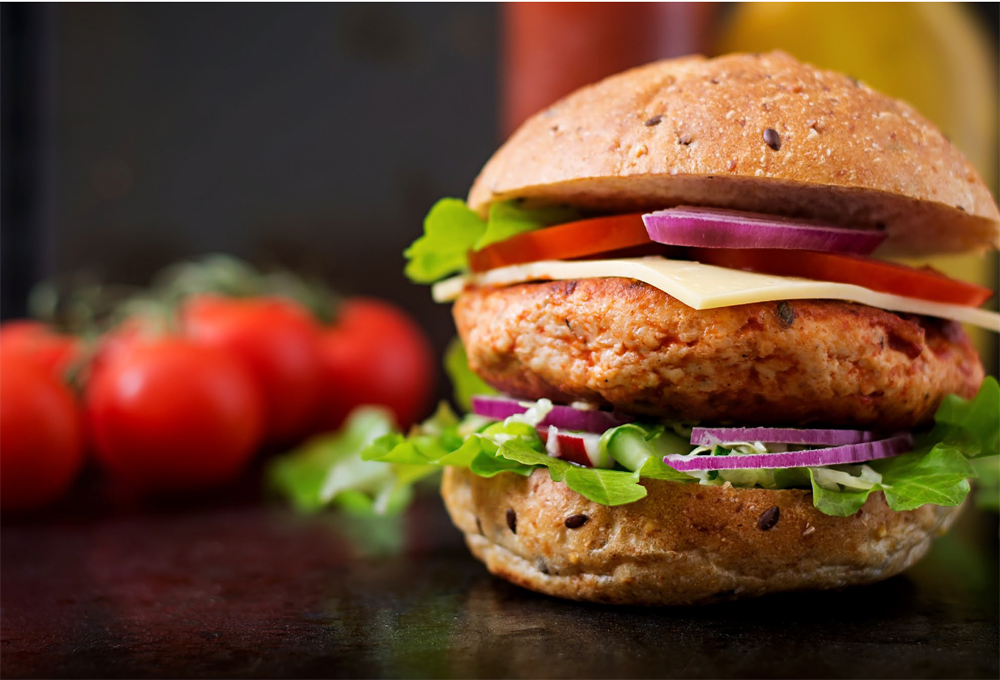 Get more great recipes like this in Robert Irvine Magazine. 
YOU'LL NEED
3 lbs lean ground chicken
1 tbsp garlic powder
2 dashes onion powder
1 tbsp fresh parsley, chopped
1 tsp dried Italian seasoning
Salt
Pepper
8 slice low-fat mozzarella cheese
8 slices red onion
1/4 cup pesto
2 cups baby spinach
1 cup sliced beefsteak tomato
8 multigrain hamburger rolls
Nonfat, nonstick cooking spray
MAKE IT
1) Mix the ground chicken, garlic powder, onion powder, parsley, dried Italian seasoning together. Add salt and pepper. Form 8 patties (they should be about 7 ounces each) and place in the fridge while prepping your burger toppings.
2) Preheat the grill and spray the patties with cooking spray on each side. Place the burgers on the grill and cook all the way through; test one or more of the burgers by cutting into the center to ensure none of the meat is pink. Top the cooked burgers with mozzarella cheese. Toast the rolls on the grill if desired.
3) Spread pesto on the bottom of each roll and place spinach, tomato, red onion on top of that. Top with patties and serve.
THE MACROS
CALORIES 507
PROTEIN: 46 g
FAT: 27 g
CARBS: 23 g