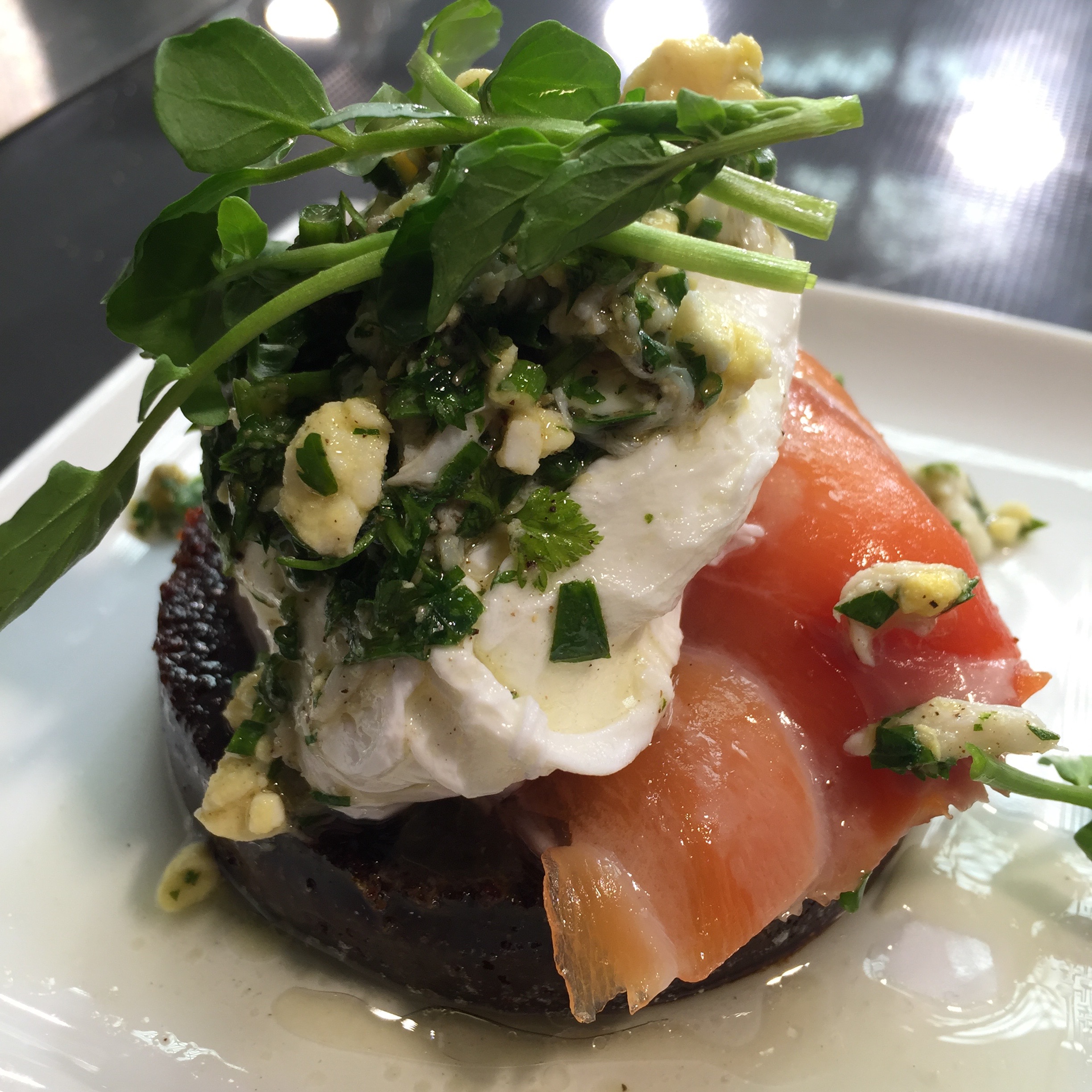 Cold Smoked Salmon, Lump Crab Gribiche, Warm Pumpernickle, Poached Egg, Upland Watercress
Makes 4 Servings
Ingredients
2 lbs Smoked Salmon
1  can B&M Brown Bread, Original
2 oz Unsalted Butter
8 Eggs
1 bunch Upland Watercress
1 tbsp black pepper
2 tbsp white wine vinegar
For the crab gribiche
8 oz lump crab meat, pasteurized
2 eggs
2 tbsp dijon mustard
2 tbsp capers
2 tbsp cornichons
4 tbsp grapeseed oil
1 tbsp red wine vinegar
1 tbsp parsley
3 tbsp chervil, divided
3 tbsp chives, divided
1 tbsp cilantro
Method
Clean the watercress from the stems and reserve
To make the gribiche, hard boil the 2 eggs, cool and chop. Chop the herbs (saving some chervil and chive for garnish) cornichons and capers and add to the chopped eggs.
Add the oil, the mustard, and the red wine vinegar and whisk. Add the chopped eggs and herbs and mix. Fold in the crab meat.
Slice the brown bread, (8 slices, 2 per person) brush with butter and griddle, plate warm, side by side, 2 per plate.
Poach the 8 eggs (2 per person) in boiling water, with a touch of white wine vinegar, cook to desired doneness.
Lay the brown bread on a plate, add Watercress on top of the bread, lay smoked salmon next, add one egg poached, cover with crab gribiche.
Garnish with chervil and small pieces of chives.