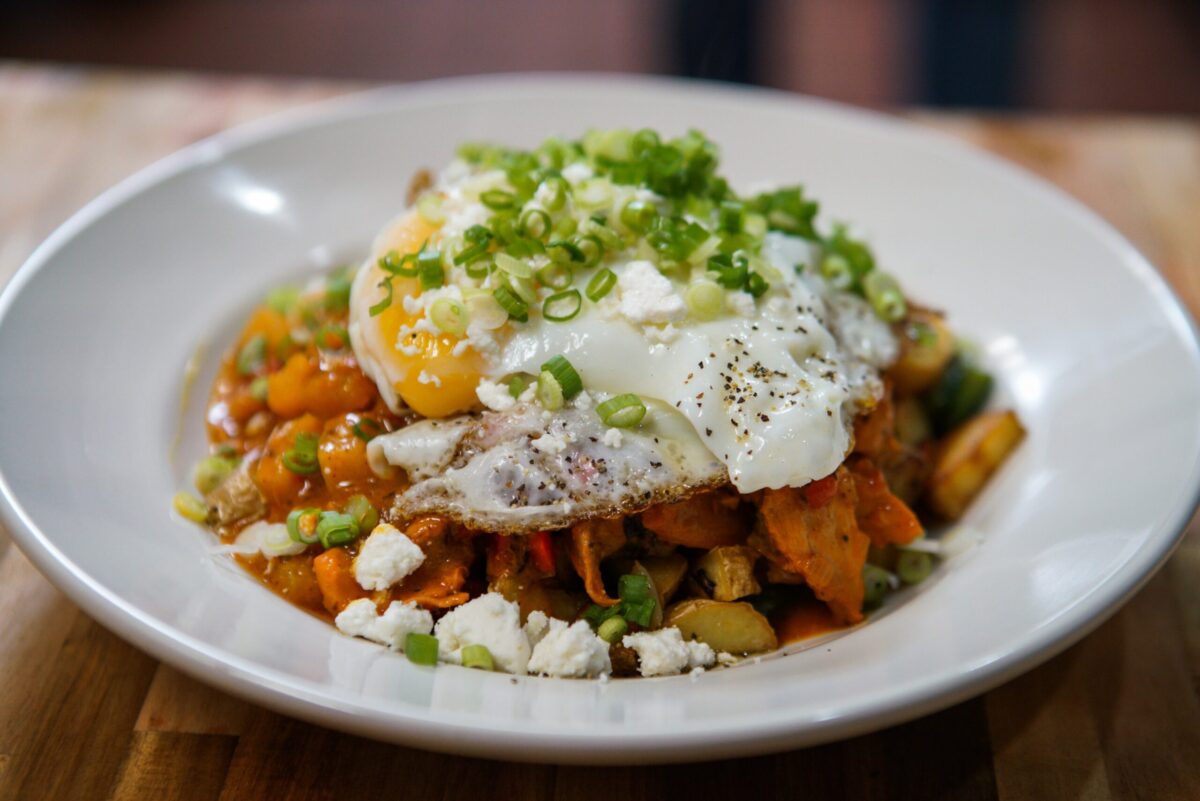 Chicken Al Pastor Hash – As Seen on Restaurant: Impossible
Serves 4
FOR THE MARINADE
3 cloves garlic, minced
1 cup pineapple, grilled and diced
¼ cup achiote paste
3 tbsp chipotle adobo
½ cup pineapple juice
1 lb boneless skinless chicken thighs, diced
FOR THE BRAISE
3 tbsp grapeseed oil
1 onion, diced
2 cloves garlic, minced
3 cups chicken broth
2 tbsp lime
2 cups fresh orange juice
2 tbsp ground cumin
FOR THE AL PASTOR HASH
1 red onion, diced
1 red bell pepper, diced
1 yellow pepper, diced
2 cups fingerling potatoes, roasted and diced
8 whole eggs
2 tbsp scallions, sliced thin
3 tbsp cotija cheese, crumbled
MAKE IT
MARINADE
1) Pre-heat oven to 350 degrees.
2) In a blender add garlic, pineapple, achiote paste, chipotle adobo, and pineapple juice.
3) In a mixing bowl, add the chicken and Al Pastor marinade and allow to marinate at least one hour prior to cooking.
4) Place chicken on a baking sheet and place in 350 degree oven. Cook for approximately 10 to 12minutes.
BRAISE
1) In a large sauce pot add 2 tbsp grapeseed oil, onions, and garlic. Allow to sweat.
2) Add chicken stock, lime juice, orange juice, and cumin. Bring braising liquid to a boil.
3) Add roasted chicken to the braise, and cover.
4) Place in the oven and cook for about 2 hours or until chicken is tender.
AL PASTOR HASH
1) In a large skillet over medium high heat, add red onions, red peppers, and yellow peppers. Cook for approximately 4 minutes.
2) Add already roasted fingerling potatoes and cook for another 3 minutes.
3) In a separate sauté pan over medium heat add the rest of the grapeseed oil and the eggs. Cook for approximately 3 minutes, or until white of the egg is completely cooked through and yolk is still runny.
FINISH & PLATE
1) Place roasted fingerling potato hash on the bottom of the bowl.
2) Top the hash with the cooked braising liquid, sunny side up eggs, scallions, and cotija cheese.