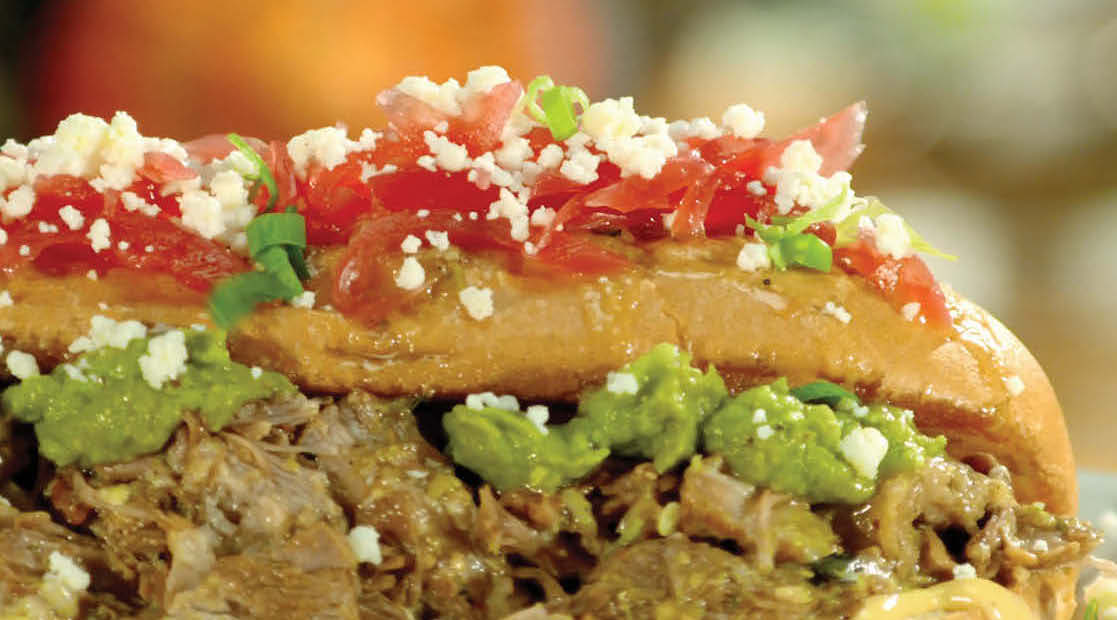 Torta Ahogada – As Seen on Restaurant: Impossible
From the episode, "Dirtiest. Kitchen. Ever."
SERVES 6
YOU'LL NEED
FOR THE PORK CARNITAS
3 lbs pork shoulder bone out (diced into cubes)
Kosher salt and ground black pepper, as needed to season the pork
2 tbsp grapeseed oil
1 white onion diced
2 garlic cloves sliced
6 oz salsa verde, store bought
6 oz chicken stock
6 oz orange juice
1 tsp cumin
1 tsp. chili powder
1 tbsp. honey
1 lime juiced
2 tbsp fresh cilantro, chopped
FOR THE PICKLED RED ONIONS
1 red onion, thin sliced
1 cup red wine vinegar
2 tbsp granulated sugar
1 tbsp honey
FOR THE GUACAMOLE
2 ripe avocados
1 fresh lime, juiced
1 tbsp fresh cilantro, chopped
½ cup red onion, small diced
2 Roma tomatoes, seeded & small diced
1 tsp garlic clove, minced
FOR THE SPICY AIOLI
1 cup mayonnaise
½ cup Mexican hot sauce
2 garlic cloves, minced
2 tbsp tajin classico seasoning
1 tbsp fresh cilantro, chopped
1 fresh lime, juice
FOR THE SANDWICH
6 hoagie rolls, split in half
1 tbsp grapeseed oil
1 tbsp butter
2 tbsp picked cilantro
½ cup pork carnitas braising liquid
COOKING DIRECTIONS
PORK CARNITAS
1) Pre-heat oven to 300 degrees.
2) Season pork with salt and pepper.
3) In a medium-large saucepan over high heat add the grapeseed oil and the seasoned pork. Sear the pork on all sides.
4) Remove pork from the pan and set aside.
5) Add onions and allow to sweat for approximately 4 minutes or until onions are translucent in color. Add garlic and allow to cook for another 1 to 2 minutes.
6) Add salsa verde, chicken stock, orange juice, cumin, chili powder, honey, lime juice, and cilantro.
7) Bring mixture to a boil. Add seared pork back to the mixture.
8) Cover and place in a 300-degree oven for about2 ½ to 3 hours until tender.
9) Remove pork from the oven and allow to cool down in braising liquid. Using a pair of tongs or a fork lightly shred. Reserve 1 cup of the braising liquid for finishing the sandwiches.
PICKLED RED ONIONS
1) In a medium sauce pot add vinegar, sugar, and honey. Bring mixture to a boil.
2) Add sliced onions to vinegar solution, remove from the heat and cover. Allow the pickled onions to cool in the liquid.
GUACAMOLE
1) In a medium bowl, mash together the avocados, lime juice, cilantro, salt, and pepper.
2) Mix in onion, tomatoes, and garlic.
3) Season with salt and pepper to taste.
SPICY AIOLI
1) In a large mixing bowl add mayonnaise, Mexican hot sauce, garlic cloves, tajin classico, cilantro, and lime juice.
2) Season with salt and pepper.
FINISHING AND PLATING
1) In a medium sauté pan over medium-high heat, add the grapeseed oil and butter.
2) Place hoagie rolls in the sauté pan and allow to toast until golden brown in color. About 1 minute.
3) Remove hoagie rolls from the pan and coat the bottom bun with the spicy aioli. Top with the shredded pork carnitas. Top pork carnitas with guacamole.
4) Place top bun on the carnitas. Dress the top bun with pickled onions, chopped cilantro, and carnitas braising liquid.
5) Serve sandwich with a fork and knife and enjoy.