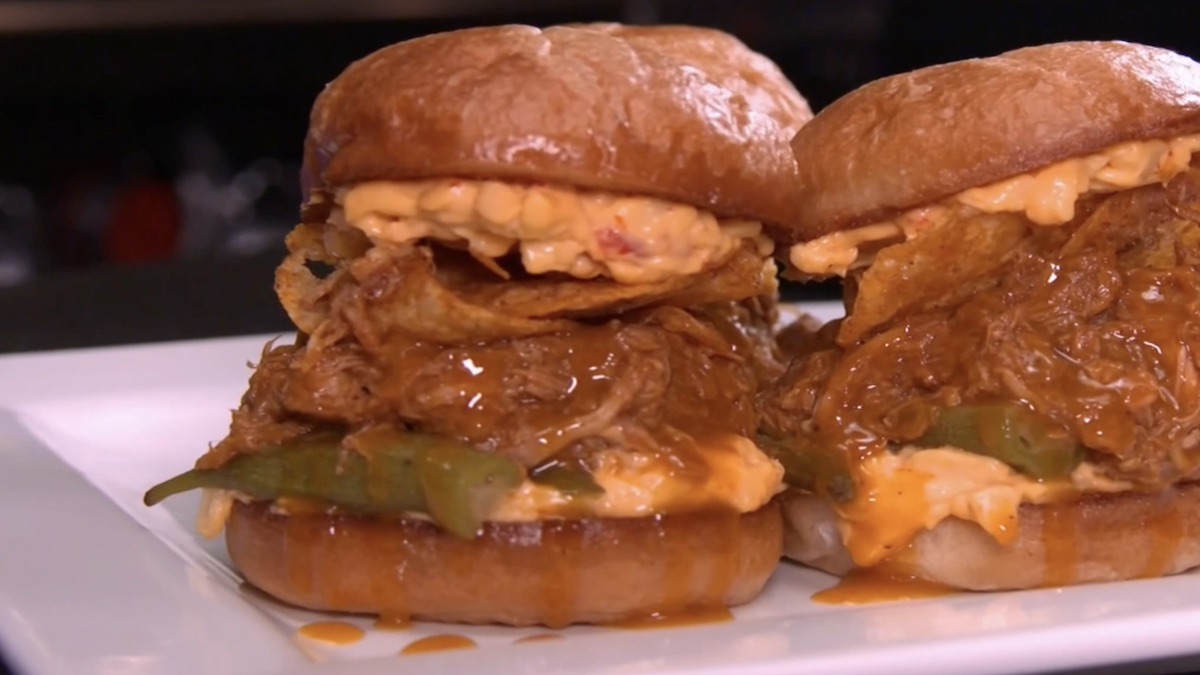 BBQ Chicken Sliders with Fried Okra – As Seen on Restaurant: Impossible
SERVES 4
YOU'LL NEED
FOR MUSTARD BBQ SAUCE
½ cup whole grain mustard
1 cup ketchup
2 tbsp brown sugar
1 tsp Cajun seasoning spice – store bought
3 tbsp honey
1 tbsp butter
FOR THE SLIDERS
12 brioche slider buns
1 tbsp grapeseed oil
4 boneless skinless chicken thighs
BBQ seasoning spice
8 oz pimento cheese
BBQ potato chips
1 lb breaded okra, store bought
½ cup pickled okra (sliced sweet pickles if unable to find pickled okra)
MAKE IT
MUSTARD BBQ SAUCE
1) In a medium sauce pot add mustard, ketchup, brown sugar, Cajun spice. Bring mixture to a simmer then remove from heat.
2) Using a whisk, slowly incorporate honey and butter.
BBQ CHICKEN SLIDERS
1) Pre-heat oven to 375 degrees.
2) Pre-heat fryer or air fryer to 375 degrees.
3) Season chicken thighs with salt, pepper, and BBQ spice.
4) Place chicken on a baking sheet and cook in 375-degree oven. Cook for about 12 to 15 minutes or until chicken reaches internal temperature of 165 degrees.
5) Remove chicken from oven. Using a fork or your hands, shred the chicken and place in a sauce pot.
6) Dress the shredded chicken with mustard BBQ sauce and bring to a light simmer.
7) In a 350-degree fryer, fry breaded okra and allow to cook for about 3 minutes or until okra is golden brown in color. If using an air fryer use the same cooking time as onion rings or fries.
FINISH & PLATING
1) In a skillet over medium heat, add grapeseed oil and butter. Toast slider buns until golden brown.
2) Spread pimento cheese on both sides of the buns, then top the buns with pickled okra and BBQ shredded chicken. Top with BBQ potato chips.
3) Serve the fried okra on the side of the chicken sliders.