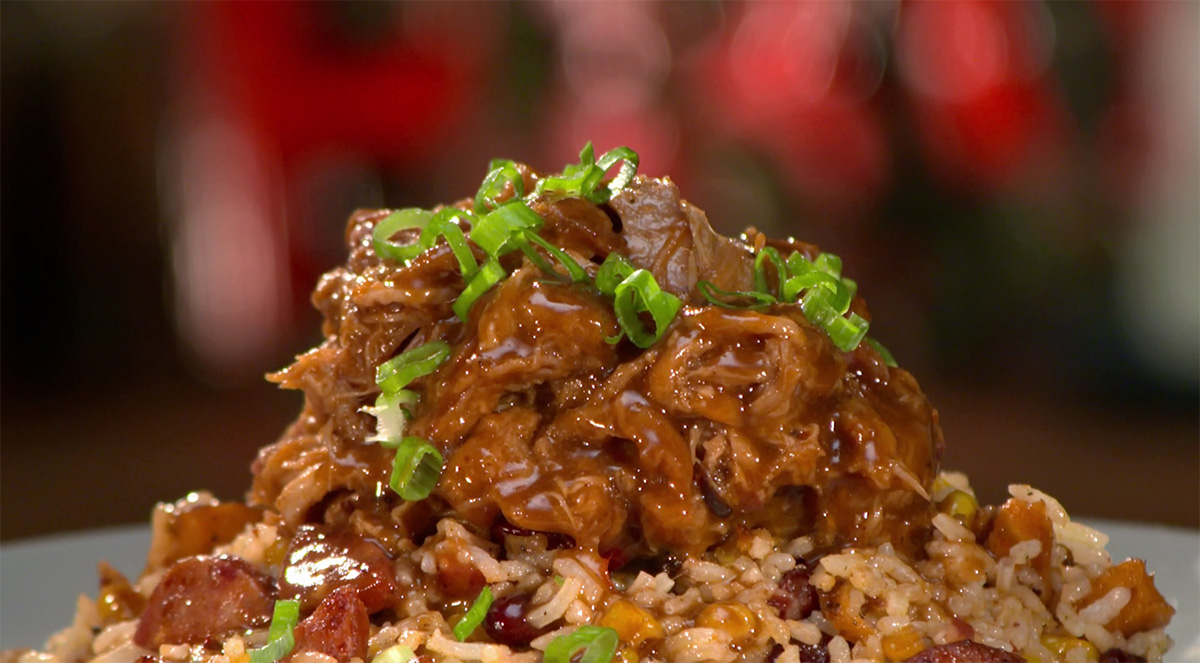 Cajun Pork Fried Rice – As Seen on Restaurant: Impossible
From the episode, "Missing Pepper in Baton Rouge"
SERVES 4
FOR THE BRAISED PORK SHOULDER
2 lbs pork butt, bone in
1 cup yellow mustard
4 oz BBQ spice
Salt and pepper
1 gallon chicken stock
1 gallon teriyaki BBQ sauce, store bought
FOR THE FRIED RICE
1 cup long grain rice, cooked
2 tbsp grapeseed oil
½ Spanish white onion, diced
½ red bell pepper, diced
2 ribs celery, diced
8 oz sweet potato, peeled and diced
1 lb andouille sausage, sliced
8 oz red kidney beans (canned)
8 oz corn off the cob
2 tbsp smoked paprika
1 tbsp Cajun Spice
MAKE IT
PULLED PORK
1) Preheat oven to 325.
2) Rub pork generously with mustard. Then rub with BBQ spice, and season liberally with salt and pepper.
3) Place pork in roasting pan. Add chicken stock. Cover with tin foil and place in oven for about 3 hours.
4) Using your hands or fork, pull cooked pork.
5) Dress pork with teriyaki BBQ sauce and set aside.
FOR THE RICE
1) In a medium saucepan over medium-low heat, add grapeseed oil, then add onions, peppers, celery, and sweet potatoes. Cook for about 5 minutes stirring occasionally.
2) Add sausage and continue to cook for about 5 minutes, continuing to stir.
3) Add kidney beans and corn.
4) Add already cooked rice. Using a wooden spoon incorporate all ingredients together.
5) Finish the rice with smoked paprika and Cajun spice.
PLATING
1) Place a large scoop of the finished rice on the bottom of the plate.
2) Next top with pulled pork.
3) Finish with teriyaki BBQ sauce.