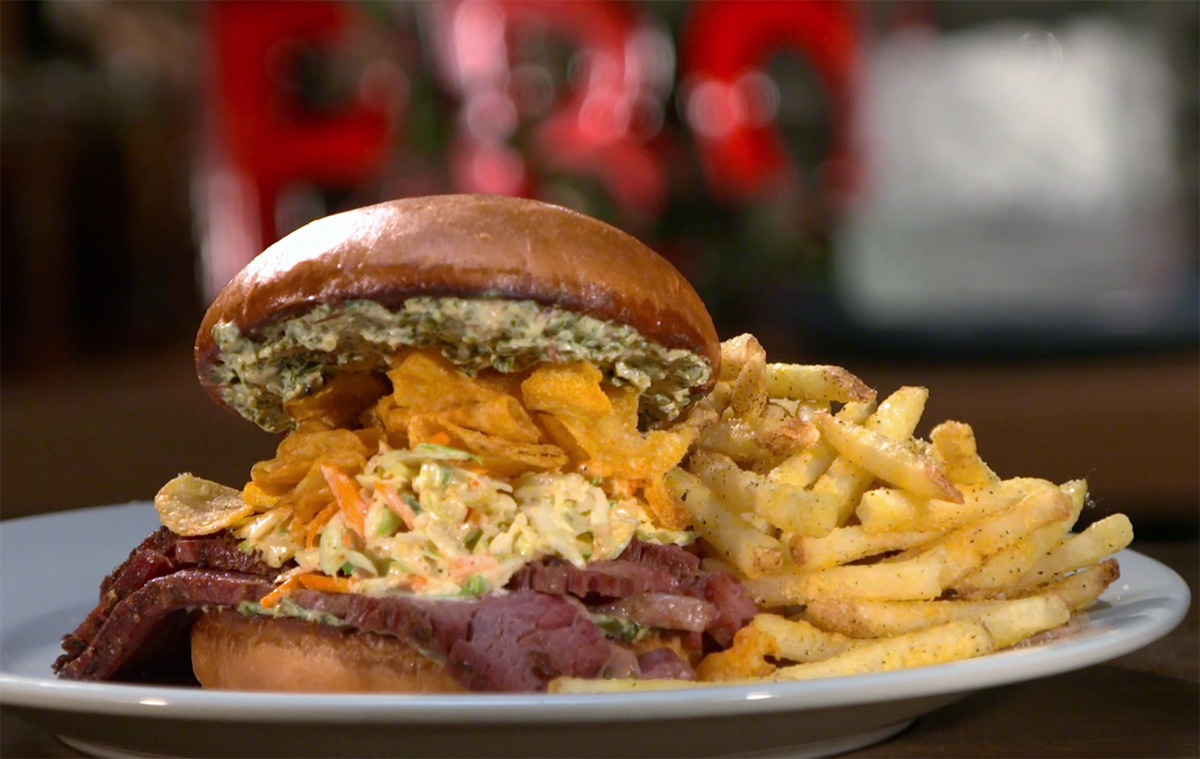 BBQ Pastrami Sandwich – As Seen on Restaurant: Impossible
From the episode, "Missing Pepper in Baton Rouge"
SERVES 4
YOU'LL NEED
FOR THE BBQ BEEF PASTRAMI
2 lbs corned beef
2 tsp black pepper, ground
2 tsp coriander, ground
2 bay leaves
4 cloves garlic
½ tbsp smoked paprika
½ tsp kosher salt
FOR THE BBQ SLAW
3 tbsp sweet BBQ sauce
1 tbsp cider vinegar
3 cups white cabbage, shredded
1 cup carrots, shredded
1 bunch scallions, sliced
1 bunch cilantro, chopped
Salt and pepper
FOR THE KALE DIP
1 cup buttermilk
1 cup sour cream
½ cup mayonnaise
1 bunch dill, sliced
1 bunch chives, sliced
1 cup curly kale, sliced thin
FOR PLATING
1 tbsp butter
4 brioche buns
BBQ potato chips
16 oz frozen French fries
MAKE IT
BBQ PASTRAMI
1) In a large pot, add beef brisket and cover with water.
2) Add half the coriander, black pepper, all the bay leaves, and garlic cloves.
3) Cook the pastrami for about 45 minutes at hard simmer.
4) Remove corned beef from the pot and place on a large baking sheet. Let cool. You should be able to touch it with your hands.
5) In a large mixing bowl, season brisket with coriander, black pepper, salt, and smoked paprika.
6) Pre-heat smoker or an oven to 300 degrees.
7) Place brisket in smoker/oven if you do not have a smoker available.
8) Allow to cook for about 1 hour.
9) Pull brisket from smoker/oven and cover with aluminum foil.
10) Place back in smoker/oven for about 1 more hour or until brisket is tender.
11) Allow brisket to rest for about 20 minutes.
12) Using a knife, cut 1-inch strips of brisket.
BBQ SLAW
1) In a mixing bowl add BBQ sauce and cider vinegar together.
2) In a separate bowl add cabbage, carrots, scallions, and cilantro.
3) Dress the cabbage mixture with BBQ sauce and cider vinegar.
4) Season with salt and pepper.
KALE DIP
1) In a food processor add buttermilk, sour cream, mayonnaise, dill, chives, and kale. Incorporate.
PLATING
1) Pre-heat a tabletop fryer or an air fryer to 350 degrees.
2) In a sauté pan over medium heat, toast brioche buns, face down in butter.
3) Dress the buns on both sides with the kale dip.
4) Place French fries in the fryer and cook for about 3 minutes or until the French fries are golden brown and crispy. Season with salt and pepper and set the fries aside.
5) Top the buns with sliced pastrami and BBQ Cole slaw. Then top the sandwich with BBQ potato chips and serve with fries.