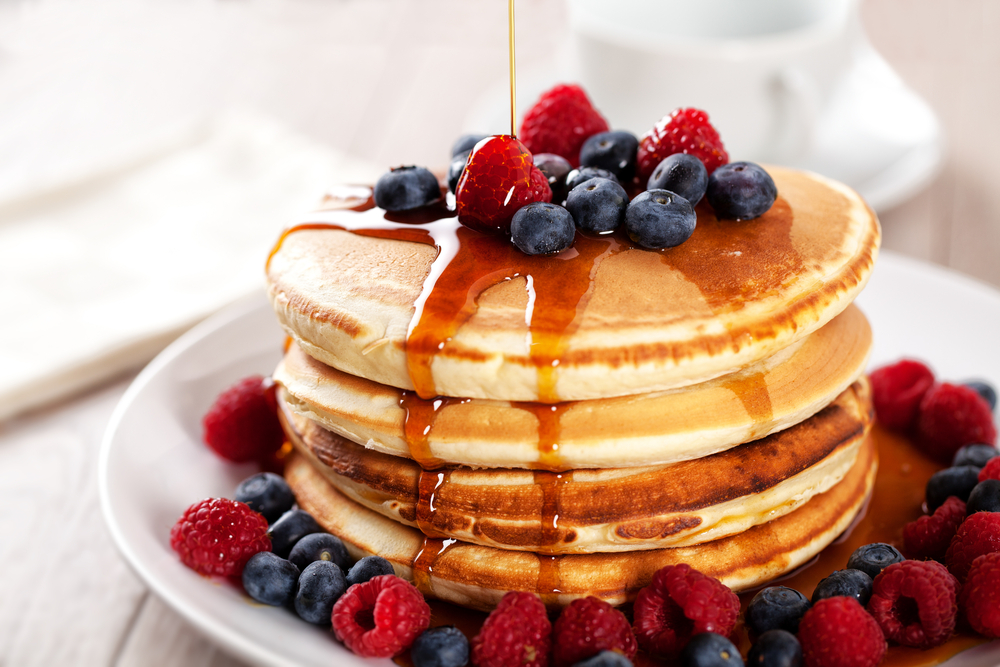 SERVES 4
YOU'LL NEED
2 cups all-purpose flour
2 tbsp Sugar
1.5 tsp baking powder
1.5 tsp baking soda
1 tsp kosher salt
2 tbsp butter, melted
3 cups buttermilk
2 eggs
Grapeseed oil
MAKE IT
1. In a large mixing bowl, whisk flour, sugar, baking powder, baking soda, and kosher salt.
2. In a separate bowl, add buttermilk, eggs, and melted butter.
3. Form a well in the center of the dry ingredients, and slowly incorporate all the wet ingredients.
4. Just mix enough to incorporate; do not over mix. Some lumps are fine.
5. Heat a large skillet over low-medium heat add enough grapeseed oil to lightly grease the pan. At the right temperature, a single tsp can be enough to coat the cooking surface.
6. Using a 2 oz ladle add batter making sure not to over crowd the pan.
7. Allow pancakes to cook for a few minutes; watch carefully for bubble to form on the top. The bottom side should be light brown. Flip and cook for another two minutes and serve.
THE MACROS
CALORIES: 477
PROTEIN: 12 g
FAT: 22 g
CARBS: 60 g