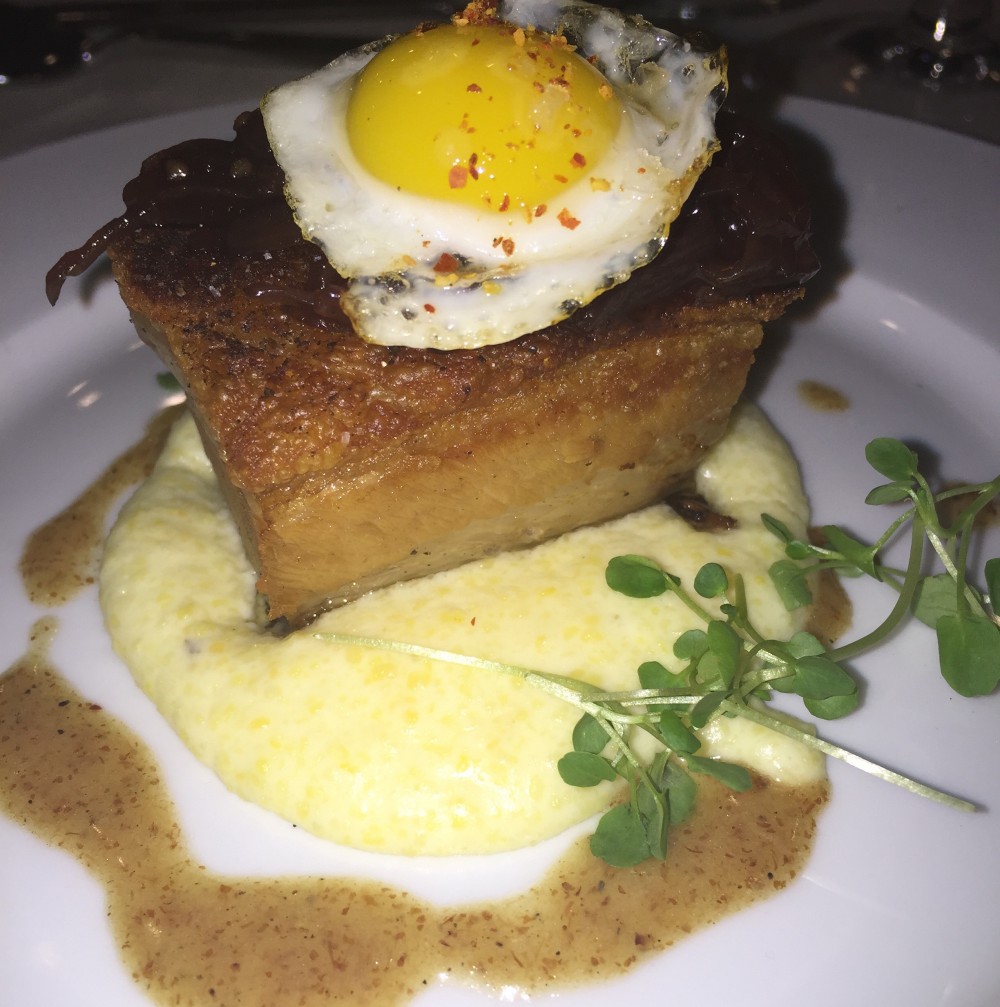 "Breakfast for Dinner" Braised Pork Belly with Petite Sunny Side Egg & Polenta
Ingredients
4 portions Braised Pork Belly (see recipe)
4 Quail Eggs or regular large eggs
Grapeseed Oil (as needed)
1.5 cups Creamy Polenta (see recipe)
4 tsp red onion marmalade (see recipe)
4 tsp warm bacon vinaigrette (see recipe)
1/4 cup micro cress or chopped chives
4 dashes sea salt
4 dashes fresh ground black pepper
Method
PRE HEAT OVEN TO 375 DEGREES. IN A HOT SAUTE PAN OVER MEDIUM HEAT, SEASON THE PORTIONS OF CUT PORK BELLY WITH SALT AND PEPPER. SEAR ON BOTH SIDES UNTIL GOLDEN BROWN. PLACE THE SEARED PORK BELLY PORTIONS IN THE OVEN AND ROAST FOR 8 TO 10 MINUTES.
HAVE HOT CREAM POLENTA READY AND SET ASIDE.
HEAT A NON STICK SAUTE PAN OVER MEDIUM HEAT AND ADD A TSP OF GRAPESEED OIL. FRY THE EGGS SUNNY SIDE UP INTIL DONE AND SET ASIDE TO PLATE THE DISH.
PLACE A 3 OZ PORTION OF WARM CREAMY POLENTA IN THE CENTER OF THE PLATE. PLACE THE PORK BELLY IN THE CENTER IF THE POLENTA. TOP THE PORK BELLY WITH 1 TSP OF RED ONION MARMALADE AND THEN THE FRIED EGG. SPRINKLE SALT AND PEPPER ON TOP OF THE SUNNY SIDE EGG. GARNISH AROUND THE POLENTA WITH THE MICRO CRESS OR CHOPPED CHIVES. DRIZZLE WITH WARM BACON VINAIGRETTE.