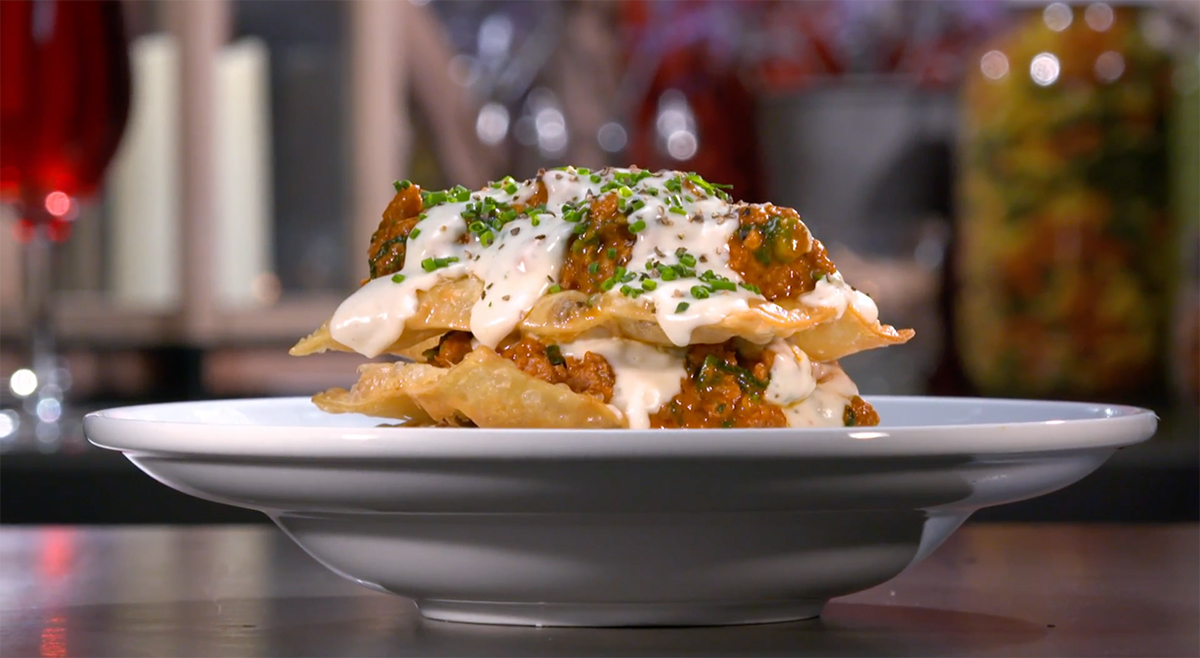 Crispy Fried Lasagna – As Seen on Restaurant: Impossible
From the episode, "Nancy Foots the Bill"
SERVES 4
YOU'LL NEED
FOR THE BOLOGNESE
2 tbsp grapeseed oil
8 oz 80/20 ground beef
8 oz ground pork
Kosher salt and pepper, to taste
4 oz pancetta, small diced
1 onion, small diced
2 ribs celery, small diced
3 carrots, small diced
1 cup white wine
½ cup tomato paste
1 cup chicken stock
1 cup whole milk
FOR THE BECHAMEL SAUCE
2 cups whole milk
1 tbsp unsalted butter
2 tbsp all-purpose flour
1 tbsp grated Parmesan cheese
½ tsp ground nutmeg
FOR THE FRIED LASAGNA
Oil, enough for deep frying
8 fresh pasta sheets (4-inch squares)
1 bunch broccoli rabe, blanched
4 tbsp chopped chives
4 tbsp grated Parmesan
MAKE IT
BOLOGNESE
1) In a large sauce pot over medium-high heat, add the grapeseed oil, ground beef, and ground pork. Season lightly with salt and pepper.
2) Using a spoon, stir meat occasionally and brown the ground beef and ground pork for 5 minutes or until cooked through.
3) Using a slotted spoon, remove the cooked meat from pot, set aside, and remove excess fat from the pot and discard.
4) Next, over medium heat, add the pancetta and stir. Allow to render for about 6 to 8 minutes, until pancetta is lightly browned.
5) Add the onions, celery, and carrots. Stir and continue to cook over medium heat for 3 minutes, until the onions and celery are translucent, but not caramelized.
6) Deglaze the pot with the white wine, then add ground meat back to pot and allow the white wine to come to a simmer.
7) Add tomato paste, milk, and chicken stock and stir well.
8) Continue to stir occasionally and allow to slowly cook for about 30 to 45 minutes at a low simmer on low heat.
9) Once sauce has simmered as instructed, finish the sauce by stirring in the blanched broccoli rabe and season with salt and pepper to taste.
BECHAMEL SAUCE
1) In a large sauce pot over medium-high heat, add milk, stir with a whisk and bring to a simmer.
2) In a separate sauce pot over medium heat, add the butter. Once the butter melts and starts to bubble, whisk in flour to create a roux and allow to cook for 3 to 4 minutes.
3) Using a whisk, stir the heated milk into the sauce pot with the roux. Continue to stir the sauce for 30 seconds until smooth.
4) Bring mixture to a light simmer over medium heat and continue to stir and cook the sauce for 5 to 7 minutes until thickened. Be careful not to allow the sauce to stick to the bottom of the pot.
5) Remove from heat and finish by whisking in the Parmesan cheese and nutmeg. Season with kosher salt and pepper to taste.
LASAGNA & PLATING
1) Preheat fryer with oil to 350 degrees.
2) Place raw pasta sheets into the fryer, 1 at a time, and allow to cook for 2 minutes until pasta sheets are light brown in color and crispy on both sides. Set fried pasta sheets onto a sheet pan lined with paper towels.
3) To plate the dish, place first fried pasta sheet on the plate and top with ¼ cup of the bolognese sauce. Next, place the second fried pasta sheet on top of the other sheet with bolognese sauce and top with ¼ cup more of bolognese and then ladle ¼ cup of bechamel sauce on top of the bolognese sauce.
4) Garnish the top of with 1 tbsp of chopped chives and 1 tbsp of Parmesan cheese.
5) Repeat for the other 3 portions.