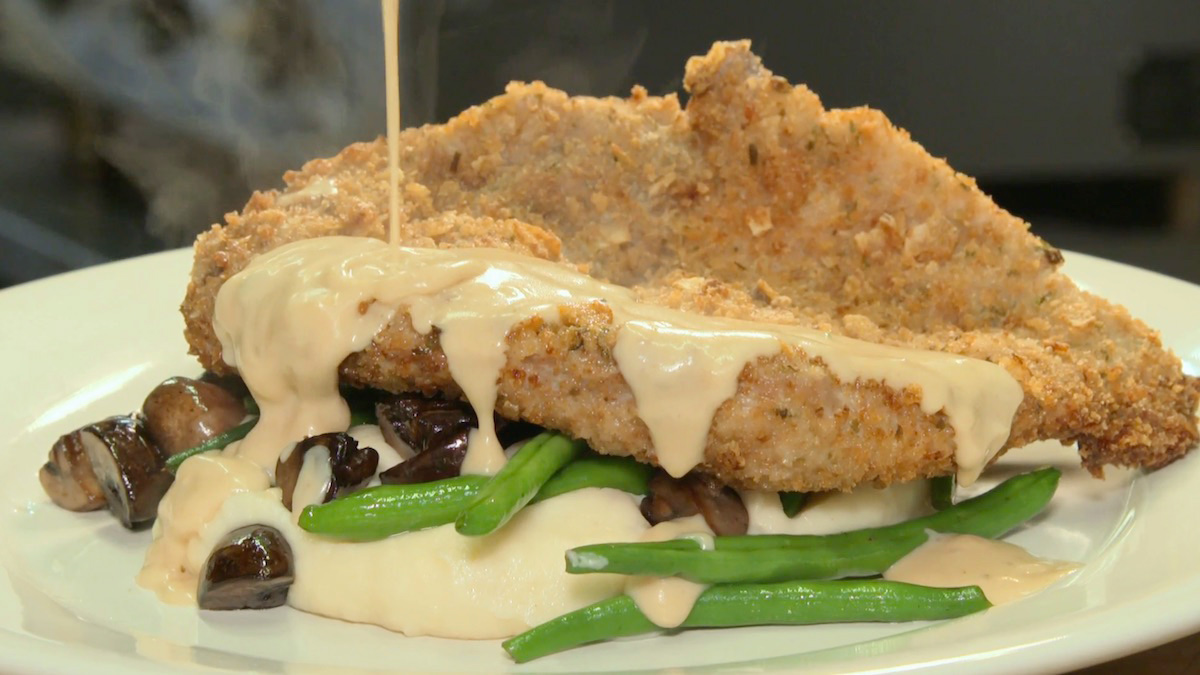 Jalapeno Crusted Pork Chops – As Seen on Restaurant: Impossible
From the episode, "Schooling a Teacher"
SERVES 4
YOU'LL NEED
FOR THE CHEDDAR MASHED POTATOES
4 Russet potatoes, peeled and diced
1 stick butter
1 cup heavy cream
2 oz cheddar cheese, shredded
Salt and pepper
FOR THE JALAPENO COUNTRY GRAVY
2 sticks butter
1 white onion, diced
1 jalapeno, seeded and diced
2 ½ tbsp all-purpose flour
1 cup milk
1 cup beef stock
Salt and pepper
FOR THE PORK
4 pork cutlets, trimmed and pounded ½ inch thick
2 tbsp all-purpose flour
2 eggs, beaten
2 tbsp Panko breadcrumbs
1 tbsp jalapeno chips, chopped
½ lb green beans, blanched
12 oz button mushrooms, quartered
1 stick butter
1 cup grapeseed oil
1 bunch chives, sliced
MAKE IT
CHEDDAR MASHED POTATOES
1) Add potatoes to a pot with cold seasoned water. Bring to a boil and reduce to a simmer.
2) Cook the potatoes until the potatoes are cooked through, about 20-25 minutes.
3) Add heavy cream and butter to a small sauce pot.
4) Pass the potatoes through a ricer.
5) Using a spoon, incorporate warmed heavy cream and butter mixture.
6) Add cheddar cheese, salt, and pepper, and incorporate. Set aside.
JALAPENO COUNTRY GRAVY
1) In a sauce pot over medium heat add butter, onions, and jalapenos. Allow to sweat for about 3 minutes.
2) Whisk in flour and cook for another 3 minutes.
3) Add milk and beef stock. Bring to a boil. Cook for about 4 minutes, then drop to a low simmer.
4) Finish with salt and black pepper.
PORK
1) Place the flour and the eggs in separate bowls. Combine Panko breadcrumbs and jalapeno chips together in a third bowl.
2) Season pork chops with salt and pepper, and place in flour. Then place in the eggs, and finish in the Panko and potato chip mixture.
3) In a large skillet over medium-high heat add grapeseed oil.
4) Add the breaded pork chops to the pan and cook for about 3 minutes on each side. Chops should be golden brown.
5) Remove chops from then pan and place on a paper towel to soak up excess oil.
PLATING
1) Place a pot on the stove with seasoned water, and bring to boil.
2) Add the green beans and cook for 4 minutes.
3) In a pan over medium-high heat, add butter and mushrooms. Sauté the mushrooms for about 3 minutes. Season with salt and pepper. Mushrooms should be golden brown in color.
4) Add the cooked green beans to the pan with mushrooms, and sauté for another 2 minutes.
5) On a plate, place a scoop of mashed potatoes.
6) Top the mashed potatoes with the mushroom and green beans.
7) Place crispy pork cutlet on top of the green beans and mushrooms.
8) Top the pork cutlet with country gravy.vFinish with sliced chives.