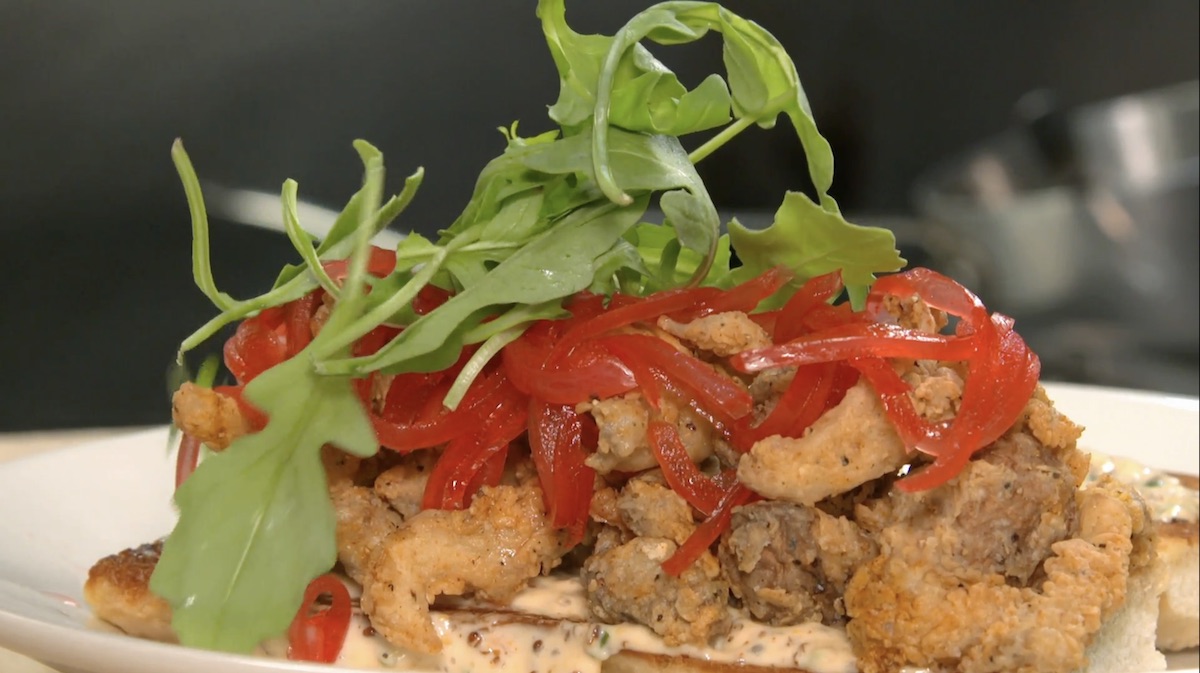 Crispy Fried Mushroom Po' Boy – As Seen on "Restaurant: Impossible"
From the episode "Big Ego. Big Trouble."
Yields 2 sandwiches
YOU'LL NEED
FOR THE BUTTERMILK MARINADE
2 cups buttermilk
1 cup hot sauce
2 tbsp. Cajun spice
2 tbsp. smoked paprika
1 tsp. salt
FOR THE SEASONED FLOUR
1 cup all-purpose flour
1 tsp. garlic powder
½ tsp. black pepper
1 tbsp. Cajun Spice
2 tbsp. kosher salt
1 tbsp. black pepper
FOR THE MUSTARD AIOLI
1 cup mayonnaise
½ cup whole grain mustard
2 garlic cloves minced
1 tsp. chives chopped
FOR THE PICKLED RED ONIONS
2 red onions sliced
2 cups red wine vinegar
3 tbsp. granulated sugar
2 tbsp. honey
FOR THE SANDWICH
4 cups cremini mushrooms quartered
4 cups oyster mushrooms split
2 hoagie rolls
2 tbsp. grape seed oil
1 tbsp. butter
2 cups arugula
1 cup pickled red onions
8 oz. French Fries – cooked
MAKE IT
BUTTERMILK MARINADE
1. In a mixing bowl add buttermilk, hot sauce, Cajun spice, smoked paprika, salt and pepper and incorporate.
2. Place mushrooms in buttermilk and allow to marinate approximately 2 hours prior to cooking.
SEASONED FLOUR
1. In a large mixing bowl combine flour, garlic powder, black pepper, Cajun spice, kosher salt, and black pepper and stir.
MUSTARD AIOLI
1. In a large mixing bowl add mayonnaise, whole grain mustard, and garlic.
2. Then add chives, salt, and pepper and combine.
PICKLED RED ONIONS
1. In a medium sauce pot add vinegar, sugar, and honey.
2. Bring mixture to a boil.
3. Add sliced onions to vinegar solution and cover. Turn off heat and let cool.
FINISHING
1. In a medium sauté pan over medium-high heat add grape seed oil and butter.
2. Place both hoagie rolls in the pan and allow to toast until golden brown.
3. Pull mushrooms from buttermilk mixture and dredge in seasoned flour.
4. Place mushrooms in 350-degree fryer and allow to cook for 3 minutes until golden brown.
5. Coat both sides of hoagie roll with mustard aioli.
6. Top with crispy mushrooms, arugula, and pickled onions.
7. Serve with French fries.