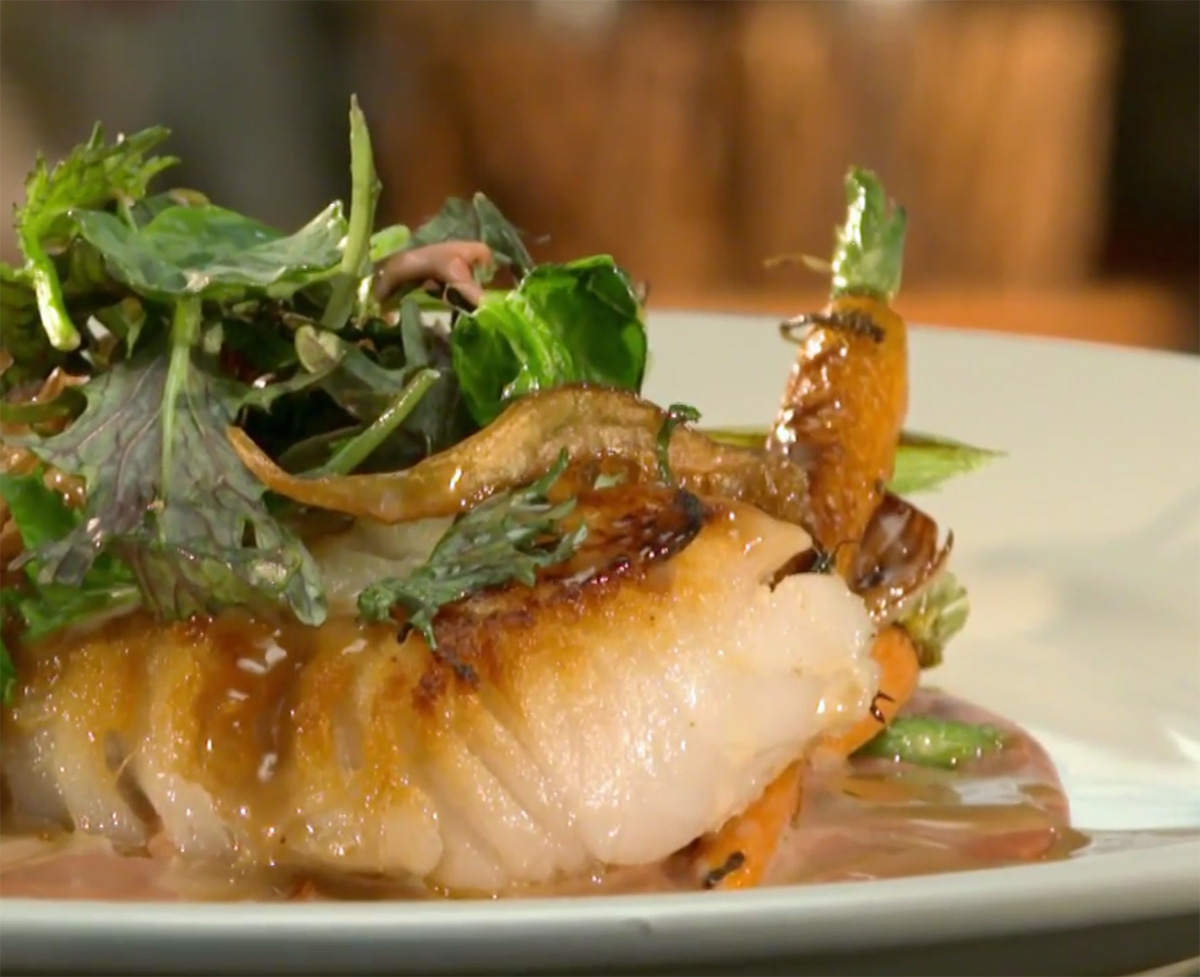 Pan seared Halibut with Miso and Beet Puree – As Seen on Restaurant: Impossible
From the episode, "A Trifecta of Failure"
SERVES 4
YOU'LL NEED
FOR THE MISO & BEET PUREE
1 stick butter
2 white onions, sliced
2 red beets, roasted and diced
4 tbsp red miso
2 cups chicken stock
1 cup heavy cream
Salt and pepper, to taste
FOR THE HALIBUT
4 tbsp grapeseed oil
16 baby carrots, halved
6 spring onions, halved
8 oz oyster mushrooms, sliced
4 cups baby mustard greens
4 halibut filets (5 oz each)
2 tbsp extra virgin olive oil
Juice of 1 lemon
MAKE IT
MISO & BEET PUREE
1) In a saucepan add butter and onions and allow to sweat.
2) Next add beets and miso and allow to cook for another 3 minutes.
3) Then add chicken stock and heavy cream.
4) Allow to simmer for approximately 10 minutes.
5) Add mixture to the blender and puree until smooth.
6) Season with salt and pepper and set aside.
HALIBUT
1) In a sauté pan over medium high heat add 2 tbsp grapeseed oil.
2) Add spring onions and allow to cook for about 2 minutes.
3) Add carrots and allow to cook for an additional 3 minutes.
4) In a separate sauté pan over medium-high heat, add the rest of the grapeseed oil, then add sliced oyster mushrooms and cook for approximately 2 minutes, or until mushrooms are golden brown in color.
5) Remove mushrooms from the pan and place in a mixing bowl with baby mustard greens and set aside.
6) Season halibut with salt and pepper, and add the halibut to the same pan that the mushrooms were cooked in. Then cook the halibut for 3 minutes on each side.
PLATING
1) On a plate, place a small amount of beet and miso puree.
2) Top the beet puree with spring onions and carrots.
3) Place the halibut on top of the carrots and spring onions.
4) Dress crispy mushrooms and baby mustard greens with lemon juice and extra virgin olive.
5) Top the halibut with dressed baby mustard greens.