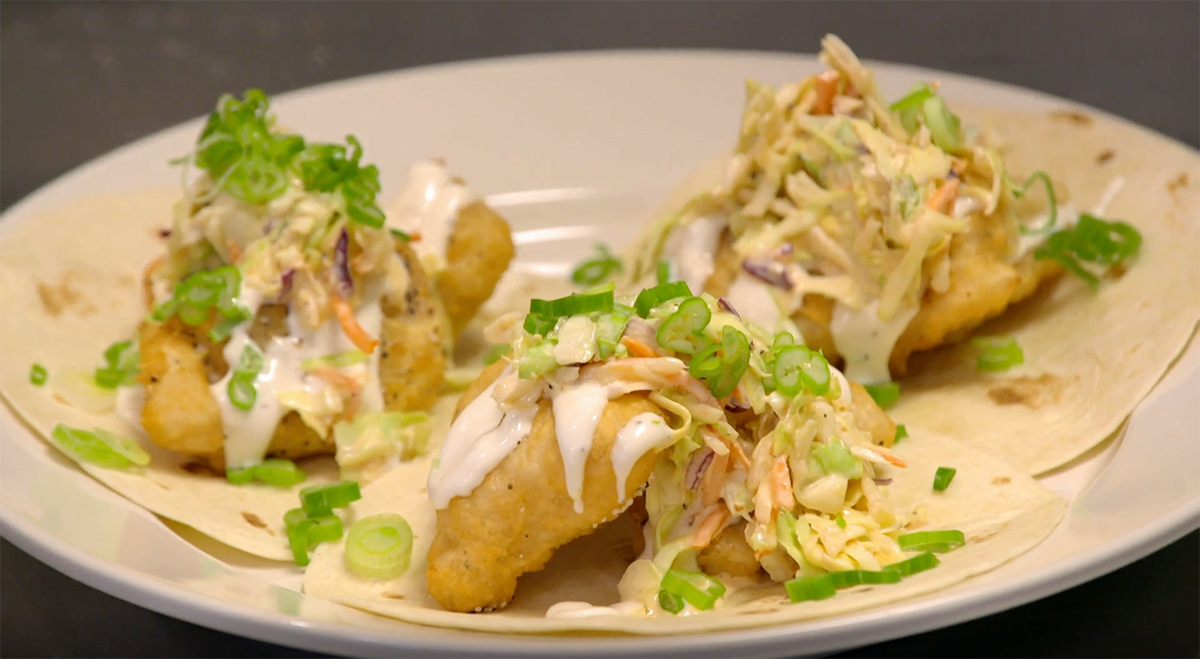 Beer Battered Fish and Chips Tacos – As Seen on Restaurant: Impossible
From the episode, "The Sinking Anchor"
SERVES 4
YOU'LL NEED
FOR THE COLESLAW
2 cups cabbage, thin sliced
½ cup carrots, shredded
1 cup mayonnaise
2 tbsp hot sauce
Kosher salt and pepper, to taste
3 tbsp scallions, sliced
2 tbsp fresh cilantro, chopped
FOR THE MALT VINEGAR AIOLI
1 cup mayonnaise
2 oz malt vinegar
2 cloves garlic, minced
Juice and zest of ½ lemon
Juice and zest of 1 lime
Kosher salt and pepper, to taste
FOR THE BEER BATTER
1 cup all-purpose flour
2 tbsp cornstarch
2 cups light beer
½ tsp kosher salt
¼ tsp ground black pepper
FOR THE MAIN DISH
Oil, enough for deep frying
24 oz walleye filet portioned into 2 oz. portions (walleye can be substituted with cod)
2 cups all-purpose flour, seasoned with a dash of kosher salt and ground black pepper
12 flour tortillas
1 lb frozen French fries
MAKE IT
COLESLAW
1) In a mixing bowl, add the cabbage, carrots, mayonnaise, and hot sauce. Mix well and season with salt and pepper.
2) Finish with sliced scallions, and chopped cilantro.
MALT VINEGAR AIOLI
1) In a mixing bowl add mayonnaise, malt vinegar, garlic, lemon zest and juice, and lime zest and juice. Whisk ingredients together and season with salt and pepper to taste.
BEER BATTER
1) Mix the flour and corn starch together in a large mixing bowl. Then add beer and whisk ingredients together. Season with salt and pepper.
MAIN DISH
1) Pre-heat oil fryer to 350 degrees F.
2) Dredge fish filets in the seasoned flour, then dip the fish filets in beer batter and fry for 4-6 minutes or until golden brown.
3) Fry the French fries in 350-degree fryer for 3 minutes or until fries are golden brown in color. (Oven preparation per instructions is also OK.)
4) In a sauté pan over medium heat, warm the tortillas on both sides.
5) Place the coleslaw onto the warmed tortillas. Place 1 piece of fried fish on top of the coleslaw per taco.
6) Drizzle the malt aioli onto the taco as a garnish.
7) Serve 3 tacos per person with French fries.