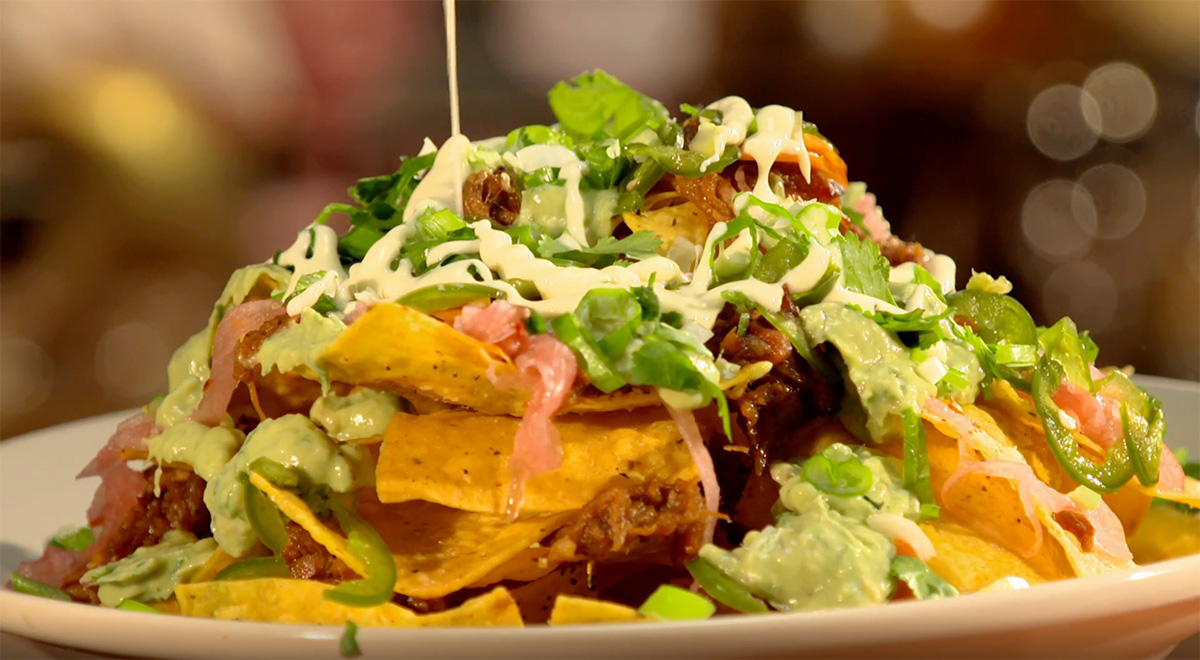 BBQ Pulled Pork Nachos – As Seen on Restaurant: Impossible
From the episode, "The Sinking Anchor"
SERVES 4
YOU'LL NEED
FOR THE PULLED PORK
3 tbsp kosher salt
4 tbsp brown sugar
1 tbsp BBQ spice
1 tbsp smoke paprika
1 tsp cumin
3 lbs pork butt
FOR THE WHIPPED AVOCADO
1 avocado, seeded, peeled & diced
2 cloves garlic, minced
¼ cup sour cream
¼ cup mayonnaise
1 tbsp cilantro chopped
Kosher salt and pepper, to taste
FOR THE LIME CREMA
½ cup sour cream
¼ cup heavy cream
Juice of 1 lime
Kosher salt and pepper, to taste
FOR THE PICKLED ONIONS and JALAPENOS
1 cup white wine vinegar
2 garlic cloves, minced
2 tbsp honey
1 tbsp sugar
1 red onion, thin julienned
3 jalapeno peppers, thin sliced
TO FINISH
2/3 cup mustard-based BBQ sauce
1 lbs tortilla chips
3 tbsp cilantro, chopped
MAKE IT
PULLED PORK
1) Preheat oven to 400 degrees F.
2) In a large mixing bowl, add kosher salt, brown sugar, BBQ spice, smoked paprika, and cumin. Mix well and then evenly coat the pork with spice rub mixture.
3) Place spice rubbed raw pork butt in a roasting pan with 1 inch of water in the bottom of the pan. Cover with foil and place in preheated oven and cook for 30 minutes.
4) Drop the oven temperature to 325-degrees and allow the pork to slow cook for about 3 hours. (While the pork is cooking, make the other sub-recipes below.)
5) Remove the cooked pork from oven, place in a large mixing bowl or sheet pan and shred using 2 forks.
WHIPPED AVOCADO
1) In a blender, add avocado, garlic, sour cream, mayonnaise, and cilantro. Puree mixture until smooth and season with salt and pepper to taste.
LIME CREMA
1) In a large mixing bowl add sour cream, heavy cream, and lime juice. Season with salt and pepper to taste.
PICKLED RED ONIONS and JALAPENOS
1) In a sauce pot add white wine vinegar, garlic, honey, and sugar. Bring mixture to a boil and pour over top of onions and peppers.
2) Season with salt and pepper and allow the pickled onions and peppers to cool to room temperature.
TO FINISH
1) Place the tortillas chips on a large platter.
2) In a sauté pan over medium heat, add the pulled pork, and the mustard-based BBQ sauce.
3) Top the tortillas chips with sauced pulled pork, pickled onions & jalapenos, whipped avocado puree and lime crema. Garnish with chopped cilantro.