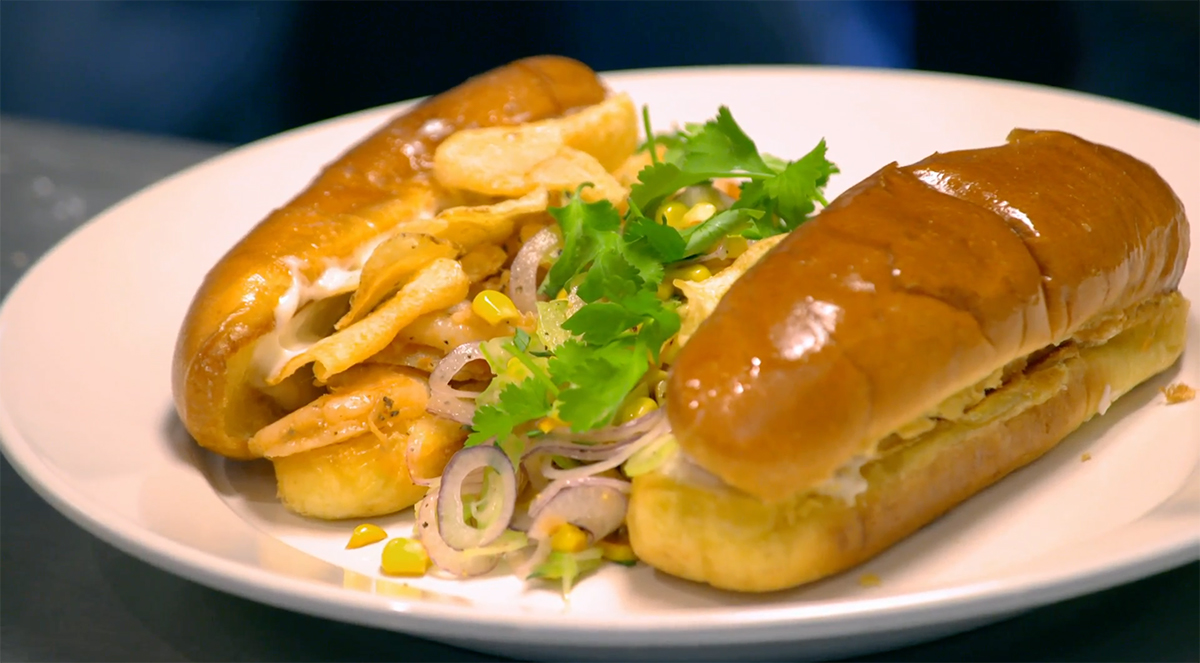 Smoked Shrimp Roll – As Seen on Restaurant: Impossible
From the episode, "The Sinking Anchor"
SERVES 4
YOU'LL NEED
FOR THE GARLIC AIOLI
½ cup mayonnaise
1 clove garlic, minced
½ lemon, juiced
Kosher salt and pepper to taste
FOR THE SHRIMP ROLL
20 large shrimp, raw, peeled, and deveined
2 ribs celery, small diced
¼ cup white onion, small diced
1 tbsp tarragon chopped
1 tbsp chives, chopped fine
1 tbsp parsley, chopped
Kosher salt and pepper to taste
Cajun seasoning, to taste
20 oz salt and vinegar potato chips
4 brioche split top hot dog buns
1 tsp grapeseed oil
1 tsp butter
MAKE IT
THE GARLIC AIOLI
1) In a mixing bowl, combine the mayonnaise, garlic, and lemon juice.
2) Season with salt and pepper to taste
THE SHRIMP ROLL
1) Pre-heat a smoker at 250 degrees F.
2) Season shrimp with salt and pepper.
3) Place shrimp in a smoker for about 15-20 minutes until they are cooked through.
4) In a mixing bowl add celery, onions, tarragon, chives, parsley, and the garlic aioli.
5) Dice the smoked shrimp into large pieces and add them the mixing bowl with the vegetables and fresh herbs.
6) Season with kosher salt, pepper, and Cajun seasoning to taste.
7) In a sauté pan over medium heat, add grapeseed oil and butter and melt. Toast the brioche split top buns on both sides until golden brown.
8) Place shrimp mixture into the bun and top with some potato chips and serve.