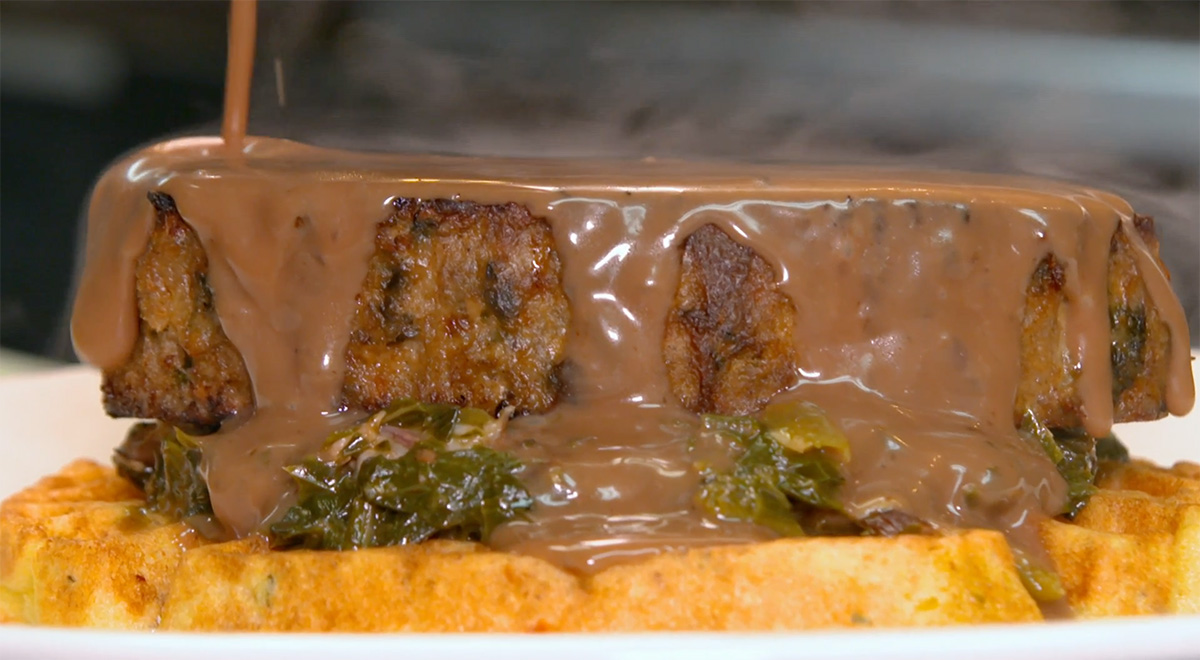 BBQ Southern Meat Loaf with Cornmeal Waffles & Gravy – As Seen on Restaurant: Impossible
From the episode, "R.E.S.P.E.C.T."
SERVES 4
YOU'LL NEED
FOR THE MEATLOAF
1 cup BBQ sauce, store bought
2 large eggs
1 cup canned roasted red peppers
5 cloves garlic, minced
18 oz ground beef
18 oz ground pork
1 yellow onion, diced small
½ tsp cayenne pepper
1 tsp chili powder
1 tsp Cajun seasoning
2 tsp kosher salt
1 tsp black pepper
FOR THE COLLARD GREENS
1 tbsp grapeseed oil
½ cup diced raw bacon
1 lb fresh collard greens, chopped into large ribbons
2 cups chicken stock
2 tbsp apple cider vinegar
2 tbsp sugar
Kosher salt, to taste
Black pepper, to taste
FOR THE GRAVY
2 tbsp butter
½ cup yellow onion, diced small
½ cup red wine
2 cups beef stock
4 tbsp water
2 tbsp cornstarch
Kosher salt, to taste
Black pepper, to taste
FOR THE CORNMEAL WAFFLE
2 tbsp grapeseed oil
¼ cup yellow onion, diced small
¼ cup carrots, diced small
¼ cup celery, diced small
2 cloves garlic, minced
2 tsp fresh sage, chopped
2 tsp fresh rosemary, chopped
2 tbsp chicken stock
1 cup all-purpose flour
1 ½ cups cornmeal
1 ½ tsp baking powder
1 tsp baking soda
1 cup buttermilk
½ cup butter, melted
2 large eggs
MAKE IT
MEATLOAF
1) Pre-heat oven to 325°.
2) In a food processor or blender add BBQ sauce, eggs, roasted red peppers, and garlic. Puree on high until smooth.
3) In a large mixing bowl, add the ground beef, ground pork, onion, cayenne pepper, chili powder, Cajun seasoning, salt, and pepper and combine.
4) Pack the mixture into a greased 10-inch loaf pan. Place meat loaf in the oven. Cook for about 45 minutes or until meat loaf has reached an internal temperature of 155° F. Remove from the oven and set aside to rest.
COLLARD GREENS
1) In a large sauce pot over medium heat, add grapeseed oil and bacon. Cook the bacon over medium heat and allow bacon to render for about 5 minutes until crispy.
2) Add collard greens and stir. Cook the collard greens for 5 minutes.
3) Add chicken stock, vinegar, sugar and bring to a simmer. Turn down the heat to low and cover. Continue to cook collard greens for 25 to 30 minutes until tender. Season with salt and pepper to taste.
GRAVY
1) In a small sauce pan over medium heat, add the butter and onions and allow to sweat for 3 minutes until onions are tender and translucent.
2) Next, add red wine, stir and allow to reduce by half.
3) Add the beef stock and bring to a simmer.
4) In a small mixing bowl, add cold water and mix in corn starch to create a slurry.
5) Using a whisk, stir in the corn starch slurry into the beef gravy and allow to come to a simmer and thicken. Season with salt and pepper to taste.
CORNBREAD WAFFLE
1) In a medium sauté pan over medium heat add the grapeseed oil, and sauté the onions, carrots, celery, and garlic.
2) Next add herbs and chicken stock and allow to cool.
3) Sift all dry ingredients together into a large mixing bowl.
4) Next, add the buttermilk, melted butter, and eggs.
5) Fold in cooked, now cool, vegetables.
6) Heat up a waffle iron and spray with non-stick spray.
7) Place 4 oz of batter into iron and allow to cook for 5 minutes until waffle is golden brown.
PLATING
1) Place waffle on plate.
2) Place a 4 sliced portion of the meatloaf into a large sauté pan over medium high heat with 2 tbsp. of grapeseed oil and allow to sear on both sides for 2 minutes. Slices should be about 1" thick.
3) Next, place collard greens on top of the waffle and top with the meatloaf.
4) Finish the dish by saucing the meatloaf with gravy.