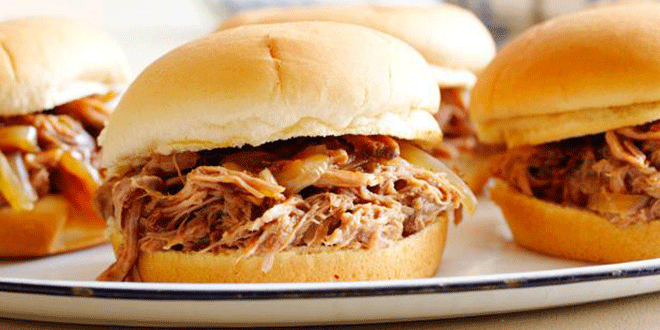 Crock Pot Pulled Pork Sandwich
Time: 10 hr 10 min
Yield: 8 servings
Ingredients
4 pounds pork shoulder roast
5 to 6 whole cloves
3 tablespoons BBQ dry rub
2 red onions, thinly sliced
2 cups water
16 ounces barbecue sauce
Directions
Stud the roast with cloves and rub with dry rub.
Place roast in crock pot or slow cooker and top with onions.
Cover roast with water and slow cook for 8 to 10 hours.
Remove pork, discard cloves and layer of fat as well as any water and grease remaining in pot.
When pork is cool enough to handle, use a fork or your hands to shred and pull the meat apart.
Return the meat to the crock pot along with the barbecue sauce.
Heat for 1 to 2 hours.
Serve on your favorite roll.