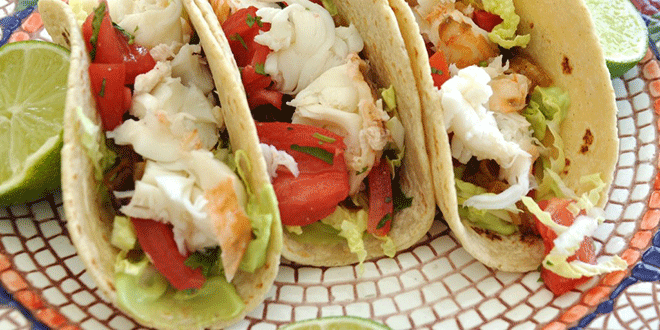 Time: 1 hr 30 min
Yield: 8 servings
Ingredients
Jicama Slaw:
1/4 cup shredded jicama
1/4 cup thinly sliced red onion, ( julienne)
2 tablespoons fresh lemon juice
2 tablespoons white balsamic vinegar
1 teaspoon salt
1/2 teaspoon ground white pepper
Lobster Sauce:
1/4 cup whole buttermilk
2 tablespoons minced fresh cilantro
2 tablespoons sour cream
1 tablespoon fresh lemon juice
1 teaspoon ground cumin
1 teaspoon salt
1 teaspoon sriracha
2 pounds poached lobster tails, medium dice
8 fried flour tortillas
1 1/2 cups shredded lettuce, iceberg or Bibb
1 cup medium-dice tomatoes
1/2 cup tomatillo salsa verde
Directions
For the jicama slaw:
Blend the jicama, onions, lemon juice, vinegar, salt and pepper, mixing well.
After mixing, adjust the seasoning to taste and allow to marinate for a minimum of 1 hour and up to 12 hours in the refrigerator.

For the lobster sauce:
In a bowl, stir together the buttermilk, cilantro, sour cream, lemon juice, cumin, salt and sriracha.
Then add the lobster and mix again.
Refrigerate up to 1 hour.

To build the dish, fill a taco shell with 2 to 3 tablespoons jicama slaw, and then top with 2 tablespoons lobster sauce, some lettuce and tomatoes.
Finish with a dollop of salsa verde. Repeat the process and serve.