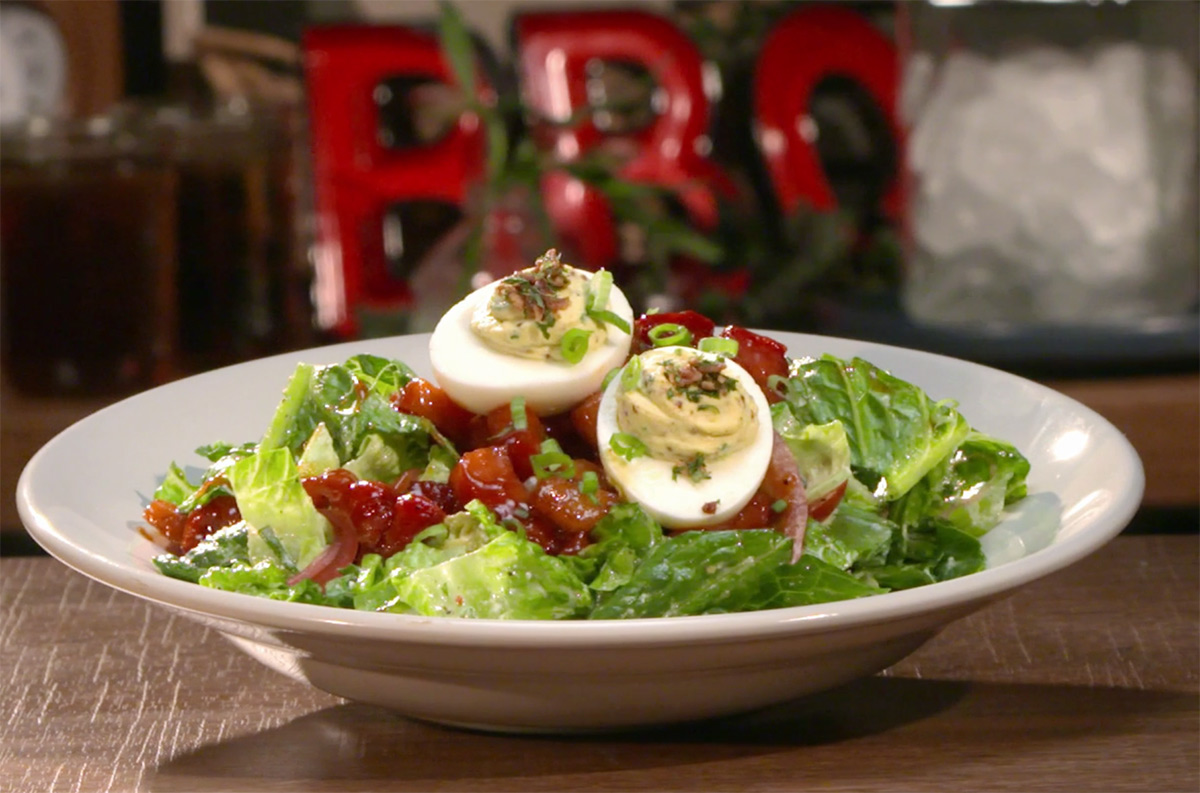 Bacon and Deviled Egg Salad – As Seen on Restaurant: Impossible
From the episode, "Missing Pepper in Baton Rouge"
SERVES 4
YOU'LL NEED
FOR THE DEVILED EGGS
4 hard boiled eggs
1 tbsp Dijon mustard
1 cup mayonnaise
1 tbsp sriracha
1 tsp whole grain mustard
1 shallot diced
1 tsp Cajun seasoning
1 tsp chopped parsley
1 tsp chopped chives
1 pinch smoked paprika
FOR THE PICKLED RED ONIONS
½ cup red wine vinegar
½ cup distilled vinegar
½ cup granulated sugar
2 tbsp honey
1 red onion, sliced
FOR THE SALAD
12 oz thick cut bacon
Oil, enough for frying (if using a deep fryer)
3 tbsp sweet BBQ sauce
1 cup romaine hearts, shredded
8 oz cherry tomato, halved
¼ cup sliced pickled okra (store bought)
3 tbsp extra virgin olive oil
1 tbsp fresh lemon juice
1 cup feta cheese, crumbled
MAKE IT
DEVILED EGGS
1) Separate egg yolks and whites, keeping egg whites completely intact in two equal halves.
2) Using a tamis or micro plain, shred the egg yolks.
3) Place egg yolks, Dijon mustard, mayonnaise, sriracha sauce, whole grain mustard, shallots, and Cajun seasoning in a large mixing bowl. Incorporate. Mixture should make a tight paste. Season with salt and pepper.
4) Place mixture in a piping bag. Fill the eggs with about 1 tbsp of mixture. Sprinkle with parsley, chives, and paprika.
PICKLED RED ONIONS
1) In a small sauce pot, add red wine vinegar, distilled vinegar, granulated sugar, and honey.
2) Bring the mixture to a boil.
3) Add sliced onions to the vinegar mixture and cover.
SALAD
1) Pre-heat a tabletop fryer or an air fryer to 350 degrees.
2) Place the diced bacon into the fryer and allow to cook for about 3 minutes, or until bacon is golden brown.
3) Place bacon in a mixing bowl and dress with sweet BBQ sauce.
4) In a mixing bowl, add romaine hearts, pickled red onions, tomatoes, okra, extra virgin olive oil, and lemon juice. Toss well.
5) Season with salt and pepper.
6) In a bowl place the dressed salad. Top the salad with crumbled feta cheese and more pickled onions.
7) Finish the salad with the dressed BBQ bacon and 2 deviled egg halves.