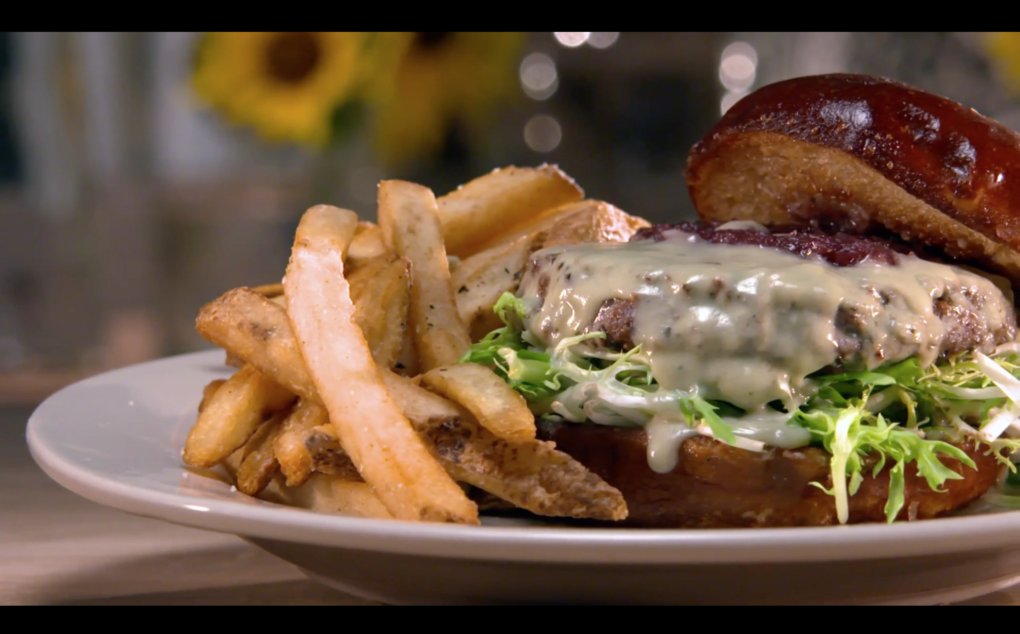 Bacon Blue Burger – As Seen on Restaurant: Impossible
From the episode, "Out with the Old, In with the New"
SERVES 5
YOU'LL NEED
FOR THE RED ONION JAM
2 red onions (small diced)
1 tsp grape seed oil
1 cup red wine
3 tbsp red wine vinegar
½ cup granulated sugar
5 strips bacon, cooked and chopped
FOR THE APPLE AIOLI
1 cup mayonnaise
¼ whole grain mustard
¼ cup chopped chives
½ apple, peeled and diced small
1 tbsp lemon juice
FOR THE GORGONZOLA FONDUE
3 cups heavy cream
16 oz gorgonzola cheese
FOR THE BURGERS & FRIES
5 beef patties (8 oz each, 80/20)
5 pretzel buns
½ cup frisee lettuce
20 oz French fries
MAKE IT
Red onion jam
1) In a small sauce pot over medium heat, add oil and diced onions.
2) Allow onions to cook for about 7 minutes.
3) Add sugar, red wine, vinegar, and salt.
4) Bring to a boil and allow to cook for about 45 minutes.
5) Add 5 strips of cooked, chopped bacon
Apple Aioli
1) In a large mixing bowl add mayonnaise, whole grain mustard, peeled and diced apples, and lemon juice.
2) Finish with salt and pepper.
Gorgonzola Fondue
1) In a large sauce pot, add heavy cream and bring to a boil.
2) Drop heat to a low simmer.
3) Using a whisk, slowly incorporate crumbled blue cheese.
4) Season with salt and pepper.
Burger & Fries
1) In a large sauté pan over high heat, add seasoned burger patties and cook for 6 minutes on each side.
2) Fry bacon until crispy. Drain on paper towels.
3) Fry French fries until crispy.
4) In a separate pan toast the pretzel bun.
5) Coat both sides of the bun with apple aioli and red onion jam.
6) Place lettuce on top of bun; place burger on top of lettuce.
7) Finish burger by pouring 1 oz. of hot gorgonzola cheese sauce over top of burger. Serve with a fork and knife.