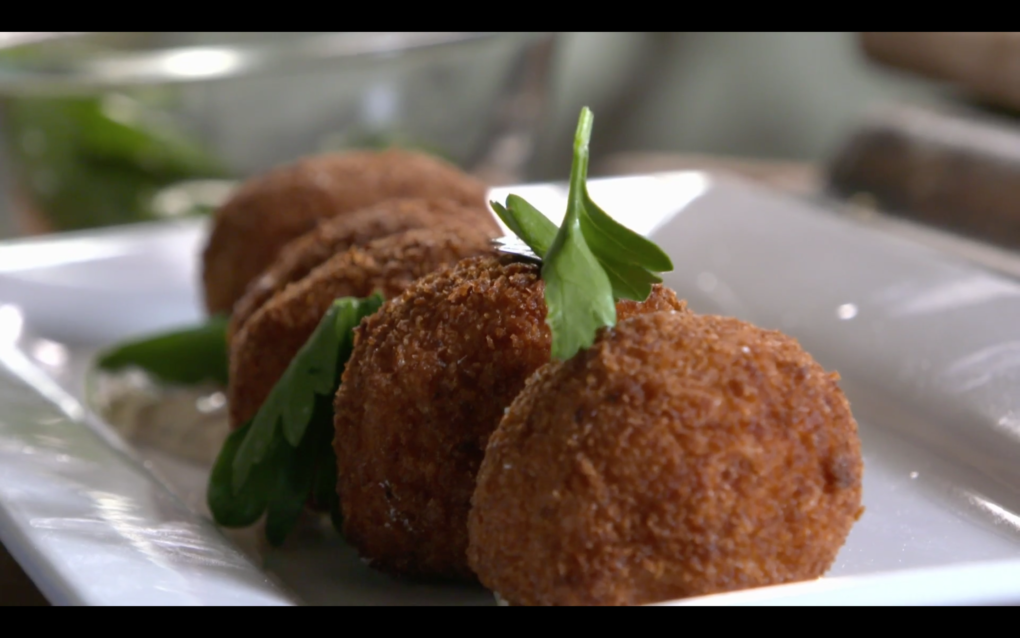 Seafood Arancini – As Seen on Restaurant: Impossible
From the episode, "Out with the Old, in with the New"
SERVES 5
YOU'LL NEED
FOR THE ARANCINI
2 tbsp grapeseed oil
2 tbsp unsalted butter
1 white onion, diced
1 clove garlic, minced
1 cup arborio rice
1 cup white wine
3 cups tomato seafood broth
2 cups calamari, minced
6 whole shrimp peeled and cleaned, cut into quarters
2 cups crushed tomatoes
1 stick butter
¼ cup Parmesan cheese
1 cup all-purpose flour
4 eggs, beaten
1 cup Panko bread crumbs
Oil, enough for deep frying
FOR THE REMOULADE SAUCE
1 cup mayonnaise
1 tbsp dill pickles, chopped
½ cup ketchup
¼ cup sriracha
MAKE IT
1) In a Dutch oven or pot with a heavy bottom, over medium heat, add grape seed oil, onions, and garlic. Sweat over medium to low heat.
2) Next add arborio rice. Allow to toast for about 4 minutes making sure not to get any color on the rice.
3) Add white wine. Allow to cook until wine has reduced by half.
4) Using a wooden spoon, continuously stir the rice while slowly incorporating 1 to 2 oz. liquid at a time.
5) Once the rice is almost cooked through, add tomatoes, shrimp, and calamari.
6) Continue to cook for about 5 minutes.
7) Remove from heat with butter and cheese.
8) Allow rice to cool.
9) Using a 2 oz. scoop, portion rice into 2 oz balls.
10) Place balls of rice into flour, eggs, and panko bread crumbs.
11) Finish in a 350° fryer until cooked through.
Remoulade Sauce
1) In a large mixing bowl, add all ingredients and incorporate.
2) Season with salt and pepper.
3) Place the remoulade sauce on the plate and finish with crispy arancini.