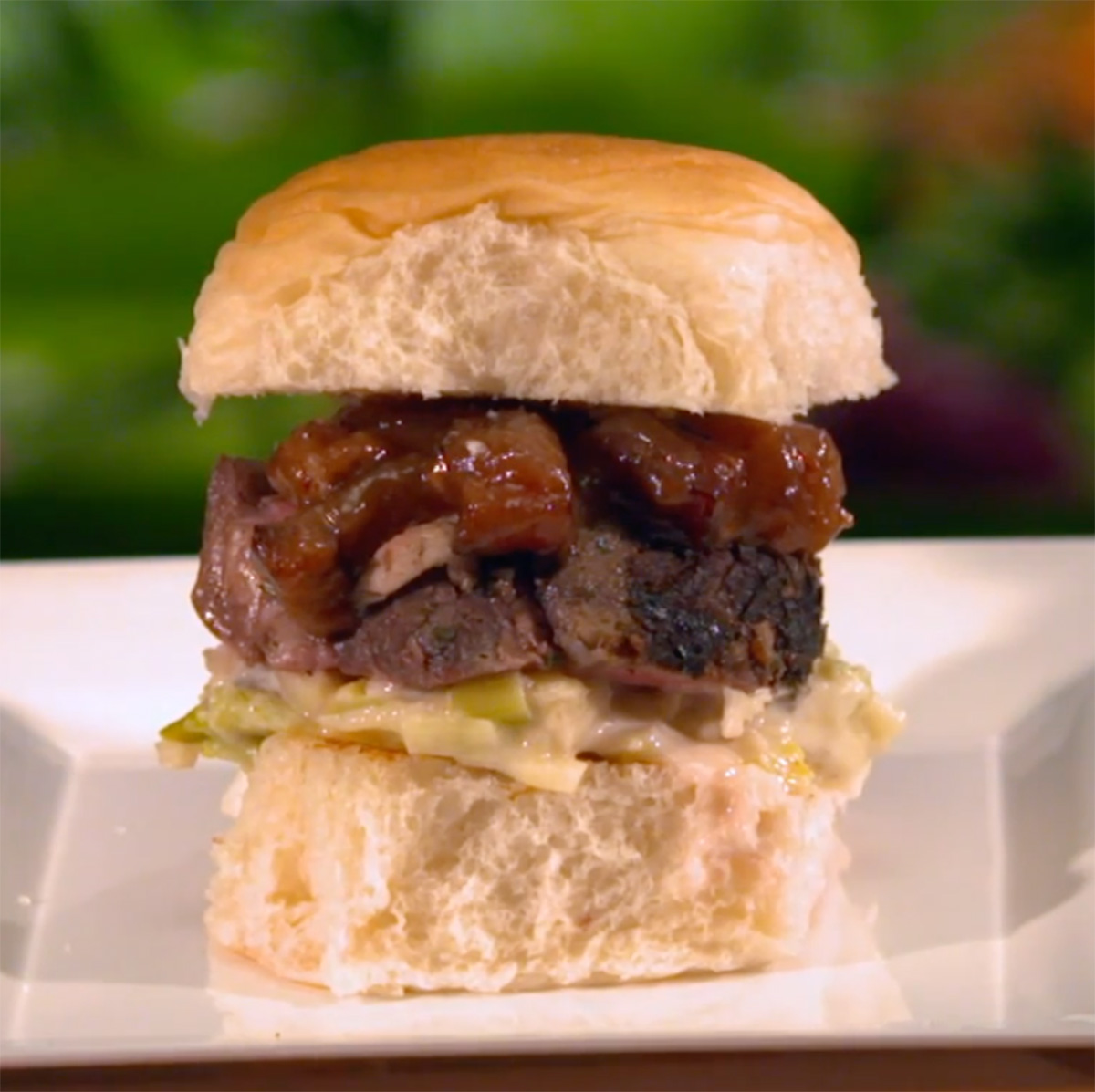 Bison "Surf & Turf" Slider with Leeks and Clams – As Seen on Dinner: Impossible
From the episode, "Island Livin'"
SERVES 4
YOU'LL NEED
FOR THE MARINATED BISON TENDERLOIN
4 bison tenderloin steak portions (4 oz each, can be substituted with beef tenderloin)
3 tbsp grapeseed oil
1 tbsp chopped fresh thyme
1 tbsp chopped fresh rosemary
4 fresh garlic cloves, minced
Kosher salt and ground black pepper, as needed
8 King Hawaiian rolls
FOR LEEK & CLAM RAGU
2 tbsp butter
1 ½ cups fresh white leeks, thin sliced and washed under cold water and drained well (only use the leek white bottoms, discard the green tops)
½ cup heavy cream
1 tbsp grapeseed oil
1 whole small onion, cut in quarters
16 fresh littleneck clams (or ½ cup canned chopped clams)
¼ cup white wine
Kosher salt and ground black pepper, to taste
FOR BLACK CURRANT-CARMELIZED ONION JAM
¼ cup raw bacon, diced
1 cup onion, julienned
½ cup black current jam (or fig jam)
2 tbsp whole grain mustard
Kosher salt and ground black pepper, to taste
MAKE IT
MARINATED BISON TENDERLOIN
1) In a mixing bowl, mix 3 tbsp grapeseed oil, thyme, rosemary, and garlic.
2) Rub the raw bison tenderloin steaks with the herb-garlic mixture and season with salt and pepper. Allow the meat to marinate in the fridge for at least 30 minutes before cooking.
LEEK & CLAM RAGU
1) In a medium sauce pot over medium low heat, add the butter.
2) Allow the butter to melt, then add washed julienned white leek bottoms and stir. Continue to slowly sauté the leeks for 4 to 5 minutes until leeks are tender.
3) Add the heavy cream, stir, and continue to cook the leeks in the cream until the cream reduces and becomes slightly thick. Set cooked leeks aside.
4) In a separate sauce pot over medium heat, add 1 tbsp grapeseed and add the quartered onion. Sauté the onion for 30 seconds, then add the fresh clams and white wine.
5) Cover the pot and allow the clams to cook for 2 minutes until the clam shells steam open. Remove the cooked clams from the heat and discard the onion from the cooked clams. Remove the clams from the shells and add the clam meat to the cooked leek mixture. Discard the clam cooking liquid and shells.
6) Stir the leek and clam meat mixture and set aside.
BLACK CURRANT-CARAMELIZED ONION JAM
1) In a medium sauce pot over medium high heat, add the raw bacon and sauté for 3 to 4 minutes until cooked and slightly crispy.
2) Add the onions, turn down the heat to medium, stir, and continue to sauté together for 3 minutes until onions start to caramelize.
3) Add the mustard and the black currant jam and stir well and continue to cook for 1 minute. Set jam mixture aside.
FINISH & PLATING
1) In a large sauté pan over medium high heat, add 1 tbsp grapeseed oil and sear the marinated bison tenderloin steaks on both sides for 2 minutes and continue to cook until desired temperature. Set cooked steaks aside to rest.
2) Lightly toast the rolls in a separate heated pan.
3) To build the sliders, place a spoonful of the Leek and Clams Ragu on the bottom of the rolls.
4) Next, slice the cooked bison tenderloin steaks and arrange on top of the leek & clam ragu.
5) Top the sliced meat with the jam and top with top portion of the buns and serve.