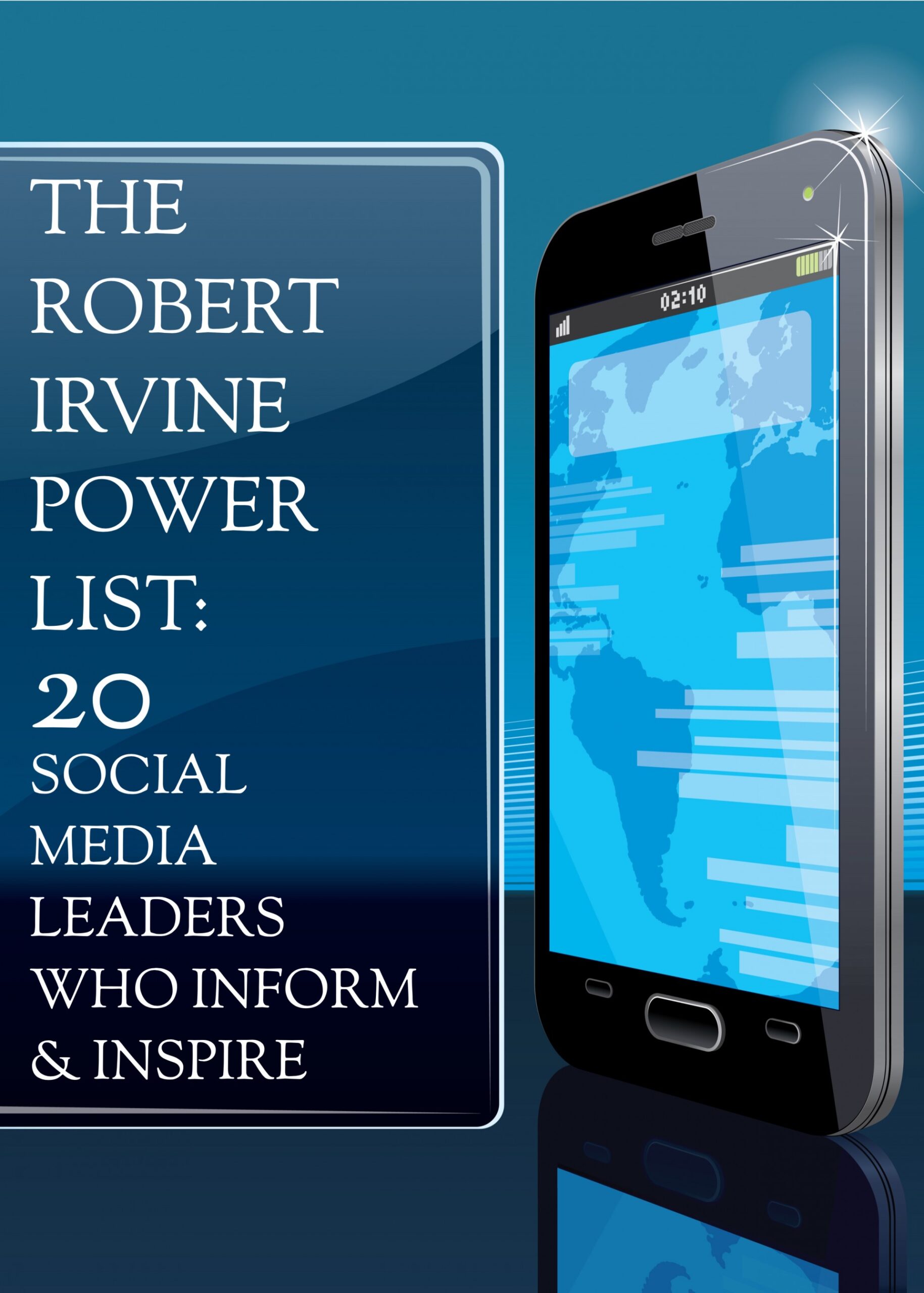 The Robert Irvine Power List: 20 Social Media Leaders Who Inform & Inspire
Follow these social media accounts today and get an instant shot of motivation and inspiration to live your best life. These men and women show day in and day out through consistent, positive messaging what Robert has always believed: nothing is impossible. Some of these accounts belong to the most famous men and women on the planet. Others belong to trainers and bloggers you might not have heard of yet. All of them can help get you think of life in a new way and get you on the right track.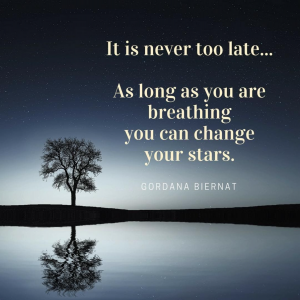 Gordana Biernat
Twitter /// Instagram
Twitter can drag down even the best of us. It's the number one place for people to vent dissatisfaction and insults at companies, celebrities, the government, and more. Even if you stay above the day-to-day noise on Twitter, it's hard not to occasionally indulge in it and use a platform so perfectly built for complaining. Gordana Biernat gives us all a glimpse of what a powerful tool of positivity Twitter can be. Gordana, who we interviewed in our May issue, believes that the stars in the sky and the ones in your mind are made of the same magic. Through constant updates, she encourages her followers to be their true selves, love more, and accomplish something great. Oprah Winfrey included Gordana on her Super Soul 100 list for good reason: she is the real deal. We are all influenced by whom we spend the most time with. Following Gordana on Twitter will serve as a reminder that you should at least fill your social media feed with more people like her—and cut out the folks who always seem to complain. Pre-order her new book, #Know The Truth: Why Knowing Who You Are Changes Everything, by clicking HERE.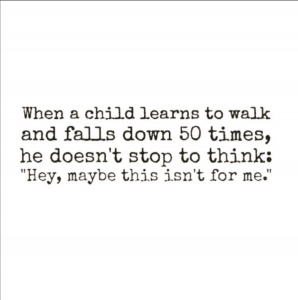 Jay Cardiello
Twitter /// Instagram
We interviewed Cardiello for our Jan/Feb issue and asked him how to break down mental barriers to make resolutions really stick. This is something of a specialty for the celebrity trainer who pioneered the behavioral weight loss program for Sinai Hospital Systems and gave an excellent Tedx Talk in March entitled, "Diet and Exercise Make You Fat." You can watch that talk HERE. The gist of it is this: without addressing the root mental cause of weight gain, there isn't a single training or nutrition program in the world that can help you. We highly encourage you to watch the speech to get the full context for Cardiello's philosophy. But his social media channels are also a gold mine of surprisingly deep philosophizing on the subject.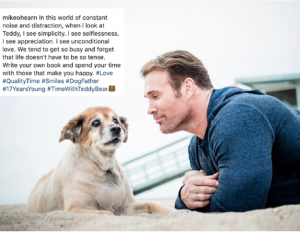 Mike O'Hearn
Twitter /// Instagram
O'Hearn is a statue of a man – the kind the Greek gods would worship if they had gods of their own. It really is hard to understate just how symmetrically perfect O'Hearn's physique is; he probably would have been a 10-time Mr. Olympia if he competed in bodybuilding's golden era. Instead, the all-natural bodybuilder is a man out of time, walking amongst us today and using social media to communicate with fans all around the globe. You may not aspire to anything that Mike O'Hearn has accomplished, but if you follow him on Twitter and Instagram you'll get a non-stop dose of positive vibes and encouragement to follow your dreams and never stop working for what you really want. Even the way he deals with trolls who doubt his all-natural label is a lesson in smiling in the face of hate and staying focused on your goal. (Bonus follow: @strykersworld – O'Hearn is an avid animal lover and needed a separate Instagram account for all his dog pics and videos.)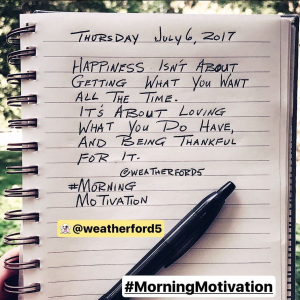 Steve Weatherford
Twitter /// Instagram
Why settle for #MondayMotivation when you can get daily #MorningMotivation from Weatherford? The shots of encouragement from the 10-year NFL veteran and Super Bowl champ hold more weight than the typical social media platitudes because Weatherford walked the walk in stunning fashion, transforming himself from a scrawny teenager to the most jacked kicker pro football had ever seen, and then into a lucrative "retirement" in the fitness industry. (You can check out his #ARMageddon program HERE.)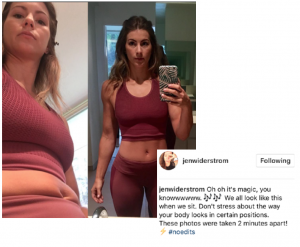 Jen Widerstrom
Twitter /// Instagram
The Biggest Loser trainer underwent a pretty radical transformation of her own after college, and she isn't shy about posting pics or talking about how she felt when she was in the worst shape of her life. Widerstrom, who we interviewed in our October 2016 issue, is an anomaly in the fitness industry, as intelligent as she is motivated. Following her will get you an insight into her non-stop world, free workouts, tips, and of course, heartfelt motivational tips. You can check out her book, Diet Right For Your Personality Type, HERE.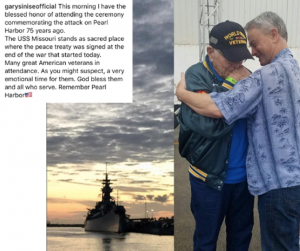 Gary Sinise
Twitter /// Instagram
Our December 2016 cover guy has starred in a few all-time classic films, including Forrest Gump and Apollo 13. Today, he's the star of Criminal Minds: Beyond Borders on CBS. But Sinise only waxes poetic about the past on rare occasion; plugs for his current projects are just as rare. His MO on social media is to shine a light on the work of The Gary Sinise Foundation and the many brave veterans it benefits. As explained in our cover interview (which you can read HERE), Sinise was devastated by the way returning Vietnam veterans were treated stateside. It began a lifelong calling to support veterans and veteran causes, and ultimately led to the creation of his own non-profit, which builds custom smart homes for disabled vets. There is great perspective to be found by following Sinise; whatever problems you think you have suddenly seem a lot smaller. And whatever good you think you've done for others, Sinise will encourage you by example to try to do a little more.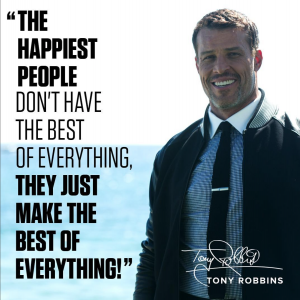 Tony Robbins
Twitter /// Instagram
The man who revolutionized the self-help industry with best-selling books and explosive sold-out live events is, as you'd expect, a powerhouse on social media, as well. Most Twitter posts lead back to original articles on tonyrobbins.com, and offer solid advice on everything from time management to personal finance, leadership, communication, parenting, relationships, and more. Robbins' Instagram feed offers inspirational quotes, as well as a glimpse into his personal life, including selfies with some of his ultra-famous clients.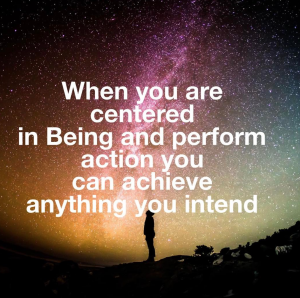 Deepak Chopra
Twitter /// Instagram
It's become a bizarre, phony cliché for social media self-promoters to label themselves a "thought leader" but when it comes to Deepak Chopra, he's one of the few who deserve the designation. Besides, it's a bit limiting to categorize him simply within "self-help" considering the fact that his musings on life attempt to explain the very nature of the universe. Whether or not you understand everything Chopra preaches about our "cosmic reality" is irrelevant. It's impossible not to read his posts and not come away with a sense of perspective that can melt your troubles away.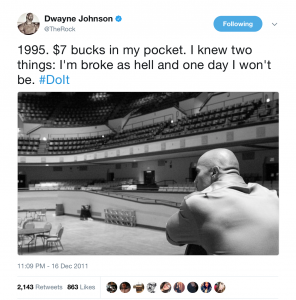 Dwayne Johnson
Twitter /// Instagram
Megastars can get away with using social media to print money. When you've got millions of Twitter followers, you can just turn the platform into a link-mill for your new movie and places to buy merchandise—and throw the fans a bone now and then with a selfie. That's why it's so amazing to see Dwayne Johnson, one of the most bankable stars in Hollywood, use Twitter and Instagram to share deep, heartfelt stories about his own life when he was down on his luck and how he turned it around. No matter how much bigger he gets in stature (or physically) he's always reiterating his origin story (seven bucks in his pocket, no job, washed out from the Canadian Football League) as a way to encourage his fans to chase their dreams. He's prolific, too, so you'll get a glimpse of studio meetings inside Paramount, HBO, and Warner Brothers, and plenty of pics and videos of the man himself genuinely enjoying all of his success. If an attitude of gratitude really creates more abundance, no one seems to understand this concept quite as well as Johnson.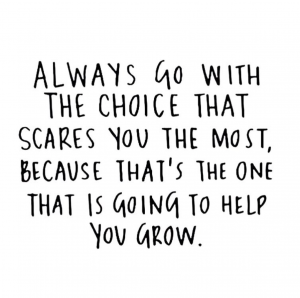 Lewis Howes
Twitter /// Instagram
Fashioned in the mold of Tony Robbins, but with a wholly unique life perspective, Lewis Howes is a voice of unrelenting positivity and infectious motivation. Howes, a frequent guest on Ellen, uses his dark personal back story as a powerful example that with the right attitude, we can overcome any hardship. Howes' wildly popular podcast The School of Greatness features a wide variety of luminaries from the world of business, health and fitness, entertainment, and more. In over 500 episodes, Howes proves time and again that he can get to the heart of what makes successful people tick. As a listener, you'll want to run through a brick wall after listening. Following him on social will get you more than links to his latest projects; he constantly shares inspiring quotes and motivation that buck cliché and convention and will make you want to act on your dreams today.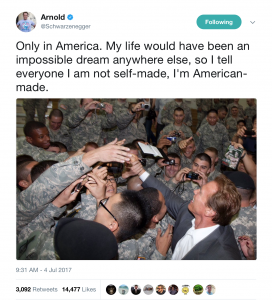 Arnold Schwarzenegger
Twitter /// Instagram
Arnold's remarkable ability for personal reinvention continues in later life, and his latest accomplishments might be the most impressive of all. The champion bodybuilder turned Hollywood megastar turned politician is enjoying a prosperous fourth act as elder statesman. Today, he leverages his celebrity to bring attention to issues that ought to be non-partisan, most notably the scourges of climate change and gerrymandering. Schwarzenegger cuts brief, entertaining videos that cut to the heart of the matter (you'll also want to follow him on Facebook) in a way that can't be argued with. Follow him for a while and you'll slowly realize that if more celebrities had the sense of self-awareness and civic duty that Schwarzenegger has, the world would be a better place.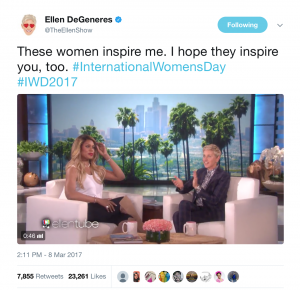 Ellen Degeneres
Twitter /// Instagram
Ellen transcends the TV host profession in a number of important ways, and those extend to her social media presence: she is as concerned with making her audience laugh as she is with opening their hearts. Follow her on social media and chances are you'll get choked up once a day when she shares a particularly poignant story or clip from her show. Lest you think you might not be able to deal with all the feels, she'll pepper in cute animals and silly stuff to keep a smile on your face.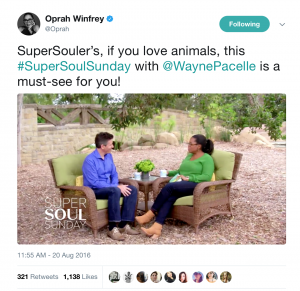 Oprah Winfrey
Twitter /// Instagram
The Queen of Daytime TV is known for her boundless positivity and desire to see all her fans succeed. That's clear on social media where she shares a balance of personal posts and teaser videos for her Masterclass and Super Soul programs.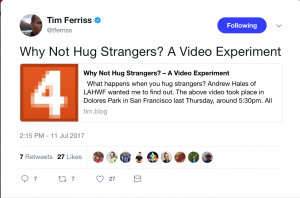 Tim Ferriss
Twitter /// Instagram
The author of the groundbreaking NY Times bestseller The Four-Hour Work Week continues his mission of teaching work efficiency on social media. If you read Tim's books you'll learn that freeing up hours from a long commute and staying out of the office is a surefire path toward building wealth (especially once you realize that time is valuable currency). On social media you'll get into the nitty-gritty with him, specifically: a constant stream useful articles on saving time and outsourcing brainless tasks that you shouldn't be doing.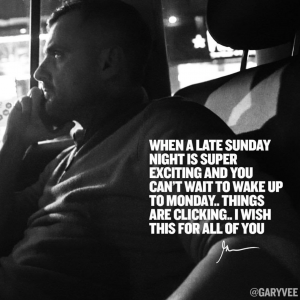 Gary Vynerchuck
Twitter /// Instagram
Known better as "Gary Vee", this Silicon Valley investor can come across a bit harsh at times, but his message is a sound one: stop what you're doing right now, get up off the couch, and go do something to pursue your dreams. In addition to useful articles and quotes, Gary often shares quick-hit selfie videos to motivate his massive following.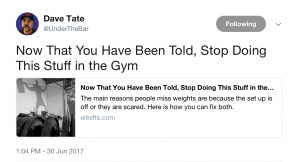 Dave Tate
Twitter /// Instagram
You don't need to be a competitive powerlifter to love what Dave Tate has to say. The CEO of EliteFTS.com—an expert training resource and equipment supplier—has lived a life of sacrifice for the sport he loves. Tate often shares the life lessons that came through his powerlifting and bodybuilding career. Anyone can find inspiration in his blunt, truth-above-all communication style.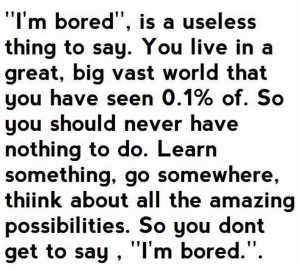 Jay Shetty
Twitter /// Instagram
Check his website for some of his best material where he speaks eloquently about setting goals, relationships, and failure. One of the men on Forbes prestigious 30 under 30 list, Shetty has a kinetic style that's infections. His quotes and videos will make you thankful for the failures you've had and make you realize that each one took you a little bit closer to success.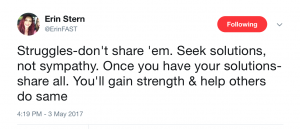 Erin Stern
Twitter /// Instagram
The appeal of the two-time Figure Olympia champion goes far beyond figure competitions. Stern is unique in the fitness industry for her years of motivational messaging that have more to do with the mind than how to look a certain way. The quote pinned to the top of her Twitter profile tells you a lot: "Control your thoughts and you control what you achieve. We are all in a constant state of becoming – We are ultimately what we believe."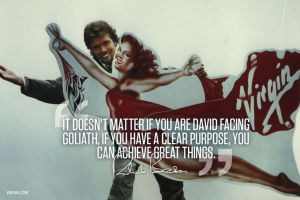 Richard Branson
Twitter /// Instagram
The billionaire philanthropist and founder of Virgin spends a lot of time these days engaging with his social following, asking them questions to spark the imagination and often sharing intensely personal stories about his youth. Branson's posts encourage a childlike curiosity and seem to say that if we never stop being students, then we can't really lose.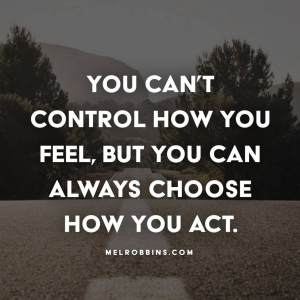 Mel Robbins
Twitter /// Instagram
The author of the The 5 Second Rule is a world-renown motivational speaker who has appeared on Oprah, Dr. Oz, and Dr. Phil. Her brilliant Tedx talk "How To Stop Screwing Yourself Over" got over 10 million views. On social media, rather than constantly plugging appearances where most of her followers won't be able to see her, she is always on-message, sharing motivational quotes that support her message.
Originally published in Robert Irvine Magazine.