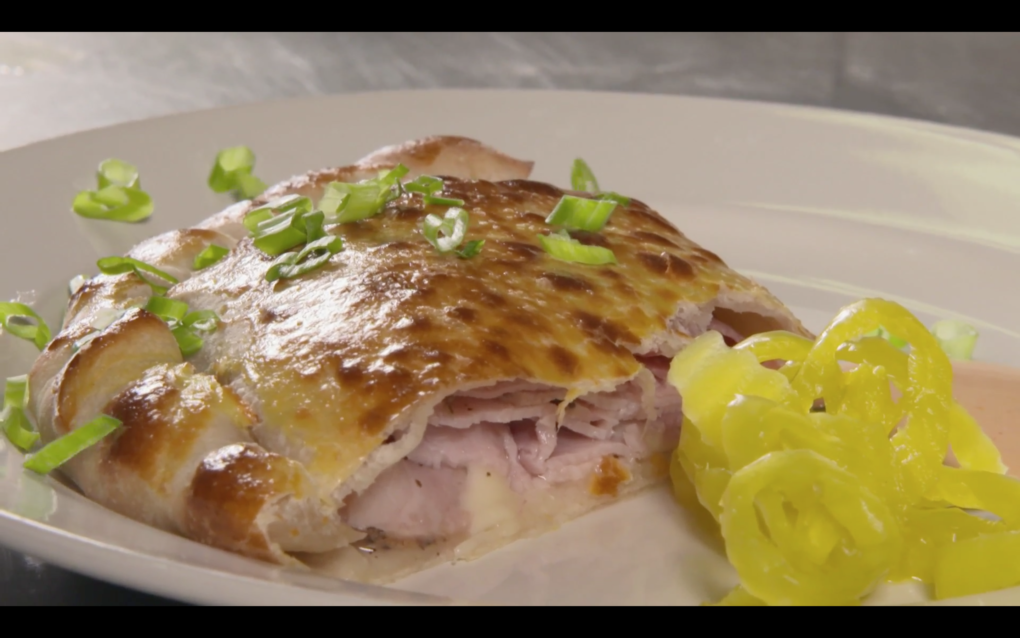 Piadina Sandwich – As Seen on Restaurant: Impossible
From the episode, "Reuniting Family in Missouri"
SERVES 2
YOU'LL NEED
FOR THE PIADINA
6 oz pizza dough
4 slices hard salami
4 slices spiced ham
4 slices mortadella
3 slices provolone cheese
2 eggs yolks
½ cup banana peppers
1 scallion, sliced
FOR THE CHILI AIOLI
½ cup mayonnaise
1 tbsp gochujang
1 tbsp sriracha sauce
2 cloves garlic, minced
MAKE IT
PIADINA
1) Roll pizza dough into a thin circle. Place cheese, salami, spiced ham, and mortadella in the middle.
2) Fold one side of the pizza dough onto the other, creating a pocket.
3) Fold edges of piadina, close by pinching using your index finger and your thumb
4) Coat entire piadina with egg wash and top with salt.
5) Place in a 450° oven for 9 minutes.
CHILI AIOLI
1) In a large mixing bowl, add mayonnaise, sriracha, gochujang, and minced garlic. Mix well and season with salt and pepper.
PLATING
1) Cut piadina in half and plate. Serve with chili aioli and sliced scallions.