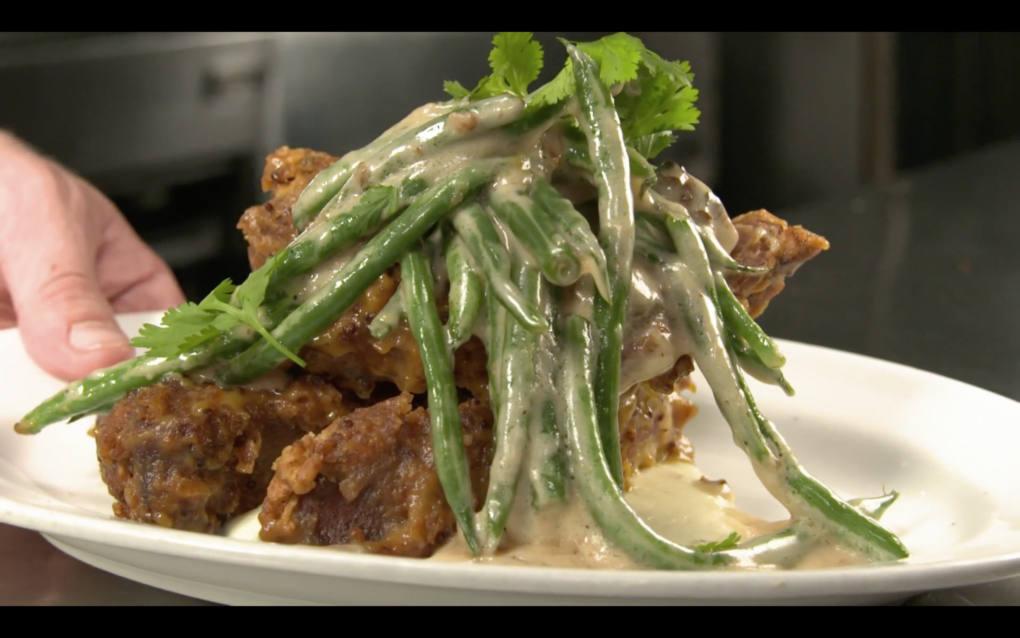 Crispy Fried Pork Ribs – As Seen on Restaurant: Impossible
From the episode, "Branching Out in Missouri"
Serves 2
YOU'LL NEED
FOR THE RIBS
1 rack of ribs, already smoked and chilled and cut into individual bones
4 eggs, beaten
2 cups flour
1 tsp salt
2 tsp black pepper
1 cup sweet BBQ sauce
3 tbsp whole grain mustard
3 tbsp Dijon mustard
1 bunch cilantro (for garnish during plating)
FOR THE COUNTRY GRAVY
½ lb butter
½ cup all-purpose flour
2 qts milk
1 tsp nutmeg
2 tbsp ground black pepper
Salt (to taste)
4 oz greens beans
1 cup shitake mushrooms, sliced
FOR THE SOUR CREAM SMASHED POTATOES
3 Russet potatoes, cooked through and peeled
1 tbsp sour cream
1 cup heavy cream
1 tsp butter
1 bunch chives, sliced
MAKE IT
RIBS
1) In a large mixing bowl, add eggs and whisk together. In a separate bowl add flour, salt, and pepper and mix.
2) Place the ribs into egg and then into flour. Place the ribs back into egg, and then back into the flour.
3) Place ribs into fryer at 375° degrees and cook for 5 minutes, until crispy.
4) In a large mixing bowl, add BBQ sauce, Dijon mustard, and whole grain mustard. Incorporate.
5) Remove ribs from fryer, drain, and coat with mustard BBQ sauce.
COUNTRY GRAVY
1) In a sauce pot over medium heat add butter. Allow butter to melt. Using a whisk add flour. Allow to cook for 5 minutes.
2) Next add milk and allow to cook for another 5 minutes.
3) Finish with salt and pepper.
4) In a separate pan over medium heat add grapeseed oil or butter and melt. Then add onions, mushrooms, and green beans. Cook for 4 minutes. Season with salt and pepper.
5) Add country gravy to the green beans.
SOUR CREAM SMASHED POTATOES
1) In a small sauce pot add cooked potatoes, sour cream, butter, and heavy cream.
2) Using a potato masher smash the potatoes.
3) Add chives and finish with salt and pepper.
PLATING
1) Place whipped potatoes on the plate. Add crispy ribs. Top with green beans, mushrooms, country gray, and finish with cilantro.