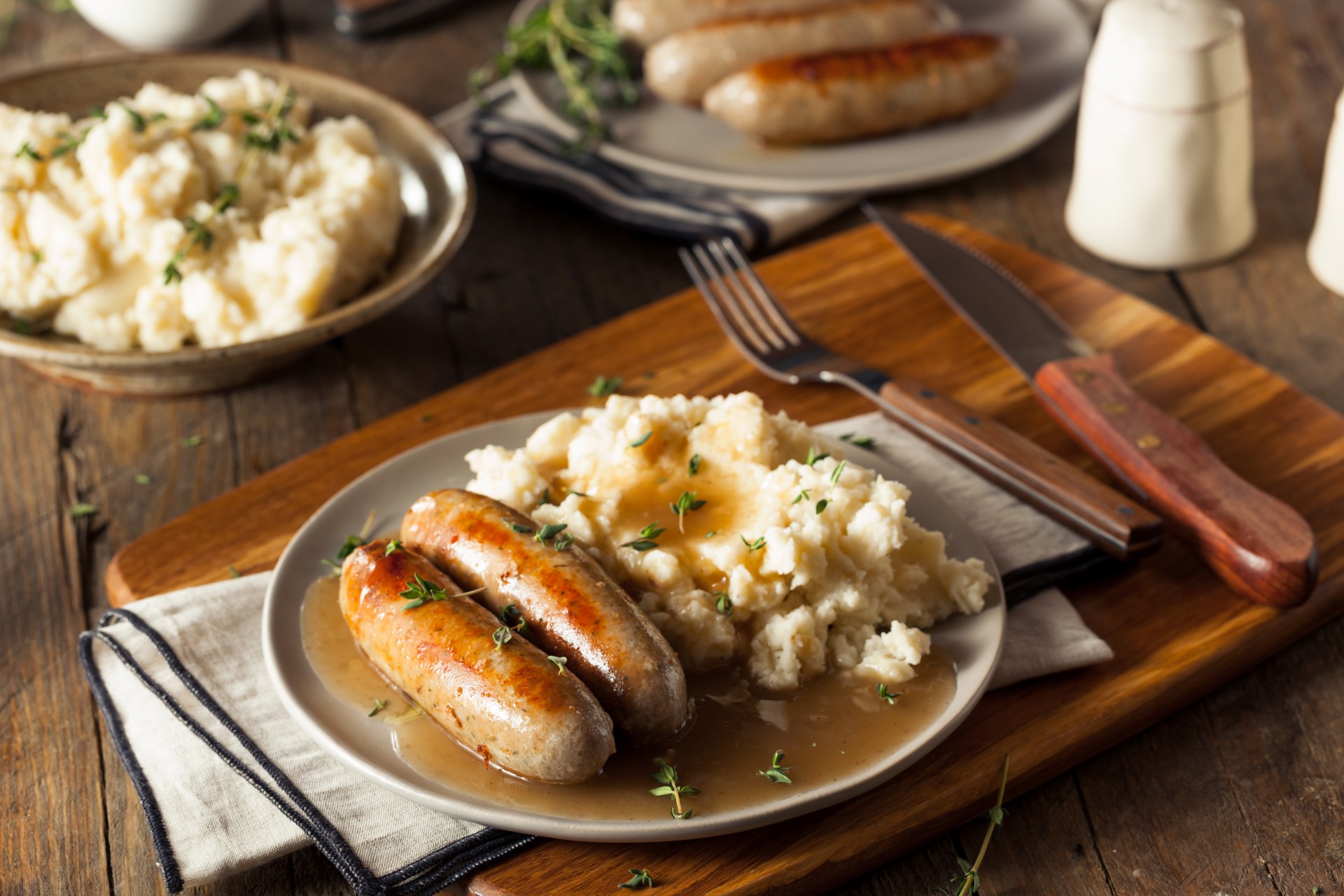 Guinness Cheddar Bangers & Mash
SERVES 2
YOU'LL NEED
1 tsp grapeseed oil
2 lbs chicken sausage
24 oz Guinness beer
1 medium onion, diced
3 peppers (yellow, green, and red)
6 large potatoes, peeled and cut into 1-inch chunks
1 large white onion, diced
1 cup shredded white cheddar
4 tbsp butter, cut into cubes
1/2 cup half-and-half
MAKE IT
BANGERS
1) Heat grapeseed oil over medium high heat in a sauté pan with a lid. Sear sausage on all sides. You can slice them lengthwise before searing if you like.
2) Add beer and onion to the pan, turn heat down to low, and braise until sausage is cooked through—about 50 minutes (if not sliced).
3) Toss in peppers and cook until heated through, but still crisp and colorful.
MASH
1) Boil potatoes and onion until the potatoes are tender and then strain.
2) Return potatoes to the pot and stir in cheese, butter, half-and-half.
3) Mash the potatoes by hand, then, if you like smoother potatoes, whip them with an electric beater. Set aside and keep warm until you're ready to plate.
4) To serve, place some of the potatoes on a plate, followed by the peppers and onions. Add the sausages, then top everything with a bit of the juice the sausages were cooked in.
THE MACROS
CALORIES 697
PROTEIN 23 g
FAT 29 g
CARBS 75 g