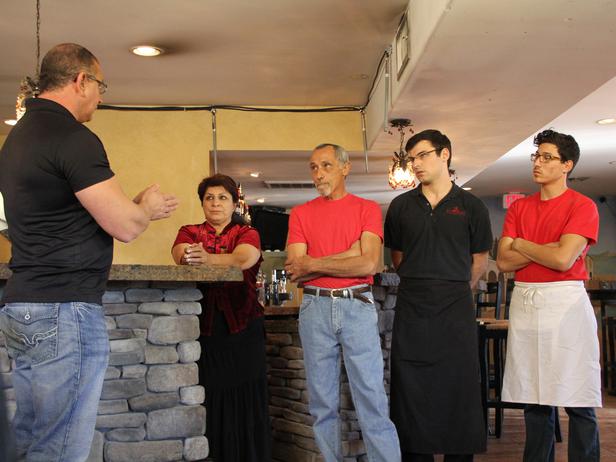 After Restaurant: Impossible, Sapori D'Italia
Robert's visit to Sapori D'Italia in Fountain Hills, AZ, marked a turning point for the restaurant—and for his own show.

BY MATT TUTHILL
Looking back at the history of Restaurant: Impossible, it's easy to forget that not every restaurant was falling apart. Some of the kitchens were actually clean. Some of the food was actually pretty good. And some of the dining rooms were bright and welcoming. And yet, with all that going right, some restaurants such as these were still failing and desperate for Robert's help.
When he arrived at Sapori D'Italia in Fountain Hills, AZ in 2012, Robert found an eatery with no outward signs of decay. It was clean and bright, and the head chef, Gasper Manno, had been making good pizza for decades. So what was wrong? When Robert sat for a service he got his first clue: The wait staff wasn't fast or friendly and argued amongst themselves in front of customers. Investigating why Gasper and his wife Maria had lost control of the wait staff led to revelations of dysfunction that threatened to tear both the restaurant and the family apart.
Gasper was the head chef and Maria was supposed to run the front of the house, yet Gasper would consistently meddle with Maria's work. The couple worked alongside their two sons, Jonathan and David, who had to listen to their parents' constant bickering throughout their shifts and when they got home.
When Robert decided to tackle these problems head on, it wouldn't just change Sapori D'Italia and the life of its owners, it would alter the course of Restaurant: Impossible forever. As discussed in last month's cover feature and editor's letter, the show originally focused only on cosmetic changes and transforming the menu. But over time it began to address the relationship issues that are often the root cause of a business' failure. Robert had begun to incorporate these kinds of problems into the show, but never before had he come face-to-face with a restaurant that looked totally fine from the outside but was still failing because its owners couldn't get along.
Gasper originally applied to be on Restaurant: Impossible. He and Maria were over $200,000 in debt at the time and the struggles were so bad that he decided he would have to shutter the restaurant that year if R:I didn't answer the call. The roots of the restaurant's problems are hard to trace because in the face of failure, the family's lack of money became the new focal point on which most of the fighting was centered.
"When you're struggling and there's no money, then that becomes the main problem," Gasper says. "And no matter what we tried it just didn't work. Then we're arguing in front of the customers, and that just makes it worse."
During a sit-down with the family, Robert described their problems as a "four-way tug of war."
Gasper summed up his frustrations saying, "Everything I touch turns to garbage. I come to work every day and I can't make a cent." Maria said she carried a tremendous amount of guilt because opening the restaurant had been her idea, and so she blamed herself for all of the family's problems.
Robert told them that the negative mindset was snowballing and infecting all parts of the business. He then asked each of them to identify the family member that frustrated them the most. Then he gave them homework to write a letter explaining everything they loved about that person. Tears flowed freely on both days as the family hashed out previously unspoken gripes. After the cathartic release, they were ready to move forward.
"When Robert came here the first day there was so much anger with the way Gasper would talk to me," Maria says. "We wrote our letters and that was a wakeup call. We didn't need more therapy. We figured out it was the business. It was the money. It's a lot of stress."
The positive impact of meeting with Robert had an immediate ripple effect on their home and business lives.
"It did wonders for my family," Maria says. "To me, Robert's my angel. He saved my restaurant, but a restaurant is replaceable. I mean this from the bottom of my heart: He saved my family and a family is not replaceable."
Along with a fresh makeover to the dining room and a tweak of the menu, Sapori D'Italia was back in business in a major way. Gasper says the restaurant has maintained a 30% increase of business in the years since. For reference, in Sapori D'Italia's lean years, the Mannos pulled in about $500,000 in gross revenue. They've pulled in steadily increasing numbers since appearing on Restaurant: Impossible, with $780,000 in gross revenue in 2015. For 2016, Gasper says they're well on their way to shattering that high mark.
That's not to say everything has stayed the same since Robert left. Sapori D'Italia is currently in the process of another makeover. The bright green used to paint the walls during the show worked at the time, Gasper says, but he wanted to be proactive about keeping things looking new rather than waiting for them to get stale. The furniture also needs replacing, which is actually a sign of success—enough customers have been served to warrant replacing the chairs at a faster rate. As for the menu, Gasper says he has brought back most of his old menu, but has kept Robert's cucumber salad and hanger steak recipes, which are customer favorites.
Gasper also replaced the entire kitchen staff since the show ran. "I don't hire people because they work for the greatest restaurants in the world," Gasper says. "I hire people who want to work hard and have a willingness to learn. I can teach them how to cook. I can't change their character."
David still works at Sapori D'Italia and Maria says his future is at the restaurant. Jonathan, meanwhile, is trying his hand at other pursuits. Maria and Gasper both support him and say the restaurant is always there if he needs a backup plan.
Gasper says the decision to be on Restaurant: Impossible was the right one. From the outset he was intrigued by Robert's outsider perspective and the fact that he wouldn't play favorites as the Mannos tried to sort out their issues.
"It didn't matter who was right or wrong," Gasper says. "We were probably all wrong. Robert could see that, but we couldn't."
Maria says she initially had reservations about putting herself and her family's problems in front of so many other people, but today she reserves nothing but glowing praise for Robert and his crew.
"I don't feel the guilt anymore," she says "I see the smiles on my kids' faces. I see my customers' faces. I'm a different person now. It was the best experience ever in my life. Because of Robert we are still together and we have a business that's getting stronger and stronger every day. All the credit goes to Robert Irvine. He is the most gentle, nicest person I've ever met. I hope he lives 1,000 years. I love him."