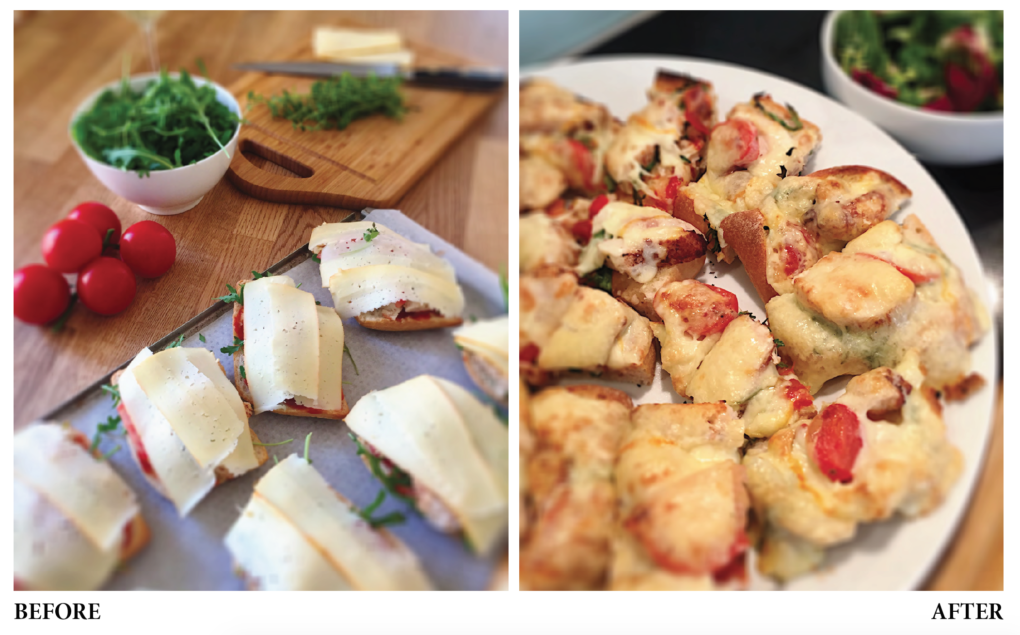 Quarantine Kitchen Recipes
Robert Irvine Magazine interview subjects and contributors share the recipes they've been cooking up ever since the world shut down.
Due to the obvious, everyone is cooking a whole lot more at home these days. Some have taken it as an opportunity to tackle bigger culinary challenges than they previously would have endeavored to attempt, finally trying out that complicated 20-step recipe that always looked so good but they never had time for. At the same time, the pandemic has been a call to appreciate some of the basics that we've always taken for granted. Hey, when going out to the grocery store becomes a time-consuming chore fraught with risk, the discovery of a can of tuna or tomato soup at the back of the pantry is a welcome thing indeed.
Now… how to spice that up?
The answer varies wildly, of course. Everyone's culinary creativity has gotten one hell of a workout right now. In the spirit of the motto of the day—Alone Together—Robert Irvine Magazine canvassed previous interview subjects and contributors for a dish they've been cooking during quarantine. The answers were as eclectic as the mix of personalities we've featured over the years.
Read on and see what the Robert Irvine Magazine family has been cooking up!
LAST NIGHT'S DINNER OMELETTE
Recipe by: SJ McShane, RI Mag Senior Writer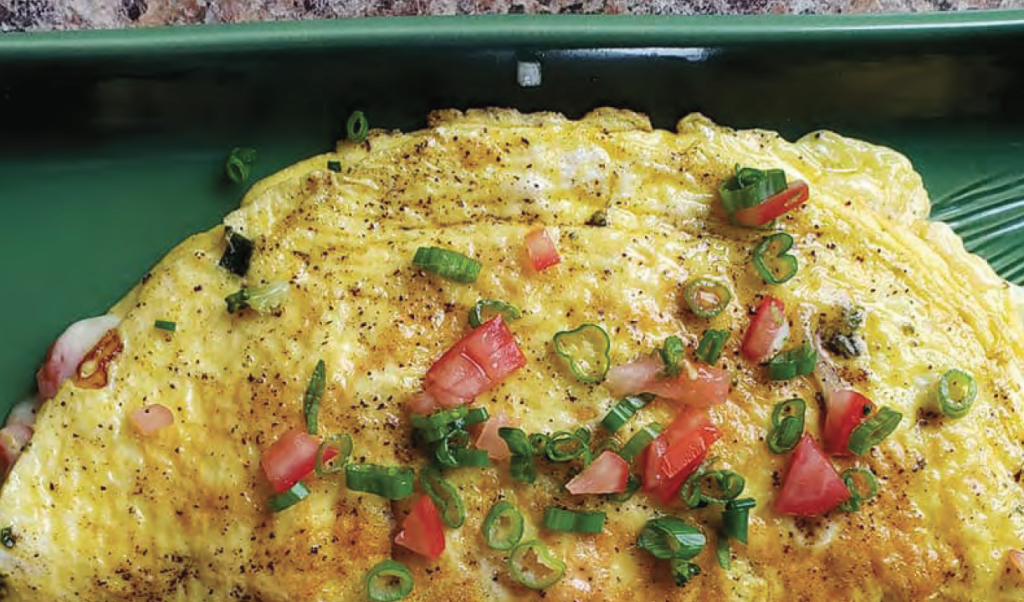 SJ SAYS: No lie, I used to eat an omelet once a year; now I'm averaging one daily! I know that doesn't sound like a big deal; we all go through phases of eating foods we love more than others, but it's the interesting twists I've been able to put on the omelets during this time in Quarantine.
As we've been hunkering down inside and trying to avoid going out more than we need to, I've been using all of my leftovers within other meals. Each morning I make an omelet with the leftovers I have from dinner the night before as the filling, and I'm happy to say, I haven't been disappointed yet!
So, let's say you have grilled chicken or turkey, a mix of veggies and pan-seared potatoes the night before for dinner; the next morning you simply chop those leftovers up as you would "normal" omelet filling and there you have it- a yummy meal that is using leftovers and expanding creativity in the kitchen.
So far, my favorite has been ground turkey, peppers, green onion, onion, tomatoes, and goat cheese!
YOU'LL NEED
1) 3 whole eggs
2) Last night's dinner (½ to 1 full cup) chopped
3) Your favorite spices
MAKE IT
1) Heat a pan to medium heat.
2) In a bowl, beat 3 eggs. Add seasonings.
3) Chop last night's dinner into desired size pieces.
4) When the pan is hot, pour the egg mixture in. After the eggs cook for 1 minute, pour the leftovers in the center of the egg mix.
5) After another 3 minutes, using a spatula, lift the right side of the omelet and fold over the left side – cook for another 3 to 5 minutes depending on the size of pan and amount of food.
Follow SJ on TWITTER and visit her WEBSITE.
SKILLET COOKIE & TURKEY ROLL-UPS
Recipes by: Katie Linendoll (featured HERE in our March 2017 issue) and her mother, Debbe Linendoll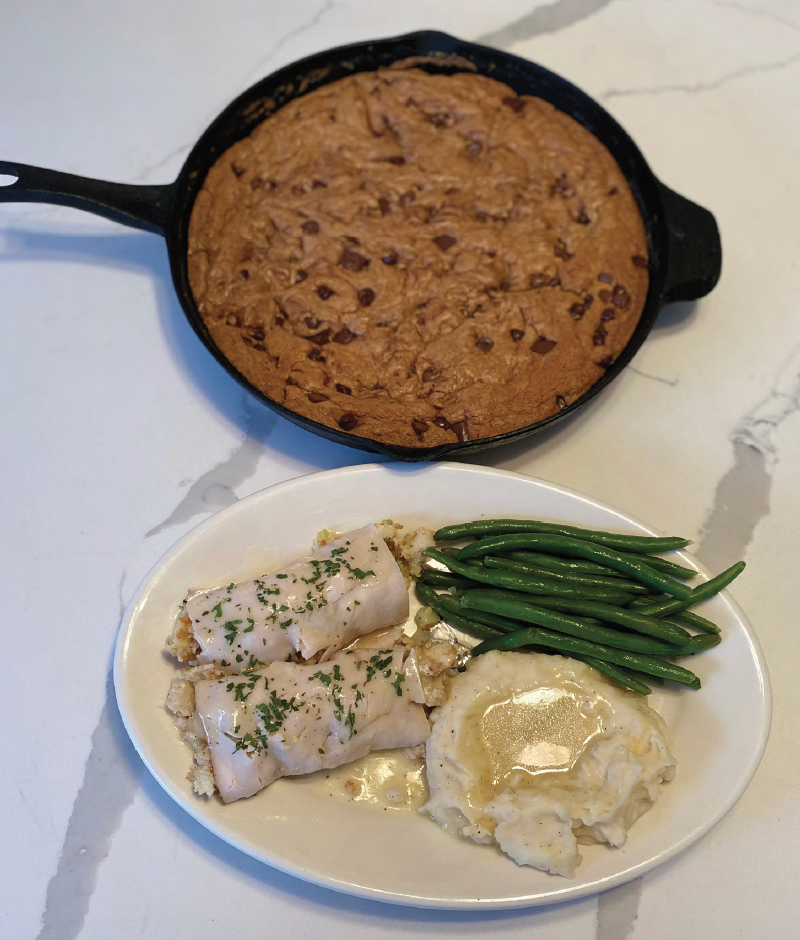 KATIE SAYS: I am accustomed to being on the road over 250 days a year filming TV segments, public speaking, or emceeing high profile tech events. I have had the opportunity to eat at so many four-star restaurants, catered events, and fancy room services across the world—but absolutely nothing compares to my mom's home cooking. Being together right now is a blessing as I get to enjoy extended family time and watch my mom's expert cooking in action.
We are a big family (all in Boston) and always enjoy sharing a ton of meals together. Since I purchased a home across the street from my 'rents (you never get rid of your kids!) I am spoiled and crash many meals. My mom prepares every breakfast, lunch and dinner from scratch. I wanted to share two simple, delicious dishes that are always Linendoll hits. The supermarket's inventory has been touch and go in Boston, but these recipes require ingredients that are (at least now) readily available and usually staples that you have in your pantry. My mom wears an apron that says, "I don't need a recipe I'm Italian", but we've placed all the details below.
Follow Katie on TWITTER and INSTAGRAM and visit her WEBSITE.
CAST IRON SKILLET CHOCOLATE CHIP COOKIE
You can use a cast iron skillet to cook many dishes, which adds a delicious flavor. I am a big fitness nerd, but love my treats and this one is delectable. There are also lots of nieces and nephews in the family (all chocolate lovers) and this is always a hit with them.
YOU'LL NEED
*Note: the Linendolls use organic and/or Non-GMO when available
1 cup butter (2 sticks)
1 cup brown sugar
½ cup granulated sugar
2 eggs
1 tsp vanilla extract
2 cups + 2 tbsp all-purpose flour
1 tsp baking soda
½ tsp salt
½ cup milk chocolate chips
½ cup semi-sweet chocolate chips
½ cup dark chocolate chunk chips
MAKE IT
1) Preheat oven to 325 degrees.
2) In a 10- or 12-inch cast iron skillet, melt butter over medium heat, stirring often, until it starts to bubble and is completely melted. Turn heat to low and add sugar and brown sugar, stirring well. Stir until smooth and shiny. Important: Chill for 10-15 minutes (dough is too hot to add raw eggs)
3) Remove from refrigerator or freezer, add eggs and vanilla, stir well.
4) Stir in flour, baking soda, and salt. Mixture should be cool now, if not, your chocolate chips will melt.
5) Mix in chocolate and quickly stir.
6) Bake at 325 degrees for 26 – 33 minutes or until the edges are lightly golden brown. A 10-inch skillet may need a few more minutes than a 12-inch skillet.
7) The inside may be soft – but do not overbake. Cast iron retains a lot of heat when you take it out of the oven. If the edges are browning, line rim with foil.
8) Serve warm with a scoop of ice cream or whipped cream!
DEBBE'S TURKEY ROLL-UPS
Katie Says: A comfort meal that has all the feels of Thanksgiving!
YOU'LL NEED
FOR THE GRAVY
Butter
Flour
Organic Chicken Broth
Chicken Bouillon
MAKE IT
1) Melt butter and stir in flour to make a roux. Cook for 1 minute, stirring constantly.
2) Add broth and bouillon. Stir till thickened, then set aside.
FOR THE ROLL-UPS
(Use ingredients in proportion to how many rolls you want to make.)
Medium-sliced turkey breast
Bread, cut into cubes
Celery, finely chopped
Onion, finely chopped
Salt and pepper
Poultry seasoning
Butter
MAKE IT
1) In a skillet, melt butter in a skillet over medium-high heat. Add onion and celery and cook until translucent. Add bread and seasons and mix until fully incorporated.
2) Assemble Rolls: Add ½ cup of stuffing to each slice of turkey. Roll up and tuck end under.
3) Cover rolls in gravy.
4) Place in a glass baking dish. Cover with foil and heat in a 350-degree oven until warmed through and gravy is bubbling.
BILL OAKLEY'S "ELEVATED" HOT DOGS
Recipes by: Bill Oakley, featured in this INTERVIEW from our special print edition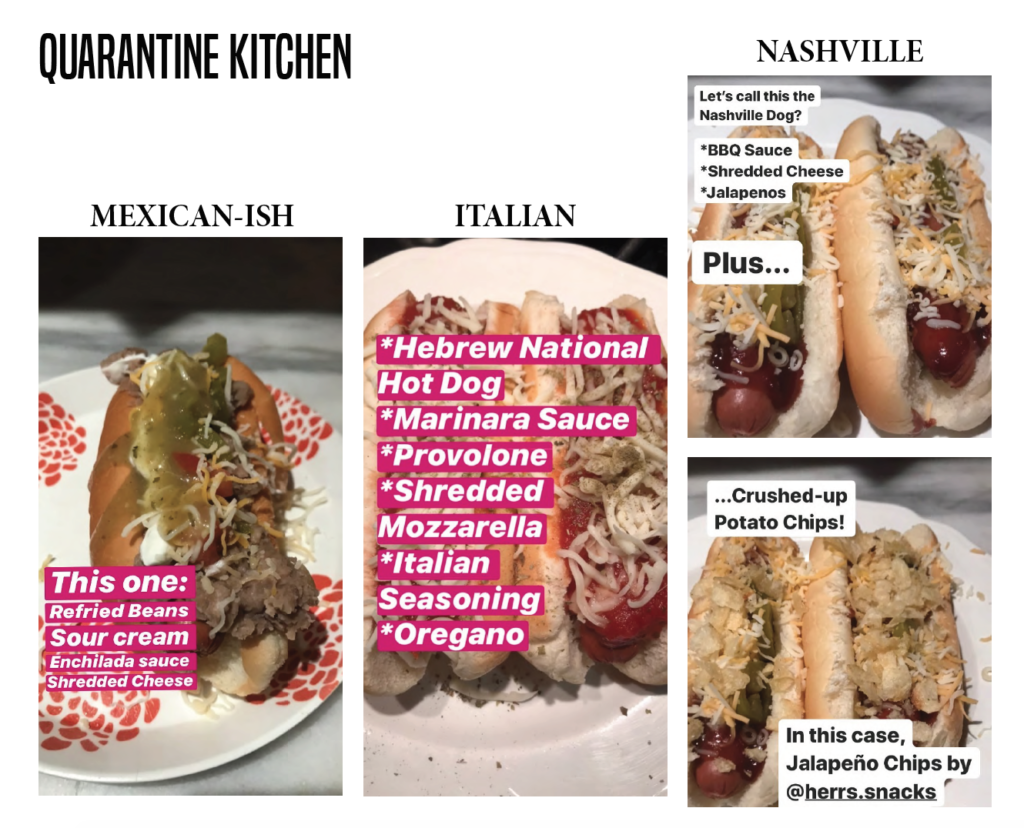 In our interview with the former Simpsons showrunner, we dubbed him "America's Foremost Authority on Fast Food," a title he honored during quarantine with an everyman move that's so simple and perfect it seems almost obvious in retrospect. He dressed up hot dogs in a variety of styles and shared them to his Instagram story (and to this magazine in the accompanying photos). Inspired, Oakley's fans sent him their own creations, which he then shared with the wider audience in a glorious circle of culinary invention. Hey, they may not look like much, but taste is what counts, and these deliver big-time.
BILL SAYS: I came up with these because I am lazy and confined to the house. The great thing about hot dogs is that they require almost no work to prepare. You can boil them for about 5 minutes or microwave on one of those special trays for one minute and PRESTO! But growing weary of regular hot dogs with traditional toppings I decided to experiment with stuff I already had at home.
These are a great quarantine dish for those who are not ambitious chefs but want some delightful new flavors and textures. Yes, I will continue to experiment with them and have my next one in mind — The Seattle Dog with cream cheese, grilled onions, and sweet spicy pepper sauce!
To follow this recipe just have a look at the above photos.
Follow Bill on TWITTER and INSTAGRAM.
TRADITIONAL IRISH SODA BREAD
Recipe by: Gavan Murphy, ("The Healthy Irishman") creator of the outrageously delicious Sunday Provisions Pecan Butters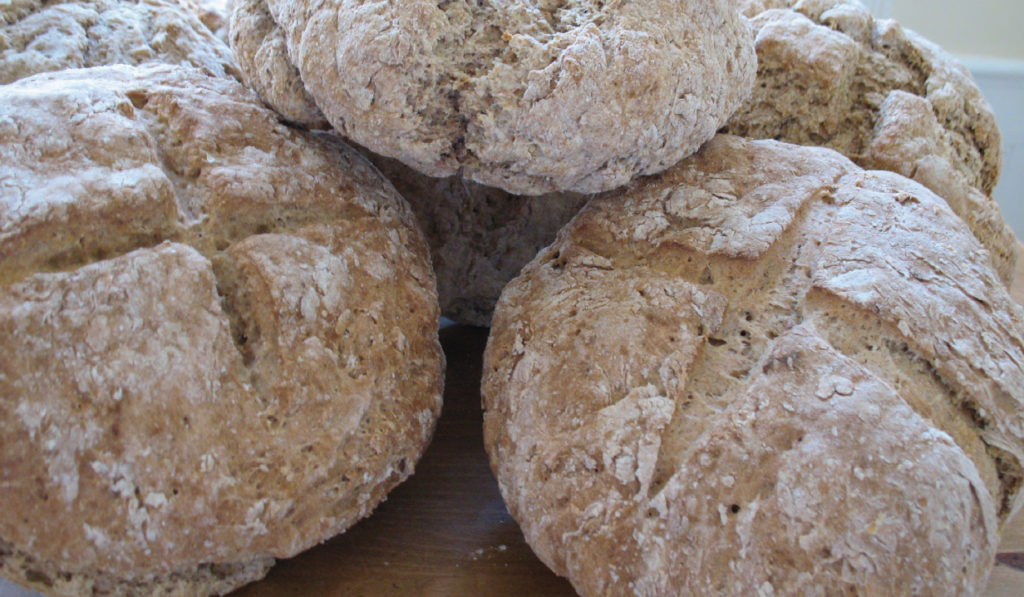 GAVAN SAYS: Who doesn't love the smell of freshly baked bread? During this current quarantine, yeast has been hard to find in the stores with more people cooking at home and making their own staples. This is an easy-to-make no-yeast bread that takes minutes to make and is a recipe you can get the kids involved with. This is a traditional recipe my mother taught growing up in Ireland. Once you make this it'll become part of your repertoire forever.
YOU'LL NEED
2 cups all-purpose flour, sieved
2 cups whole wheat flour
2 cups buttermilk
1 ½ tsp baking soda
1 tsp salt
MAKE IT
1) Preheat oven to 450° degrees
2) Combine the flours, baking soda, and salt in a large bowl. Mix thoroughly.
3) Make a well in the center of mixture. Add buttermilk to flour mixture; mix with your hands until blended (dough will be sticky). Turn dough out onto a generously floured surface. Knead lightly 4 to 5 times. Shape dough into an 8-inch round loaf; place on a baking sheet coated with cooking spray.
4) Traditionally, Irish soda bread has a cross on the top for either religious purposes or to make quartering the bread easier, depending on which story you're told as a tot. To do this just score a ¼-inchcross on top of loaf before baking.
5) Bake at 450° for 15 minutes. Reduce oven temperature to 400 and continue to bake for another 15 minutes or until loaf sounds hollow when tapped. Cool on a wire rack.
Follow Gavan on INSTAGRAM, FACEBOOK, and TWITTER, and be sure to check out SUNDAY PROVISIONS.
OVEN BAKED TURKEY SANDWICHES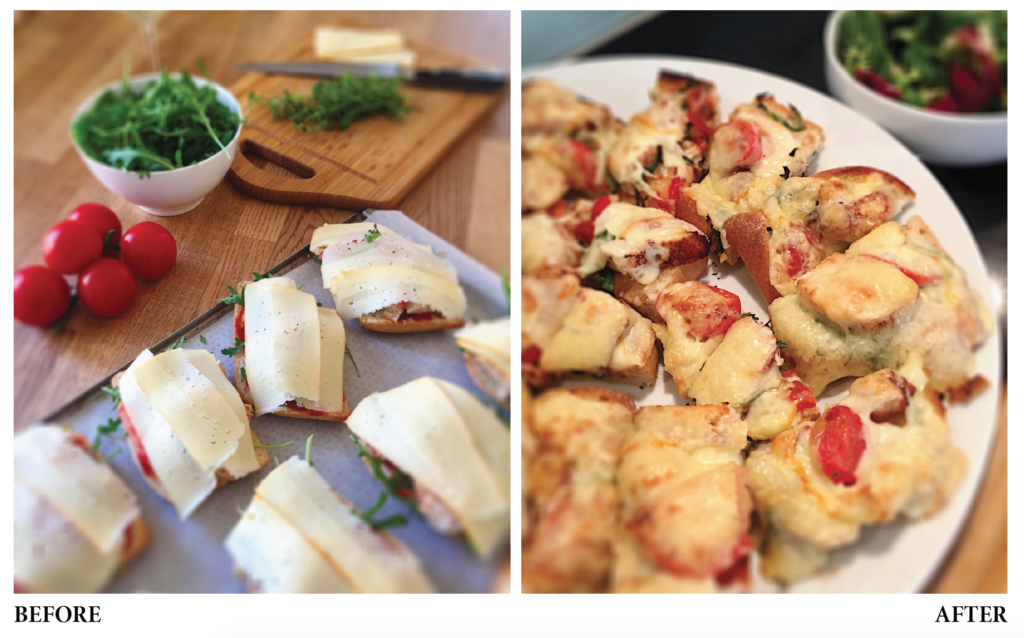 Recipe by: Gordana Biernat, Featured on the cover of our Winter 2020 issue. Read the interview HERE.
GORDANA SAYS: These Oven Baked Turkey Sandwiches not only look fantastic and taste delicious, they are quick to prepare and so simple to make! It is the perfect quarantine food because it just involves a few ingredients that we usually have at home. Pair it with a great wine that's easy to drink like a nice, oaky American Chardonnay or a fruity and aromatic Italian Fiano with hints of yellow pears, rosemary, and honey melon.
SERVES 5
YOU'LL NEED
6 slices ciabatta bread (or other thick crusty bread)
2 tbsp butter
20 slices of cheddar cheese
½ cup of Philadelphia cheese
4 tsp Dijon mustard (or similar gourmet mustard)
12 oz turkey breast, thinly sliced
9 cherry tomatoes, thinly sliced
2 cups arugula
Freshly ground black pepper
MAKE IT
1) Cut the Ciabata bread in half, lengthwise and place on a baking sheet with the open sides up.
2) Spread butter and mustard, then top with some arugula and slices of meat. Ground some pepper and top with sliced tomatoes, cream cheese and slices of cheddar cheese.
3) Bake in the oven until the meat is warm, the cheese is melted, and the Ciabata bread is soft, but crispy on the edges.
4) Serve with the rest of the arugula and tomatoes.