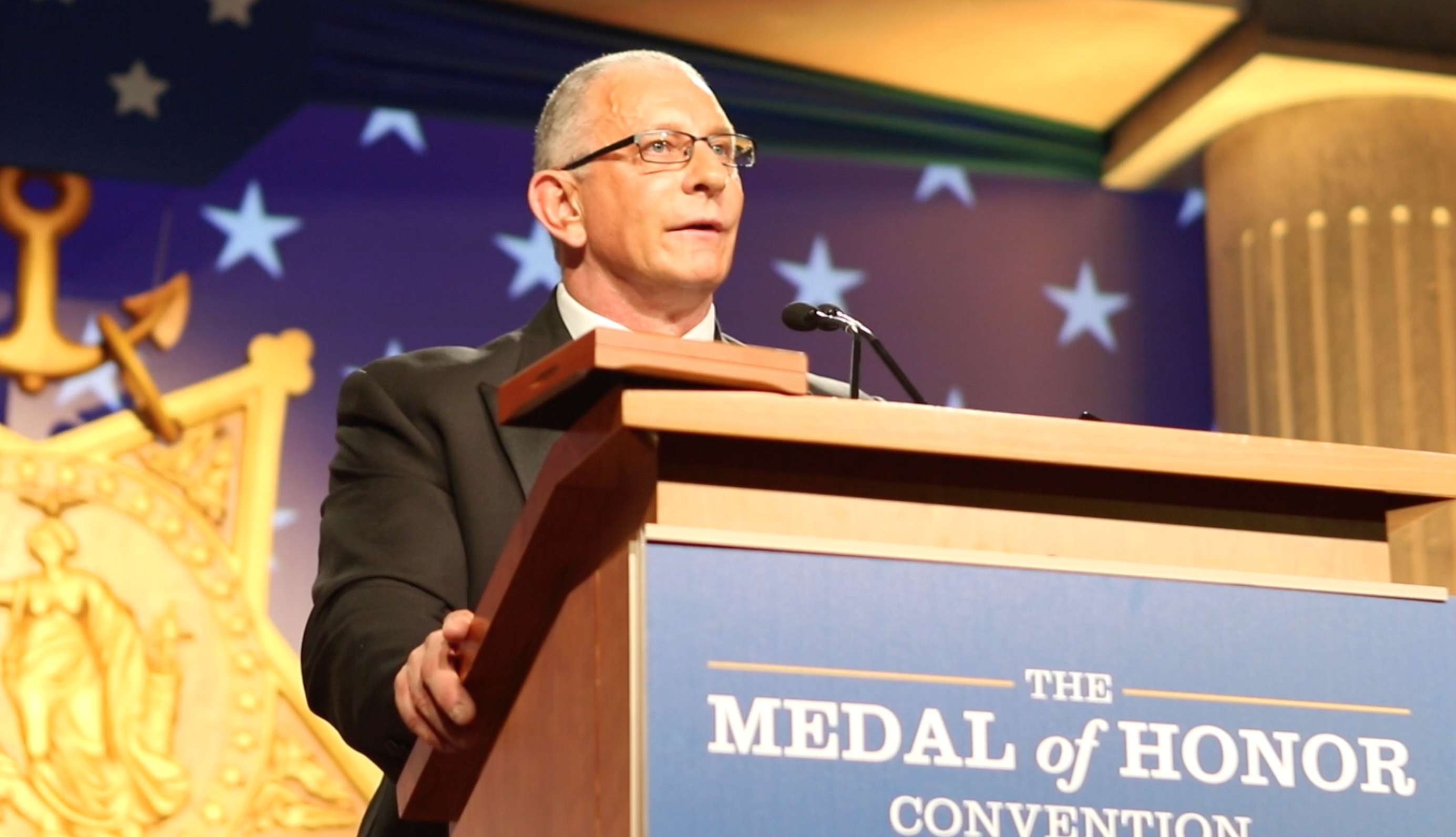 Robert Irvine Receives Congressional Medal of Honor's 2015 Patriot Award
Celebrity Chef Robert Irvine was recognized by the Congressional Medal of Honor Society as on of the 2015 recipients of its distinguished Patriot Awards during the organization's annual convention in Boston on Saturday, September 19. The Patriot Award is presented to distinguished Americans who have demonstrated their dedication to freedom, their love for fellow man, and their allegiance to our flag with a full understanding of its demands. Chef Robert Irvine joins Marine Corps Commandant Joseph F. Dunford Jr., New England Patriots owner Robert Kraft, and Bob Woodruff of ABC News as this year's Patriot Award recipients who have devoted themselves to keeping America strong and to acting as beacons of liberty to people throughout the world.
"I'm very fortunate to have achieved a great level of success in my career, but there is no benefit of that success that means more to me than the extent of support and advocacy it has allowed me to provide to our service men and women and their families," said Chef Robert Irvine. "This humbling recognition is one of the most meaningful I've received in my lifetime, and I'm grateful to the Congressional Medal of Honor Society and to the many honorees that came before me, for continuing to serve and protect those who have dedicated their lives to serving and protecting us."
The Congressional Media of Honor Society's Patriot Awards consist of a variety of unique distinguishments awarded to each individual honoree. Chef Irvine was the recipient of the Society's Bob Hope Award for Excellence in Entertainment and support of our Service Members. He and his fellow recipients were honored during the Congressional Medal of Honor Society's Patriot Award Gala at the Boston Seaport Hotel, the culminating event of its annual convention. Actor and philanthropist Gary Sinise, who received the same Patriot Award as Chef Irvine in 2007, served as master of ceremonies for the Gala, acknowledging each honoree's commitment to the current and veteran service men and women of the U.S. Armed Forces. Many of the nation's 79 living Medal of Honor Recipients were also in attendance.
A native of England, Irvine joined the British Royal Navy at the age of 15, and his skills in the kitchen soon came to the attention of his superiors. Irvine was selected to work aboard the Royal Yacht Britannia, where the royal family and its entourages regularly dined. Irvine is very dedicated to the military and our veterans. He has worked extensively with the USO and with actor Gary Sinise and the Gary Sinise Foundation, which honors and supports our veterans, first responders, their families, and those in need.  Chef Irvine also recently founded eponymously named not-for-profit, The Robert Irvine Foundation, which supports the various individuals and organizations committed to enriching the lives of military heroes and their families.
With more than 25 years in the culinary profession, Irvine has cooked his way through Europe, the Far East, the Caribbean and the Americas, in hotels and on the high seas. Irvine brings his experience to Food Network as host of Restaurant: Impossible; he has been previously seen on Dinner: Impossible, Worst Cooks in America and Food Network Star's Star Salvation.