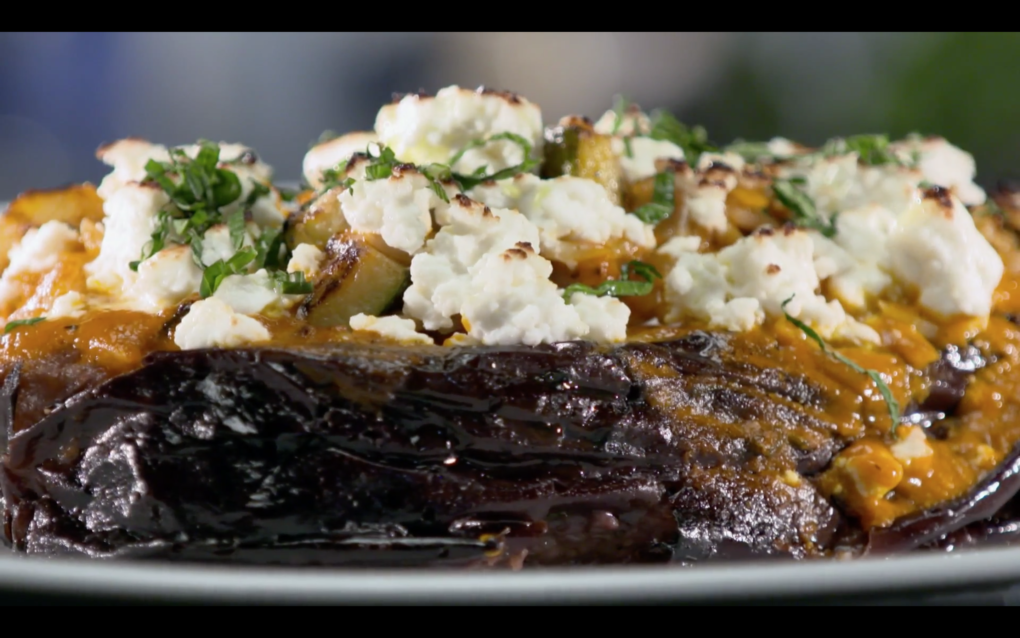 Whole Roasted Eggplant – As Seen on Restaurant: Impossible
From the episode, "Greek Tragedy"
SERVES 8
YOU'LL NEED
2 whole eggplants
2 tbsp grapeseed oil
Salt and pepper, to taste
1 cup cooked orzo
8 whole artichoke hearts, medium diced
3 tbsp nicoise olives
1 squash, medium diced
8 whole cherry tomatoes, cut in half
8 oz canned tomato sauce
4 oz feta cheese
1 tbsp fresh oregano, chopped
MAKE IT
1) Preheat oven to 350 degrees.
2) Using a fork, poke holes all over the eggplants. Season with 1 tbsp of the grapeseed oil, salt, and pepper.
3) Bake in oven for 45 minutes, or until eggplants are cook through. The eggplant skin should be a little tough, but the inside should be tender. Allow to cool and cut in half.
4) In a sauté pan over medium-high heat, add 1 tbsp grapeseed oil, cooked orzo, artichokes, nicoise olives, and squash. Season with salt and pepper and cook for 8 minutes, stirring occasionally.
5) Top each half of the eggplant with the artichoke/olive/squash/orzo mixture.
6) Then top with cherry tomatoes, tomato sauce and feta cheese on top.
7) Place eggplant in a 350-degree oven for 10 minutes, the feta should be a light brown in color and the eggplant should be hot all the way through. Remove from oven, top with chopped oregano, and serve.