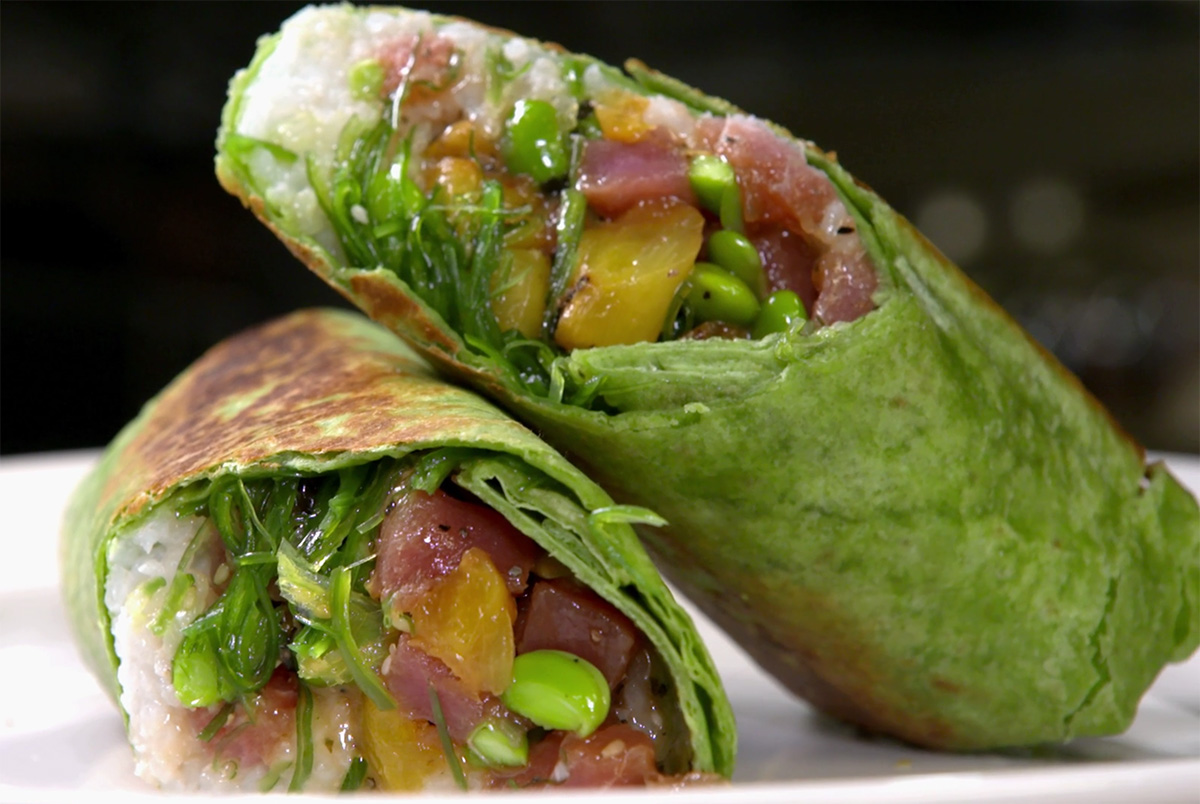 Tuna Poke Wrap – As Seen on Restaurant: Impossible
From the episode, "Clueless in Idaho"
SERVES 4
YOU'LL NEED
FOR THE SUSHI RICE
2 cups sushi or short grain rice
2 cups water
2 tbsp rice vinegar
2 tbsp sugar
Salt and pepper
FOR THE PONZU VINAIGRETTE
1 cup rice wine vinegar
1/3 cup honey
2 tbsp ponzu sauce
1 tbsp fresh lime juice
2 tbsp wasabi paste
1 tbsp togarashi
1 tbsp sesame oil
2 tbsp ginger, diced
2 tbsp fresh cilantro, chopped
FOR THE TUNA POKE
12 oz raw fresh tuna, small diced
2 tbsp pineapple, small diced
2 tbsp edamame, frozen, cooked, and shelled
2 tbsp scallions, sliced
2 tbsp wakame seaweed, prepared
4 spinach tortillas
MAKE IT
SUSHI RICE
1) Place the rice into a mixing bowl and cover with cool water. Swirl the rice in the water. Pour the water off and repeat the process for 3 minutes, or until the water is clear.
2) Place the rice and 2 cups of water into a medium saucepan and place over high heat. Bring to a boil, uncovered. Once it begins to boil, reduce the heat to low and cover. Cook for 12 to 15 minutes. Remove from the heat and let stand covered for 10 minutes.
3) Combine the rice vinegar and sugar. Stir together until the sugar dissolves. Transfer the cooked rice into a mixing bowl. Add the rice vinegar and sugar mixture and incorporate together. Season with salt and pepper.
PONZU VINAIGRETTE
1) Whisk together all ingredients until well-combined. Set aside.
PLATING
1) In a mixing bowl add tuna, pineapple, edamame, scallions, and dress with the ponzu vinaigrette.
2) In a skillet over medium heat, add spinach tortilla. Toast on both sides.
3) Dress the bottom of the tortilla, with the already cooked sushi rice, then top with tuna poke, and wakame seaweed.
4) Wrap the tortilla like a burrito and lightly toast in a pan on both sides.
5) Cut the tortilla in half and serve.