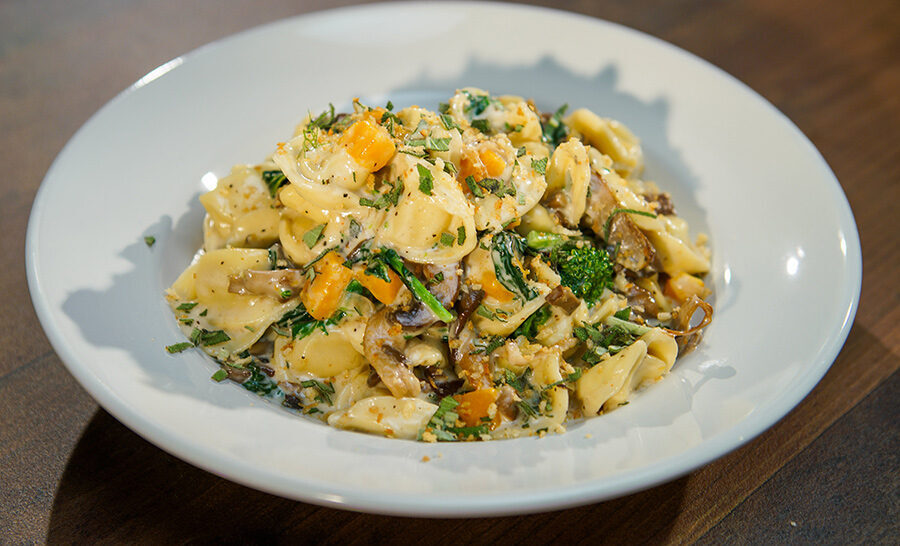 Tortellini Caruso – As Seen on Restaurant: Impossible
From the episode, "Fighting For Your Family"
SERVES 4
YOU'LL NEED
FOR THE ROASTED GARLIC CREAM SAUCE
2 qts heavy cream
1 qt milk
1 stick butter
¼ cup all-purpose flour
2 oz garlic (about 10 cloves, peeled)
1 tsp cayenne pepper
½ cup Parmesan cheese
1 tsp nutmeg
FOR THE MAIN DISH
16 oz tortellini
1 cup butternut squash, diced
2 tbsp grape seed oil
8 oz broccoli rabe
6 oz cremini mushrooms, diced
6 oz oyster mushrooms, diced
3 oz portabella mushrooms, cleaned and diced
2 shallots, diced
3 garlic cloves, minced
1 stick unsalted butter
2 tbsp grated Parmesan
4 oz Panko breadcrumbs
MAKE IT
ROASTED GARLIC CREAM SAUCE
1) In a pot over medium heat, add garlic cloves and grape seed oil.
2) Lightly simmer for about 12 minutes. Garlic should be light brown in color and begin to break down.
3) Place heavy cream and milk in a pot and bring to light simmer.
4) In a separate pot using a whisk add butter, and whisk until butter is melted. Next add all-purpose flour and make a roux. Cook for about 4 minutes or until golden brown.
5) Add heavy cream and milk mixture to the roux and simmer for 20 minutes.
6) Finish with cayenne pepper, Parmesan, salt, pepper, and nutmeg.
MAIN DISH
1) Pre-heat oven to 400 degrees.
2) Season butternut squash with salt, pepper, and grapeseed oil.
3) Place butternut squash on a baking sheet. Put in the oven and cook for about 15 minutes or until butternut squash is cooked through and light brown in color.
4) Place a pot with seasoned water on the stove and bring to a boil. In a mixing bowl add ice and water and set aside.
5) Place broccoli rabe in the boiling water and allow to cook for 2 minutes. Remove and place in the ice bath.
6) In a sauté pan over medium high heat add shallots and garlic. Sauté and cook for 3 minutes.
7) Add cremini, oyster, and portabella mushrooms. Cook for about 5 minutes until cooked through and light brown in color.
8) Add roasted garlic cream sauce and broccoli rabe to the mushroom ragu mixture.
9) In the same pot that you cooked the broccoli rabe, add tortellini and cook according to the package.
10) Remove the tortellini and add to the roasted garlic cream sauce.
11) Add full mixture to a large serving bowl.
12) Finish with Parmesan cheese and panko breadcrumbs.