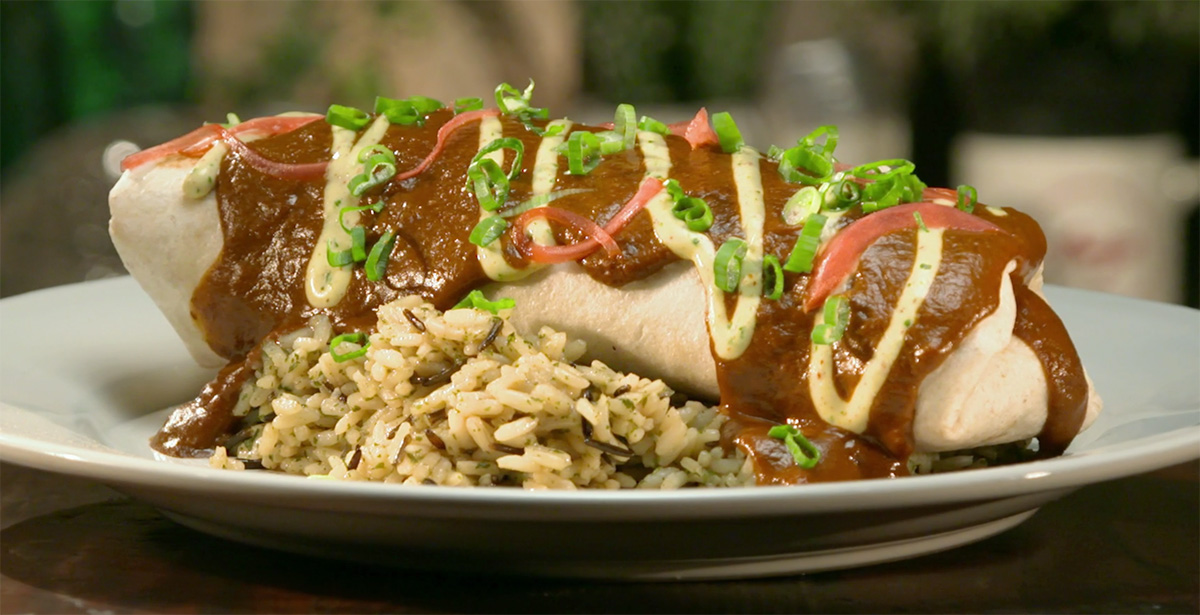 Three Sisters Burrito – As Seen on Restaurant: Impossible
From the episode, "Living up to Mom"
SERVES 4
YOU'LL NEED
MOLE SAUCE
½ white onion sliced
1 jalapeno seeded and minced
2 oz red bell peppers diced
3 cloves garlic
1 tsp chili powder
1 tsp paprika
1 cup cocoa powder
1 tsp chipotle peppers
3 tbsp cilantro chopped
2 cups chicken broth
LIME CREMA
1 cup sour cream
½ cup mayonnaise
1 tbsp lime juice
1 tsp lemon juice
FOR THE PICKLED ONIONS
2 cups distilled white vinegar
1 cup granulated sugar
1 tbsp honey
1 large red onion, sliced
FOR THE JASMINE RICE
1 cup jasmine rice
3 cups chicken stock
2 tbsp cilantro, chopped
FOR THE BURRITO
1 lb butternut squash, peeled and diced
1 cup fire roasted corn
1 green bell pepper, seeded and diced
1 poblano chili, seeded and diced
1 cup black beans
2 tbsp taco seasoning
2 onions, sliced and caramelized
3 tbsp grapeseed oil
2 oz shredded pepper jack cheese
4 oz lime crema
4 (10 inch) flour tortillas
MAKE IT
MOLE SAUCE
1) In a sauce pot over medium heat add onions, jalapeno peppers, red bell peppers, and garlic and allow to lightly caramelize.
2) Add chili powder and paprika and allow to cook for about 3 minutes.
3) Add cocoa powder, chipotle peppers, and cilantro. Cook for another 8 minutes.
4) Add chicken broth and bring all ingredients to boil and season with salt and pepper.
5) Place ingredients in a blender and puree until smooth.
LIME CREMA
1) In a large mixing bowl add all ingredients and incorporate together. Season with salt and pepper.
PICKLED ONIONS
1) In a medium sauce pot, add vinegar, sugar, and honey. Bring mixture to a boil.
2) In a separate bowl add sliced onions. Pour the vinegar solution over the onions.
3) Cover and allow to cool.
JASMINE RICE
1) Pre-heat oven to 400 degrees.
2) In a sauce pot over medium heat, add jasmine rice and chicken stock. Bring mixture to a boil. Cover and place in the oven.
3) Cook for about 12 minutes.
PLATING
1) In a sauce pot over medium-high heat add sliced onions and grapeseed oil. Cook for 8 minutes allowing onions to caramelize. Make sure to stir.
2) In a separate pan, cook the butternut squash, bell peppers, poblano chilis, and corn for about 5 minutes.
3) Add taco seasoning and caramelized onions to the butternut squash and bell pepper mixture.
4) In a separate pan, warm the flour tortillas, one at a time, and add the shredded pepper jack cheese.
5) Add squash, pepper, and corn mixture into the center of the burrito.
6) Remove the tortilla from the sauté pan and roll the tortilla around the ingredients in a burrito shape.
7) Place the rolled tortilla back in sauté pan and toast lightly.
8) Place a large scoop of rice in the center of the plate.
9) Place the burrito on top of the rice.
10) Top the burrito with mole sauce, lime crema, and pickled red onions.