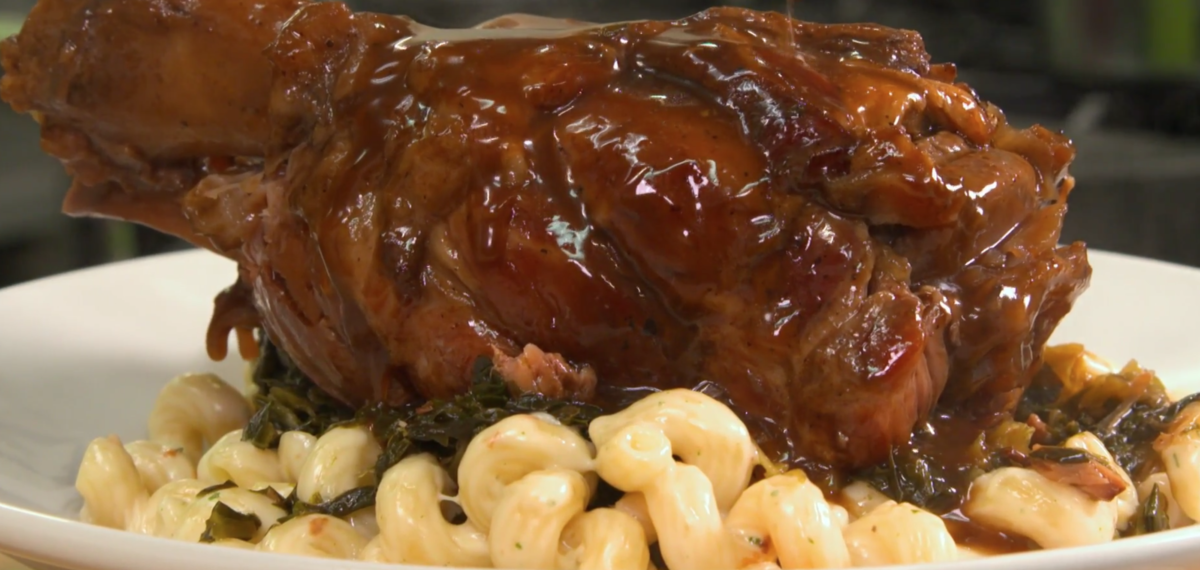 Sweet Tea Braised Pork Shank with Collard Greens & Macaroni – As Seen on Restaurant: Impossible
From the episode, "It's Not Rocket Science"
YOU'LL NEED
FOR THE SWEET TEA BRAISE
3 tbsp grapeseed oil
1 onion, chopped
3 celery ribs, chopped
2 carrots, chopped
2 tbsp tomato paste
1 qt sweet tea
2 qts beef stock
2 tbsp hot sauce
4 bone-in pork shanks
2 tsp kosher salt
1 tsp brown sugar
1 tsp Cajun seasoning
1 tsp BBQ spice
FOR THE COLLARD GREENS
1 lb sliced bacon, diced
1 white onion, diced
3 lbs frozen chopped collard greens
2 cups chicken stock
3 tbsp brown sugar
¼ cup cider vinegar
1 tbsp hot sauce
1 tsp Cajun seasoning
Salt and pepper to taste
FOR THE MAC & CHEESE
3 cups heavy cream
2 cups white cheddar cheese, shredded
2 lbs cavatappi pasta, cooked according to the package
Salt and pepper to taste
FOR GARNISH
2 tbsp pecans, toasted and chopped
2 tbsp fresh parsley, chopped
MAKE IT
SWEET TEA BRAISE
1) Pre-heat oven to 325 degrees.
2) In a mixing bowl add salt, brown sugar, Cajun seasoning, and BBQ spice. Season pork shanks with cure.
3) Place pork shanks on a baking sheet and roast in oven for about 15 minutes.
4) In large sauce pot over medium heat, add grapeseed oil and sauté the onions, carrots, and celery for 5 minutes until vegetables are slightly caramelized.
5) Add tomato paste and allow to cook for another 3 minutes, continuously stirring to prevent the tomato paste from burning.
6) Next remove pot from the oven and deglaze the pan with sweet tea and stir well.
7) Next, add beef stock and hot sauce.
8) Bring mixture to a simmer.
9) Add the roasted pork shanks to the sweet tea braising liquid, cover, and place in the oven at 325 degrees.
10) Allow to cook for approximately 3 to 3 ½ hours or until the meat is about to fall off the bone.
11) Remove the braised pork shanks from the oven and leave in the hot braising liquid while finishing the dish.
COLLARD GREENS
1) In a large sauce pot over medium heat, add the bacon and allow to cook until bacon is light brown in color.
2) Add the onion, stir and allow to sweat for 3 minutes until tender.
3) Add the collard greens, chicken stock, brown sugar, cider vinegar, hot sauce, and Cajun seasoning.
4) Slowly simmer and cook the collard greens for 30 minutes until tender. Season with salt and pepper.
MAC & CHEESE
1) In a sauce pot add heavy cream and bring to a simmer.
2) Remove the pot from the heat and whisk in white cheddar cheese.
3) Add cooked pasta and season with salt and pepper.
PLATING
1) Place the mac and cheese in the bottom of a bowl.
2) Top mac and cheese with collard greens, and braised pork shank.
3) Top pork shank with a ladle of the braising liquid.
4) Finish the dish with chopped parsley and pecans on top of the pork shank.