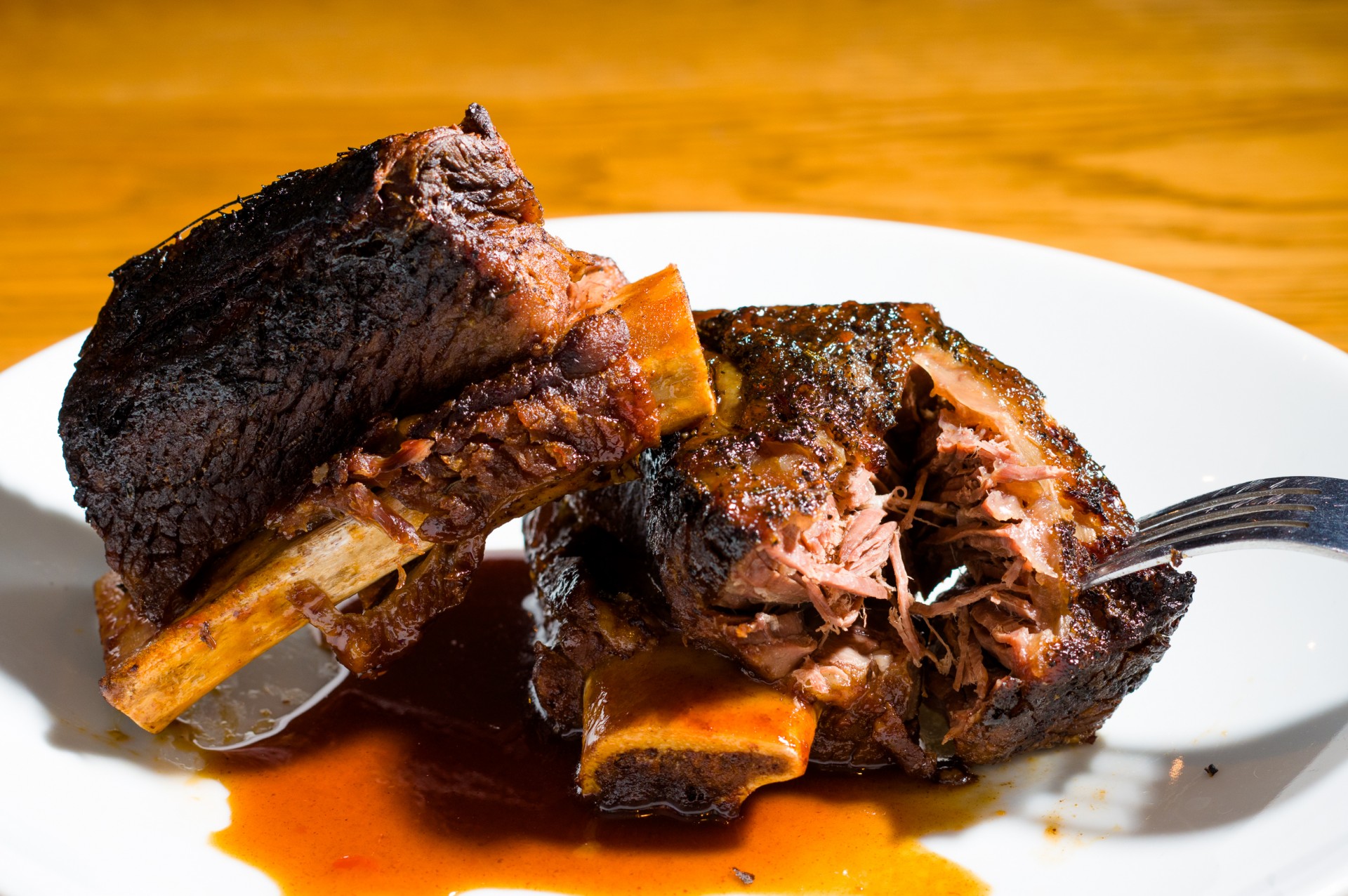 Serves 4
YOU'LL NEED
2 lbs beef short rib
Cure
1 tbsp grated nutmeg
1 tsp cinnamon
1 tbsp kosher salt
1 tsp black pepper
Braising Liquid
2 carrots
1 onion
2 stalks celery
1 quarts red wine
2 qts beef stock, (chicken stock a suitable substitute)
Sachet
4 bay leaves
4 sprigs thyme
2 sprigs rosemary
1 tbsp peppercorns
1 tsp allspice
MAKE IT
1) Combine all the ingredients for the cure and cure the ribs thoroughly. Allow the ribs to cure under refrigeration for around 12 hours. If you don't have 12 hours, a 4 to 6 hour cure is also ok.
2) Remove the ribs from the cooler and sear in a roasting pan over medium high heat on the stove. Be sure to sear the ribs on all sides and get a fair amount of color.
3) While the ribs are cooking, large dice the carrots, onions, and celery.
4) Once all of the ribs have been seared turn the heat down to medium and add the carrots, celery, and onions (mire poixe). Cook the mire poix until it has softened and has taken on some color. This should take about 20-25 minutes.
5) With the vegetables still in the pan, add the red wine and deglaze. Turn the heat up to high and be sure to remove any fond stuck to the bottom of the pan.
6) Once the wine has almost completely reduced, add the beef stock. Add the beef ribs back to the pan, cover completely with water, and add your sachet. If the ribs do not fit in the roaster completely covered with braising liquid, place into two smaller vessels.
7) Bring the roasting pan back to a simmer and cover with parchment first and then tin foil.
8) Place in the oven to braise for 5 hours at 250 degrees. Check to make sure the ribs are done before removing from the oven. If necessary, continue to cook checking periodically until the meat begins to fall off the bone.
THE MACROS
CALORIES: 569
PROTEIN: 45 g
FAT: 24 g
CARBS: 11 g