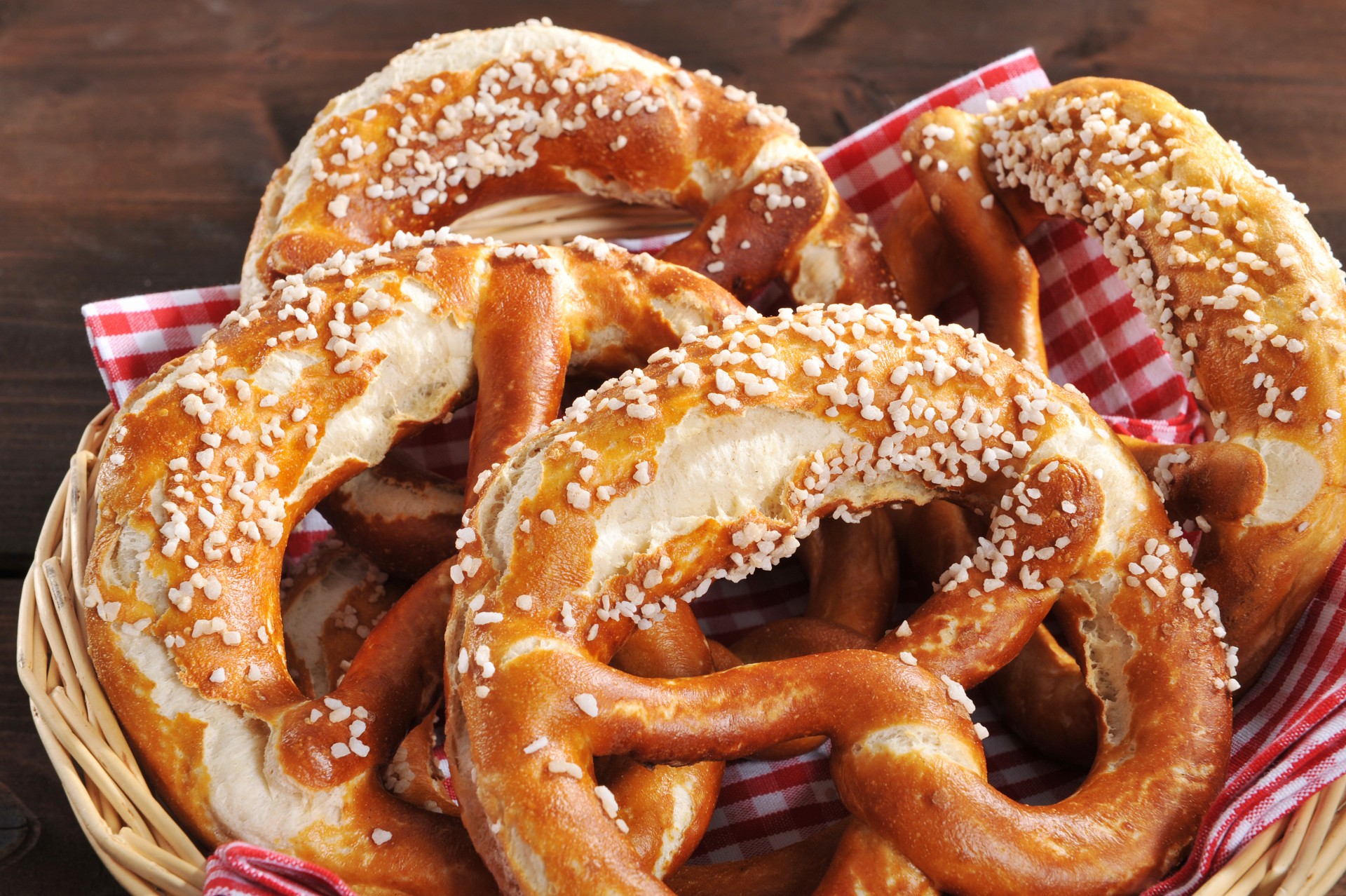 SERVES 6
YOU'LL NEED
1 1/2 cups warm water
1 tbsp sugar
2 tsp kosher salt
2 ¼ tsp active dry yeast
4 1/2 cups all-purpose flour,
2 oz unsalted butter, melted
10 cups water
2/3 cup baking soda
1 large egg yolk beaten with 1 tbsp water
Pretzel salt
MAKE IT
1) In a stand mixer add water, sugar, salt and yeast. Allow to sit for about 5 to 10 minutes or until mixture starts to foam.
2) With the dough hook attachment, add water-yeast mixture, flour, and melted butter. Begin to mix on low. After all flour is incorporated, turn the mixer to medium speed and continue to knead.
3) Pull dough out of mixer and knead into a ball. Lightly oil mixing bowl and add dough back to bowl and cover with plastic wrap.
4) Place dough into a warm place and allow to rise for about 40 minutes or until dough has doubled in size.
5) Preheat oven to 450 degrees.
6) Divide the dough into 6 equal balls, then roll each ball into long rope. Fold each rope into a pretzel shape.
7) Place a pot of 10 cups of water and 2/3 cup baking soda on the stove over high heat and bring to a boil.
8) Place pretzels into water and cook for about 45 seconds.
9) Place pretzels on a baking sheet (use parchment paper if available as they may stick) and coat with egg wash and pretzel salt.
10) Bake at 450 degrees for about 12 minutes or until golden brown in color.
THE MACROS
CALORIES: 398
PROTEIN: 11 g
FAT: 6 g
CARBS: 74 g