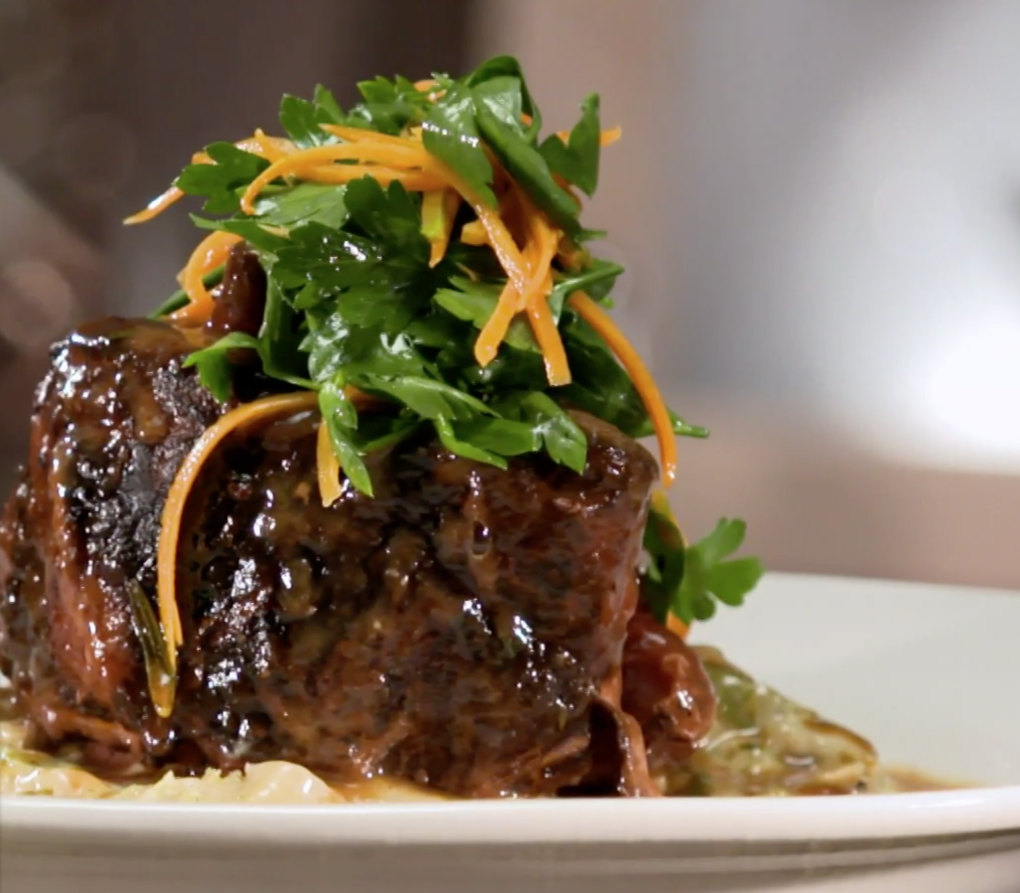 Smoked Pork Shank – As Seen on Restaurant: Impossible
From the episode, "Restaurant on the Rocks"
SERVES 4
YOU'LL NEED
FOR THE PORK SHANK
1 cup kosher salt
½ cup brown sugar
2 tbsp pickling spice
1 bunch thyme
2 tbsp curing salt #1
4 pork shanks
1 bunch picked flat leaf parsley
2 tbsp shredded carrots
FOR THE CREAMED BRUSSELS SPROUTS
1 onion, diced small
2 tbsp grapeseed oil
24 Brussels sprouts, thinly shaved
1 tbsp Garam masala
3 cups spinach
4 cloves garlic
2 cups heavy cream
CAULIFLOWER PUREE
3 cups cauliflower florets
1 white onion, sliced
½ cup butter
2 cups heavy cream
1 cup chicken stock
MAKE IT
PORK SHANK
1) In a large pot add all ingredients and bring to a boil. Allow mixture to cool.
2) Place raw pork shanks in corning liquid at least 24 hours prior to cooking.
3) Pull shanks from pickling liquid and allow to dry.
4) Place shanks in a 280° smoker and allow to smoke for 8 hours. The meat should be tender and start to fall off the bone.
CREAMED BRUSSELS SPROUTS
1) In a medium pot, add grapeseed oil, garlic, and onion. Allow to cook for about 3 minutes.
2) Add shaved Brussels sprouts and spinach. Allow to cook for another 4 minutes.
3) Add heavy cream and Garam masala. Finish with grated Parmesan cheese, salt, and pepper.
CAULIFLOWER PUREE
1) In a large sauce pot add butter, onions, and cauliflower. Allow to cook over medium heat for 35 minutes. Make sure not to get any color on the onions or cauliflower.
2) Add chicken stock and heavy cream.
3) Bring mixture to a boil. Place mixture in a blender and puree until mixture is smooth.
PLATING
1) On a plate place cauliflower puree and creamed spinach. Place pork shank on top.
2) Finish with picked parsley, shaved carrots, and lemon juice.